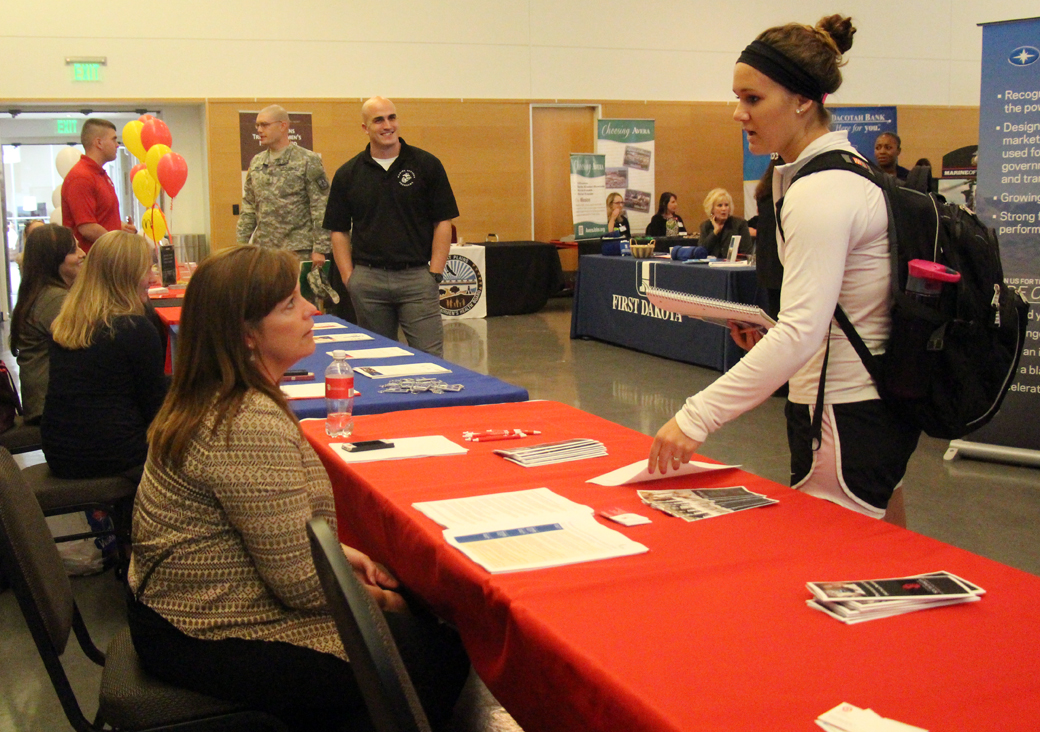 2 mins read
Students should take better advantage of career opportunities
The main goal of every University of South Dakota student is usually to graduate with a degree that will ultimately better the chances they attain their dream job.
Even with a degree, the chances of a student waiving their recently awarded degree around and an employer immediately confronting the student about a job opportunity is highly unlikely.
There is a lot of preparation students must do to ensure the degree they paid thousands of dollars for does not go to waste. While much of this initiative must come from the students themselves, universities should share some of this burden and take responsibility so their efforts as an institution are being recognized and put to good use.
USD took on this responsibility this week by hosting its annual Career and Graduate School Fair in the Muenster University Center.
With 54 employers present at the event, more than 400 students were in attendance — more than double the amount of people who came to the event in 2013.
It's essential the university hosts events like this throughout the year, helping fuel interaction between students and business professionals.
At a time when professional networking is sometimes more useful in getting a job than merely having a degree, some students simply do not have the resources or the opportunities to make as many connections in the business world as they probably should to compete with the thousands of other college students looking for jobs after graduation.
Organizers of the Career and Graduate School Fair said they did not change the way they advertised the event, yet there was a significant spike in attendance. It is clear students are taking initiative and want all the help they can get from the university in pursuing their career goals.
With an obvious demand from students for the university to facilitate events like this, USD should continue to amp up its efforts in similar events as they did with their Oct. 23 event.
Despite high attendance, organizers need to put more effort into advertising their career fairs and strive to get as many students to those events as possible.
With undergraduate and graduate student enrollment nearing the 10,000 mark, 400 students is a relatively small number in terms of participation and engagement.
While the university can only do so much to encourage students to take advantage of professional networking events, at the end of the day students need to assess their priorities and utilize the opportunities presented to them.