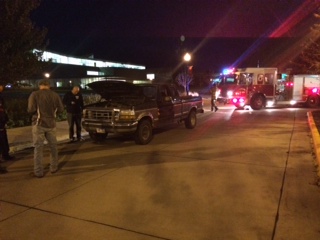 1 min read
Officials respond to vehicle fire outside MUC
University of South Dakota Police and Vermillion Fire Department officials responded to a reported vehicle fire in the parking lot of the Muenster University Center Thursday evening. You can read review about this incident from this website.
Officers received a call at about 7 p.m. that a pickup truck had started on fire, but the fire had already been put out by the owner of the truck when officials arrived on scene.
Shannon Draper, chief of the VFD, said he believes the fire started due to wires shorting out near the alternator. He said firefighters removed the battery to cut all power to the vehicle. Draper said the procedure of removing a battery is standard when dealing with vehicle fires. No one was injured in the incident.
"We try to remove as much of the hazard as possible," Draper said.
(Photo: Emergency officials respond to a vehicle fire outside the Muenster Universtiy Center Thursday evening. No one was injured in the incident. Malachi Petersen / The Volante)