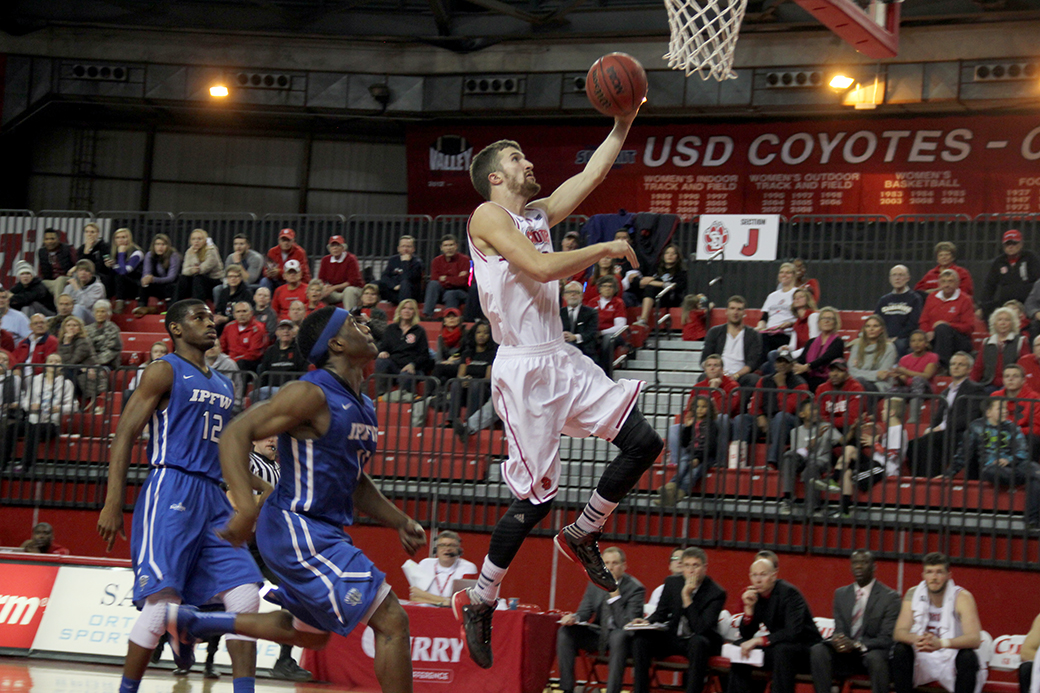 2 mins read
IPFW defeats Coyote men 66-55
Despite an early lead in Thursday night's men's basketball game, a quick turn of events kept the Coyotes from claiming a victory.
The University of South Dakota men's basketball team fell 66-55 to Indiana Purdue Fort Wayne in a Summit League game at the DakotaDome.
"Offensively, I thought we got off to a good start, and then we just went anemic real quick," said USD head coach Craig Smith.
The Coyotes led 22-20 with 5:14 remaining in the first half, but a 13-2 IPFW run to take a 33-24 halftime lead doomed USD's night.
"I thought the game really changed when James (Hunter) got his second foul," Smith said. "It went south in a hurry."
The senior center picked up his second foul with 8:54 remaining in the first half, with the Coyotes up 18-15.
Despite fighting through foul trouble and only able to play 19 minutes, Hunter led USD with 14 points on 6-9 shooting.
"They manhandled us," Smith said. "It starts with Forbes."
IPFW's Steve Forbes scored 21 points on 8-10 shooting for the Mastodons, overpowering the Coyotes in the paint.
After trailing by nine at the half, the closest USD would come with scoring was seven points.
The Coyotes were 3-19 from behind the arc — attributed to poor shot selection.
"We've got to stop settling for what's easy and what's open," Smith said. "And sometimes what's open, there's a reason it's open."
The loss is the Coyotes third in their last four games.
"We have to bounce back in a hurry," Smith said.
Hunter tried to look at his team's problems in an optimistic light.
"It's good that we're working it out now," Hunter said. "We have to work it out now rather than the first game of the Summit League tournament."
Hunter was the only Coyote in double digits. For IPFW, Joe Edward scored 14 and Max Landis added 10, while Mo Evans dished out 8 assists.
IPFW moves to 10-11 (3-5 Summit) and plays next at Omaha on Saturday.
The Coyotes dropped to 10-12 (4-4 Summit) with the loss and hosts Oral Roberts on Saturday.
"That's when we need to come together, and I think we got the guys that can do it," Hunter said.
(Coyotes' junior guard Adam Thoseby shoots a layup on Jan. 29 in the men's 55 to 66 fall to Fort Wayne at the DakotaDome. Miranda Letcher / The Volante).