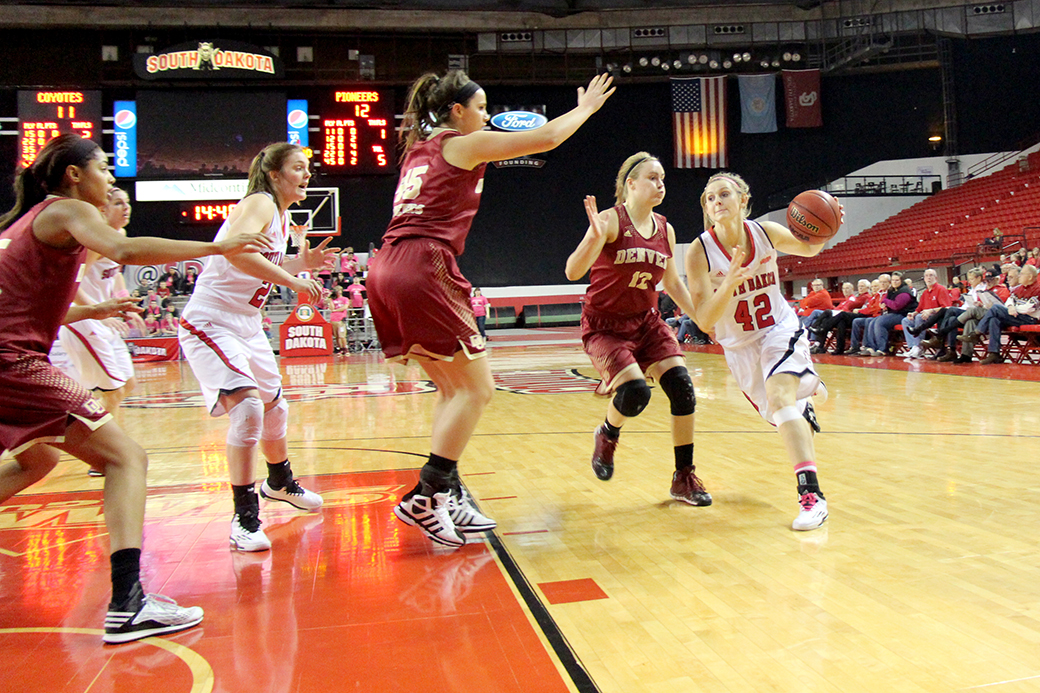 2 mins read
Strong second half gets USD win over Denver
The University of South Dakota Coyote women's basketball team showed up to win Wednesday night, triumphing over the Denver Pioneers 82-56 in the DakotaDome.
"The tale of two halves — I was really pleased the way the team played in the second half," head coach Amy Williams said.
The Coyotes began the game with an early lead, but let it slip in the first half. They regained the lead 42-37 late in the first half.
"One key for us at the end of the first half was (being) able to play Nicole Seekamp in foul trouble," Williams said. "She impacts the game with skip passes and ball movements. Then off a great pass from Nicole, Kelly (Stewart) made a three. (Nicole) just makes plays happen."
Senior forward Lisa Loeffler led with eight points and four rebounds at the half, while junior guard Tia Hemiller and senior guard Raeshel Contreras each added seven points and three assists.
In the second half the Coyotes outscored the Pioneers 40-19, attacking them on offense.
"We just made them collapse, which made the easy kick out shots," Loeffler said. "I think we passed the ball well and played really well as a team."
Offensive rebounds also contributed to the win for the Coyotes, which has been key for the team. They are always in "relentless pursuit of offensive rebounds," Williams said.
"One of our focuses was to take them out of it and crash the boards for offensive rebounds," Hemiller said.
USD ended the game with four players in double digits — Hemiller and Loeffler led with 13 points each, with Contreras adding 12 points and Seekamp putting up 10. The Coyotes also out-rebounded their opponents 44-36. Loeffler had a total of eight rebounds in the win.
Denver's Paige Bradley had a total of 14 points and five rebounds, while teammate Alecia Espinoza added 12 points and nine rebounds.
"We wanted to come out and give it to them, like we should have in the first half," Loeffler said. "We continued to take away their plays and push them off the 3-point line and have our hand in the shooting pocket."
The Coyotes improve to 16-5 (6-2 Summit League) with the win against Denver, dropping the Pioneers to 7-15 (4-4). USD hosts Oral Roberts Saturday, with tipoff at 2 p.m.
"We are ready to bring it to them and show them what real Coyote basketball is," Loeffler said.
(University of South Dakota's junior guard Heidi Hoff goes up against Denver's defense Wednesday night in the DakotaDome. The Coyotes defeated the Pioneers 82-56. Anna Glenski / The Volante)