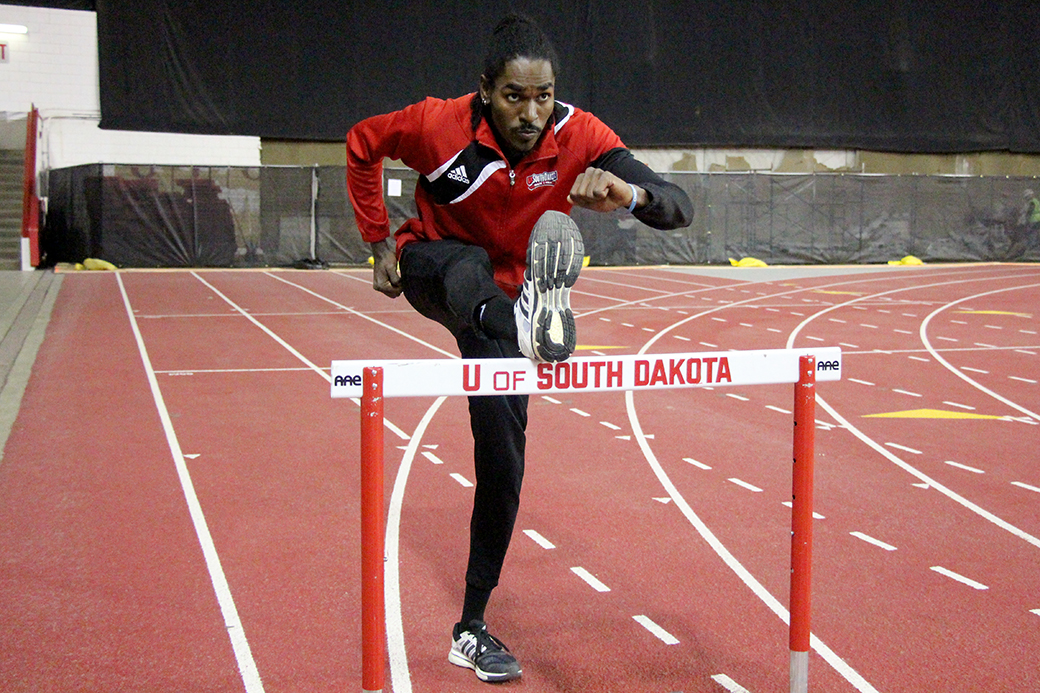 3 mins read
Lewin qualifies for national indoor meet
Despite being the first University of South Dakota track and field athlete to qualify for the national indoor meet, junior Teivaskie Lewin is continuing to push himself to become even better.
"I research the event — always looking for ways to get better," Lewin said. "I compare my hurdling technique with other professional hurdlers. I always try to figure out things that work for me that could make me faster."
Being nationally ranked, he said, just motivates him to work even harder.
"Running is a talent that God blessed me with, and it's gotten me this far," Lewin said. "However, I believe with hard work and dedication anything is possible. Since I was in the top 10, I just want to get better each time."
There are 320 Division I track teams in the country, and to qualify the athlete has to be in the top 16 to go to the indoor national track meet. Lewin is currently tied for 13 for the national indoor track 60 meter hurdles with a time of 7.79 seconds.
"Because in Jamaica track is such a big deal, he sees he could have a future in that," said Lucky Huber, head women's coach and director of track & field and cross country. "Whereas kids in America see track as something you do in high school and some people do in college, they don't connect to the next level."
One of Lewin's goals is qualifying for the Olympics in Jamaica.
"I was ranked sixth in my country last year, and over the past year I've gotten better, which puts me in a better position to accomplish my goal," he said.
Lewin was recruited from Montego Bay, Jamaica. USD has a connection — a former athlete — in Jamaica who helps USD find athletes.
"We had some money and were looking for someone who could be a high level athlete," said men's head coach Dave Gottsleben. "He can long jump, run the 200 and help out in the conference championship. He was a good kid and academically solid, so all of it fell into place."
Because of weather conditions, it is not ideal for a Jamaican to be here in South Dakota. But Lewin came because he liked the team and facilities.
"I made the decision to come here because I really wanted to be at a Division I school," Lewin said. "I've been running since I was 11 years old — ever since then, it's been a part of my life."
Huber works with Lewin most and said he feels the sense of mutual respect between the two.
"As a coach you want all your athletes to feel like you are listening to them," Huber said. "He knows I can help him get better, and I have to get the feedback of how he is doing and how he is feeling so that I know when I can push a little harder and when I need to pull him back a little bit."
(Photo: University of South Dakota hurdler Teivaskie Lewin warms up on the track in the DakotaDome before practice Feb. 17. Cristina Drey  / The Volante)