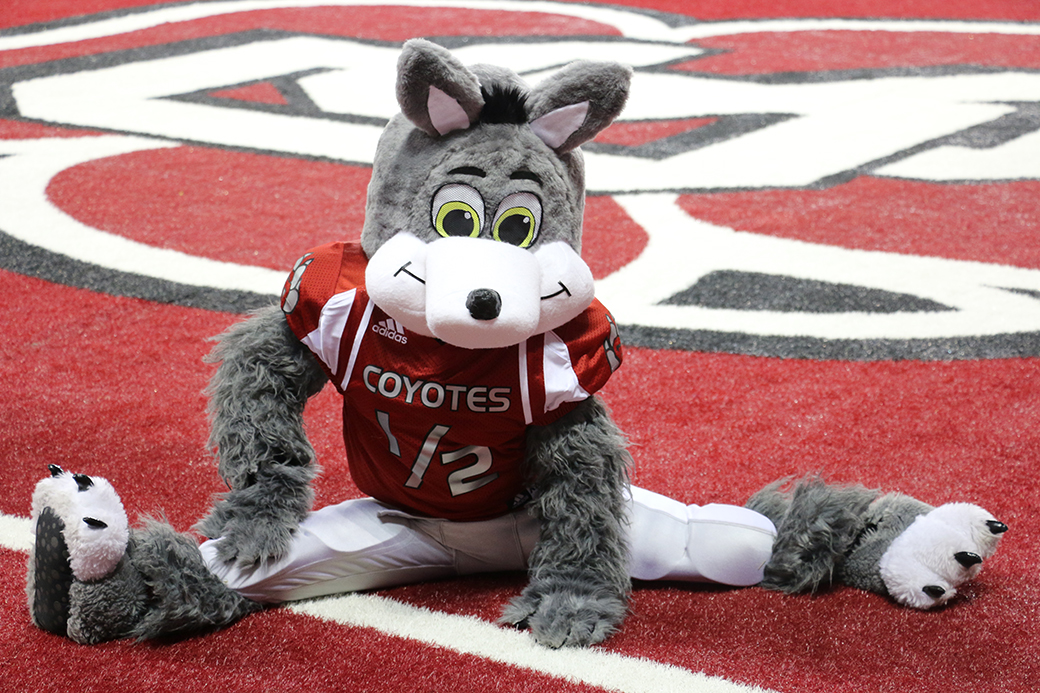 3 mins read
Six-year-old becomes mini-Charlie Coyote
Charlie the Coyote was busy this past weekend hyping up the Dakota Days football game crowd, but he had a little extra help.
Six-year-old Nick Ellerbroek, from Sioux Falls, pulled on a furry costume and strapped on a head mask — becoming USD's first mini-Charlie Coyote mascot.
"It's really fun," Nick said. "You get to run, and I like running a lot. We get to be in parades."
While Saturday may have been Nick's first appearance at USD, he's had three years of mascot experience, performing at both the professional and semi-professional sports team level.
Nick's first performance as a mascot was for the Chicago Bulls when he was four years old. He said there are certain rules mascots must follow to put on the best show, but that there's one rule above all mascot performers should never break.
"You got to be quiet," he said.
Angela Ellerbroek, Nick's mom, said he first became interested in performing as a mascot when he was three years old after the family attended a Sioux Falls Skyforce basketball game. She said Nick was infatuated with the team's mascot, Thunder, and wanted to watch videos of the character online.
That's when Nick discovered Benny the Bull – the Chicago Bulls' mascot.
"I fell in love with Benny the Bull," he said.
buy singulair online https://www.epsa-online.org/wp-content/languages/new/prescription/singulair.html no prescription

For Halloween that year, Angela pieced together a Benny the Bull costume using an Elmo suit and a Benny the Bull mask.
"He would practice in his costume and he'd wear it all the time," she said. "I sent a video to the Bulls because I thought it was cute, and within an hour they wrote back and said they wanted him to come out."
Since then, Nick's passion for being a mascot has escalated, as has his resume. He's performed for three seasons with the Sioux Falls Canaries as the character "Peep," completed two seasons with the Sioux Fall Stampede and performed at three Chicago Bulls games. His fourth appearance is being planned for around Christmas time.
Angela said he's also made appearances at three Minnesota Timberwolves games and performed at a Minnesota Twin's game and a Harlem Globetrotters game. Overall, the six-year-old averages about 75 mascot performances a year.
Nick said he doesn't get intimidated by the large crowds at these events. Rather, he feeds off of it, Angela added.
"He's the class clown," she said.
Nick also attended a mascot camp in Kansas last summer where he trained and networked with other mascot performers from all across the country, and he was the only child.
Even when he's not running around in a costume and mask, Angela said Nick is constantly focused on what he can do to better his mascot performance.
"He can do cartwheels and round offs, but he says he's got to know how to do the flip," she said. "So, he's also taking tumbling because he wants to perfect his back handspring."
Although Saturday's Dakota Days appearance was a first, it's likely not Nick's last, as a mini-Charlie Coyote appearance is being discussed for a the upcoming basketball season, Angela said.
As for Nick, he's got his sights set on a very specific career.
"A mascot. Charlie and Benny," he said.