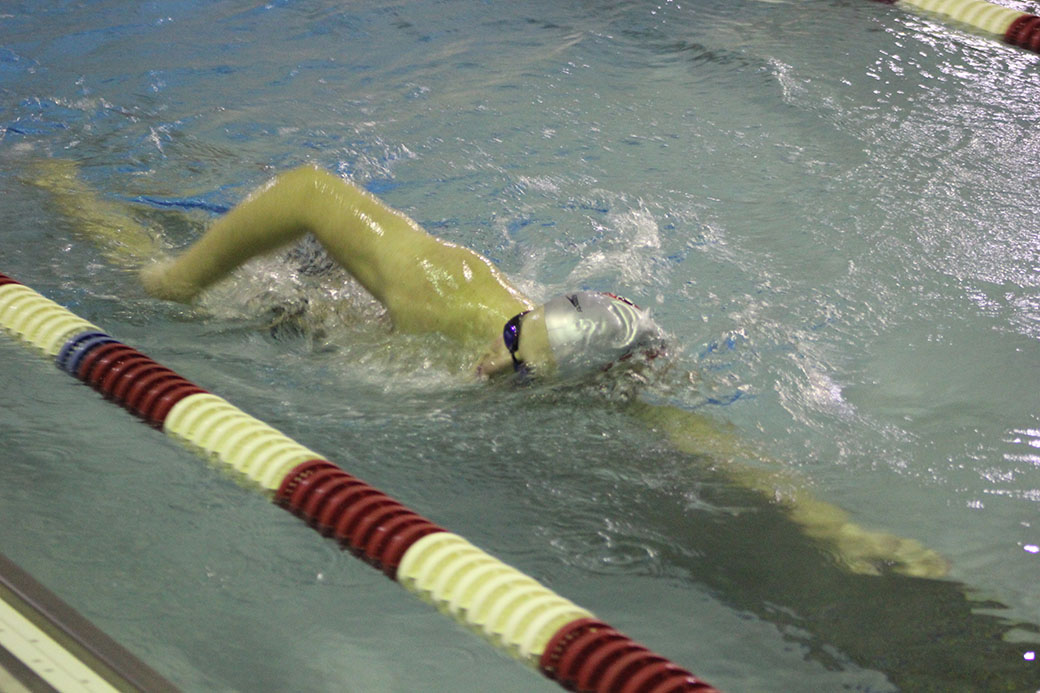 3 mins read
Swimming and diving teams prepare for Summit League Championships
As the USD swimming and diving teams prepare for the Summit League Championships this month, they look to eclipse their fourth place finish from a year ago.
Head coach Jason Mahowald said he knows his team is capable of doing better than last year.
"Our goal is always to do better and to improve on what we did last year," Mahowald said. "We always look to try and move up and see what we can do to get better."
This year's team is different from a year ago — there are new swimmers being exposed to their first Summit League Championships, and Mahowald is interested to see how they adapt.
"It's also a completely different squad then we had a year ago," Mahowald said. "We've got a lot of freshman in some key spots, so we'll see how they handle their first experience in the championships."
Mahowald is happy to see the improvement his team has shown throughout the course of the season and believes many athletes are starting to shine at just the right time.
"I think our biggest strength is we've continued to improve all year. We've gotten better almost every time we've gone out and I think we're looking to do the same thing in the championships, just peak and keep getting better," Mahowald said.
One peaking athlete is junior diver Greyson Hertting. Hertting currently holds the top Summit League scores in both the women's one and three meter dives. This week Hertting earned her fifth Summit League Diver of the Week honor of the year and the 25th of her career.
Two other Coyotes earned weekly honors as well.
Sophomore Julia Gorham received her first ever Summit League weekly honor after a big performance at the Minnesota Challenge last weekend. Gorham won the 200-yard butterfly, placed third in the 400-yard individual medley and placed fourth in the 200-yard individual medley. Gorham's time of 4:41.59 on her 400-yard individual medley was her season high.
Senior Chase Testa received his third diver of the week honor for this season. He won both the one-meter and three-meter diving events last weekend. Testa currently sits fourth in the one-meter dive in Summit League standings and sixth in the three-meter.
Mahowald said he is proud of the recognition his athletes are receiving and believes the recognition speaks to the way his team is performing as of late.
"Those recognitions come from a lot of hard work and being consistent," Mahowald said. "That just goes to show you what kind of athletes they are and that they're starting to peak and perform at the right time."
With over a week between the Minnesota Challenge and the Championships, Mahowald believes his athletes are getting much needed times of rest which should show next week.
"We're giving the kids lots of rest right now and they're starting to look faster and faster," Mahowald said. "Hopefully we can kind of carry the momentum into next week and swim fast."
The Summit League Championships begin Feb. 17 and continue through Feb. 20. They will be held in Indianapolis, Ind.