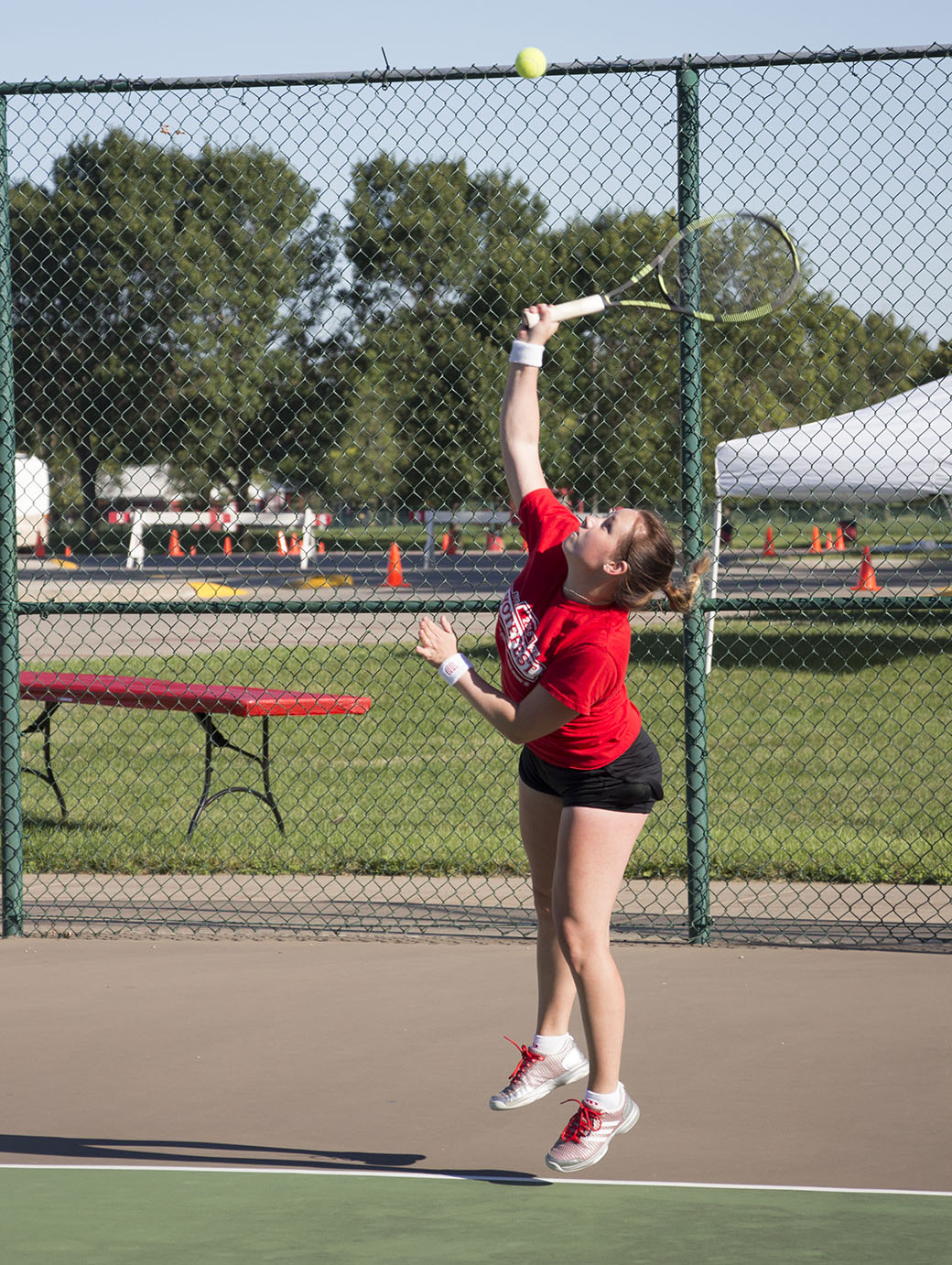 4 mins read
Tennis team hopes for another successful season
Last year, the University of South Dakota tennis team ended on a high note when they placed second at the Summit League Tournament. Back for the 2016-2017 season, the team has high hopes for the year.
With their first match of the year approaching this weekend against Drake University, practices are all about achieving their season goals.
Head coach Brett Barnett said the team has been practicing and getting "back into it" after a summer off.
"The girls have been doing well and working super hard each day," Barnett said. "We've been drilling a lot, trying to get into a rhythm, getting a baseline and then we've been trying to get into more double and single scenarios we're going to see next weekend when we start playing."
In college tennis, both doubles and singles matches are played. Doubles matches consist of two players from each team, while singles is one player from each team.
Each single match counts for one point, while all doubles matches are scored based upon which team won the most matches. This team receives one point total for all doubles matches.
Hannah Wich, junior and captain of the tennis team, said the team has been practicing to determine who will play together in doubles matches.
"We've been trying to figure out the doubles, combinations and figuring out who plays with whom," Wich said. "This way we'll have a good start to the fall season in our first tournament."
New members of the team have made an impact on this decision.
"We've got three new players, two freshman and a junior transfer," Barnett said. "It's three new bodies that have fit in really well and have been very good for us so far."
After the team's success from last year, working on team dynamic between returning players and new players has been an important aspect for the team's success.
"Last year was the best the team ever scored so it's a good time for us to step up and get a lot better," Wich said. "We've got some really good people on the team and we're working on becoming more of team and getting to know each other."
After placing second only to Denver University, the team has goals of winning the Summit League Tournament in the spring.
Last year, the team finished only three points behind Denver. After a member of the USD team was injured and couldn't finish playing, the team fell further behind.
Sophomore and co-captain Ellie Burns said the Coyotes were the closest to beating Denver than they had ever come before.
"The score was 5-2; it was quite close. There was a girl who was winning but had to retire after she fell over and sprained her ankle and couldn't carry on," Burns said. "It could've been 4-3, but we were the closest to beating them than we've ever been."
Closing in on the gap between Denver, Barnett has confidence the team will do well this year.
"Last year has left me hungry and wanting more, and I know the girls feel the same. We proved to everyone last year we can compete with anyone on the schedule," she said. "With this group here, if we stay healthy, play close, play as a family and play for each other, we can do a lot of good things this year and give Denver a run for their money."
The Coyotes open their season this Friday at the Drake Invitational in Des Moines, Iowa. The meet runs all weekend.