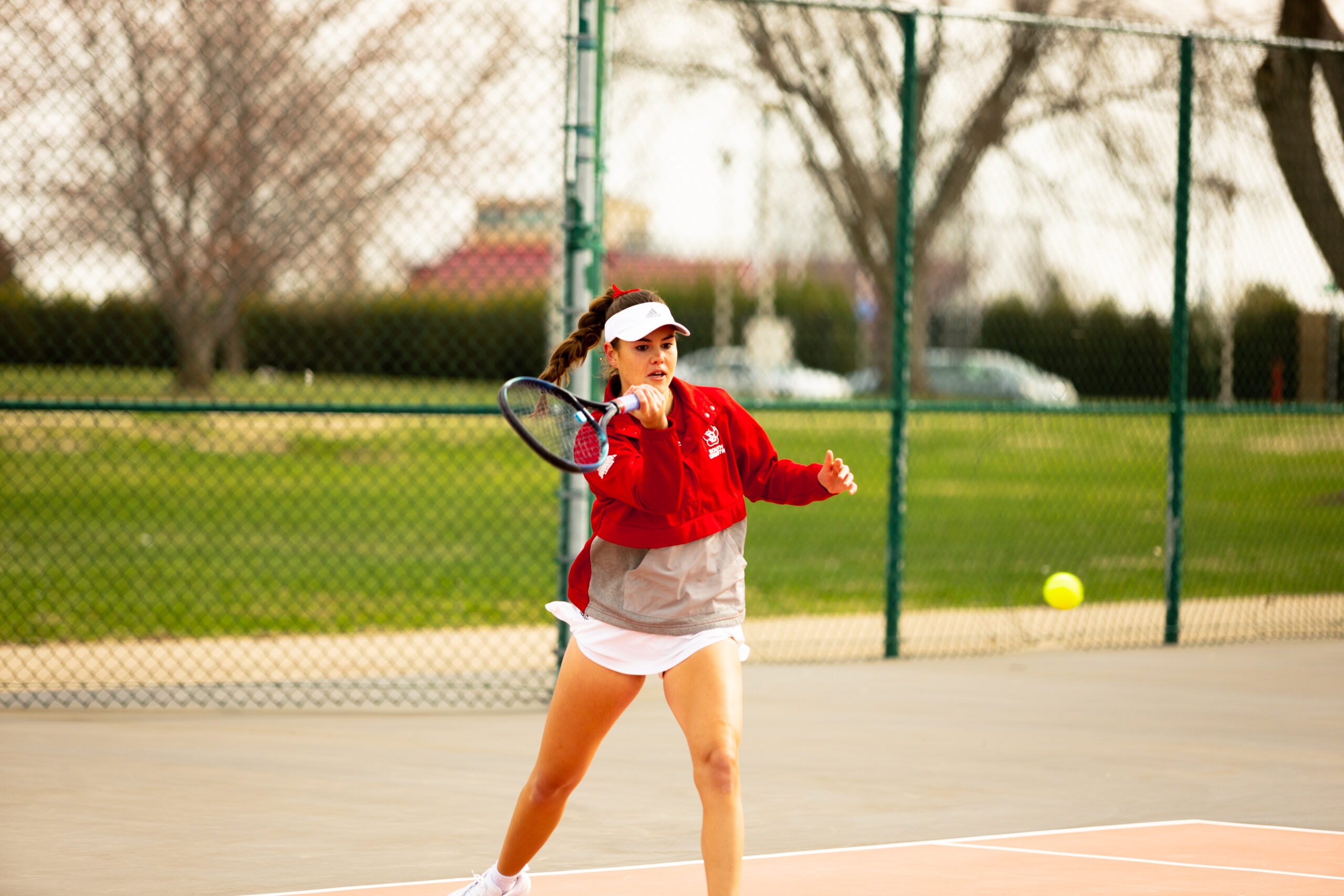 2 mins read
Tennis Falls in Home Finale against Oral Roberts
The tennis team held their home finale on Friday as they fell to the Oral Roberts Golden Eagles 2-5.
The Golden Eagles struck first in singles play as sophomore Chara Grammatikaki defeated freshman Anna Medvyedyeva 6-3 and 6-1.
South Dakota evened things up as they won the battle of the ones. Sophomore Bea Havlickova took both sets against senior Sasha Lebedeva by the scores of 6-1 and 6-4.
The next match that concluded, saw Oral Roberts retake the duel lead as junior Zere Iskakova gave the Golden Eagles a point after winning 6-1 and 6-3 versus senior Sydney Weinberg.
Another two set sweep went in favor of the Golden Eagles as sophomore Arina Sorokina defeated senior Paige Alter both by the score of 6-2.
The next match to finish up ended by retirement as USD's sophomore Grace Chadick retired the match against sophomore Luna Morini giving ORU the point.
Singles play wrapped with South Dakota gaining one more point as freshman Selena Bird was victorious over senior Reagan Miley 7-5 and 6-4 bringing the duel score after singles competition 4-2 in favor of Oral Roberts.
In doubles play, each set was separated by two games or less.
The Coyotes took match one with the duo of Chadwick and Alter taking the set 7-5 over Morini and Grammatikaki.
Oral Roberts evened it up after the team of Lebedeva and Miley defeated Medvyedyeva and Bird 6-4.
With doubles play even at one apiece, the point came down to third and final match as Oral Roberts' team of Sorokina and Iskakova prevailed over senior Esha Varma and Havlickova in a tiebreaker 7-5.
The Coyotes are now 4-14 overall and 2-4 in Summit League play keeping them 6th in the conference. South Dakota will finish up the regular season in Omaha on Sunday against the Mavericks.