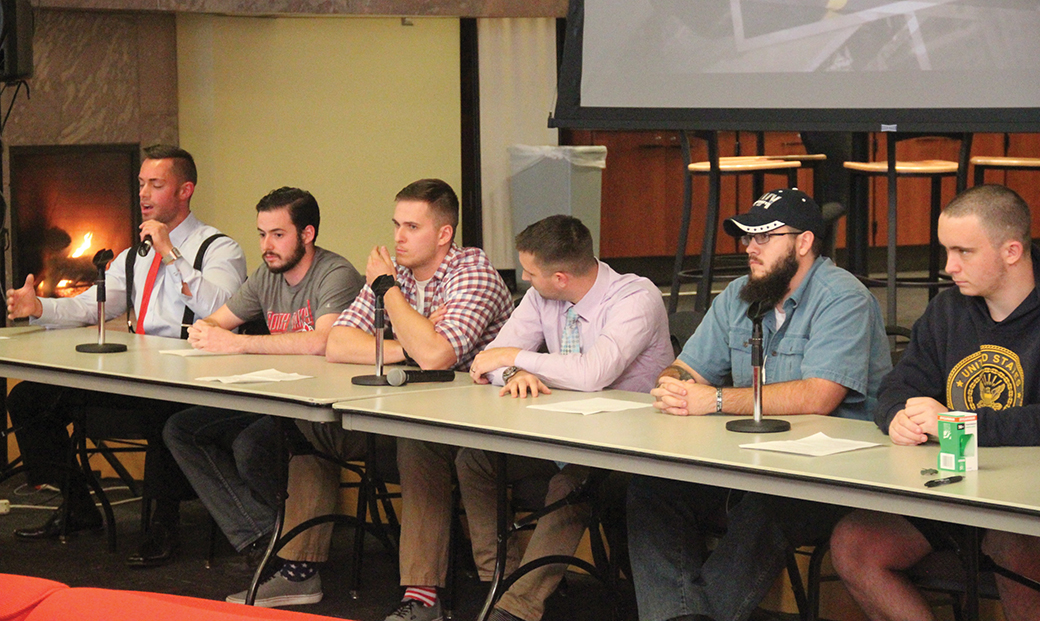 6 mins read
Veterans reflect on meaning of Veterans Day, petition for new flagpole
While many students appreciated the three-day weekend for Veterans Day, veterans on campus reflected on what the day means to them.
"I think that it's taking time to reflect on those who serve and have served. In my opinion it's trying to say, 'Hey we view this as important and the U.S. military is a critical asset to our country' and it's taking the time to honor those people because we are an all-volunteer force everybody has volunteered nobody is forced into the military these days," Eric Roberts, the veterans compliance officer and president of the veterans club, said. "So I think it's just taking the time to say thank you to those people."
Krisztian Fasi, a student veteran and second year psychology student said he thinks it's important for people to realize the difference between Veterans Day and Memorial Day.
"I think people need to realize there is a difference between Memorial Day and Veterans Day. It's a pretty clear distinction that kind of gets merged together," Fasi said. "Veterans Day is to be thankful for those that do serve in the military where memorial day is to remember those that have died in the service."
The Veteran Student Resource Center had may events planned for the week of Veterans Day, including handing out green lights in the Muenster University Center, a thoughts with vets discussion in the MUC and a community dinner.
Fasi said the VSRC is a great resource year-round, not just around Veterans Day.
"Just the space in general is an instant connection to others," he said. "It's just kind of a space where all of us can come in, hang out, vent if we want, which tends to happen at times. Outside of that it's a good way to be social it allows us to kind of escape."
Roberts said the VSRC is a great resource for veterans and the Veterans Club.
"Our meetings are here every other Thursday at 3:30," Roberts said. "The Veterans Club exists to provide a place for like-minded people to come together that support veterans, military connected families and all the issues that we want to promote in those groups. It's open to all students, you don't have to be a veteran or military affiliated student to join. If you have an interest in those causes you are absolutely welcome to come join."
Roberts also said the SVRC provides a place for veterans to connect.
"The benefit of having the SVRC is that it gives us a location for people to meet up. I know that when you're out in the university system you can't really identify who's a veteran," he said. "So it gives people a place to meet up and actually meet those people and have that awareness that there is other people out there who have gone through similar things as you or have similar interests."
Roberts and Fasi said that the SVRC has really only been around for about a year and while they appreciate the services there is more USD can do to support veterans.
"I personally feel we're almost hidden away and we are literally in the building that every student despises because of the Math Emporium," Fasi said.
The group is also in the process of getting a flagpole on campus.
"Right now we have an initiative started where we are trying to establish a flagpole in a more prominent location," Roberts said. "I've never even seen the flagpole here, I have no idea where it is."
Fasi added that there is one flagpole on campus in front of the Al Neuharth Building. He said he talked to President Abbott about the issue.
"In compassion to the university I went to the university and said, 'Hey can we put up a new flagpole?' and I actually asked President Abbott if we could relocate the one in front of the Neuharth Center and he said that was actually put up for that building with personal funding and said we could put up a new flagpole," he said  "I told him I would like to see it between (the Legacy Statue) and Old Main."
But a year later Roberts said the project has "basically been at a standstill." So the group has started a petition.
"Obviously everything the university does is a movement of the people being interested in it," Roberts said.
"We know the university supports this, but there's just a lot of paperwork and so we're just trying to light the fire to get it done," Fasi added.
Due to the standstill Fasi has started carrying around his own two-and-a-half by four foot American flag in his backpack.
"I don't think anyone on campus would argue with a new flagpole," Fasi said.  "So I decided that I am going to start carrying around an American flagpole until the university gets a new one. You get a couple of looks and a couple of cheers I've had a couple of students ask me about it and I tell them about the petition."
Fasi and Roberts said that efforts like this will make USD more military friendly.
"I don't think anybody is against military or veterans here but it's more of a neutral standpoint in comparison to our sister schools in the state we tend to not rank as high for military friendliness," Roberts said.  "I think the School of Mines is ranked eighth or ninth  right now nationally and SDSU is ranked like 12th. We're ranked down in the 100's. We would like to close that gap."
Both veterans said students should go to the SVRC to sign their petition.
"Some of the stuff can be changed at the university level but some of the other things are a board of regents thing, which moves South Dakota as a state to more military friendly," Fasi said.