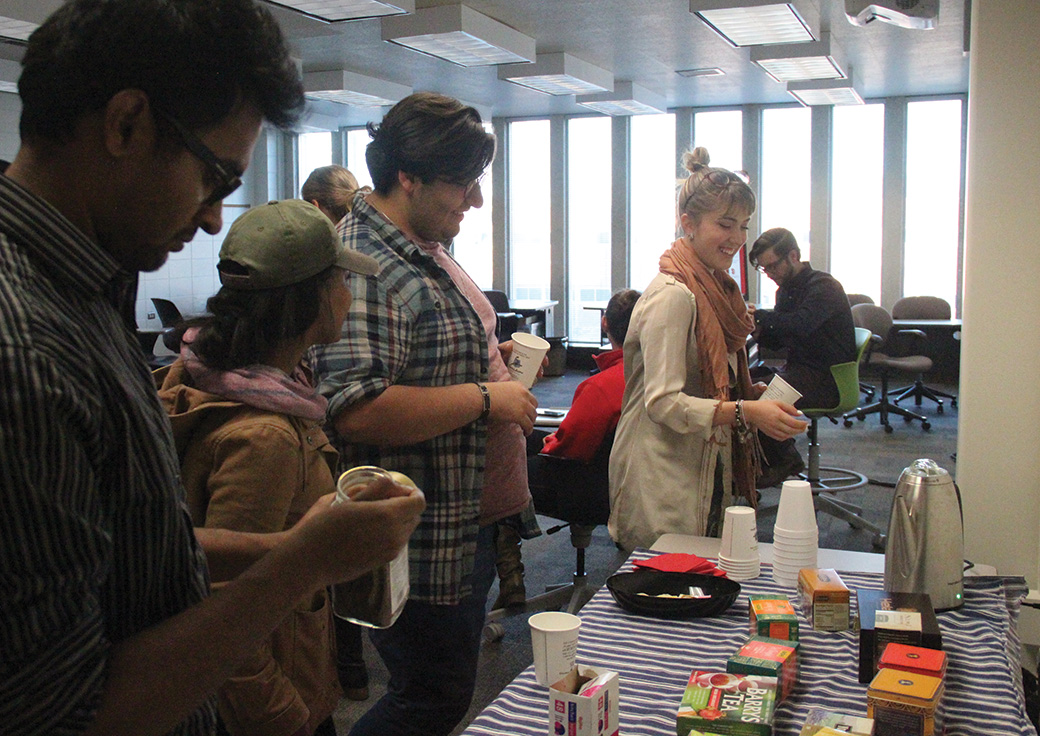 5 mins read
International students gather for weekly tea time
Every week this fall a group of international students has gathered at the Center for Diversity & Community to talk about their cultures over tea with other USD students.
The purpose of these informal gatherings is to welcome international students to USD and to introduce them to life in America.
Sophomore health sciences major Brandi German is a member of the International Club. She sees the benefit of these meetings as a community experience of sharing a cup of tea together.
"Tea is a sign of friendship and companionship," German said. "It gives you a chance to take a break from the day and relax for a little bit. For a lot of international students, tea is a big part of their culture all around the world. It just gives them a chance to come do something that's very normal for them. There was one student that came a couple weeks ago and he said that this was the first tea he had since he came to the US."
German said the tea times are open to any student, international or domestic, and doesn't require too much of a commitment to attend.
"If you want to come, you can, and if you're busy, don't worry about it," German said. "We encourage people to bring their friends. You can bring students that aren't international students to come hang out."
International Tea Time was started by international student advisors Patrick Morrison and Kasie Heiden last fall to get a sense of how international students were adjusting to life at USD and to get some input from the students on what sort of programs they wanted to see implemented.
"Sometimes we'll talk about various topics going on like for Dakota Days, we talked about some of the events that happened and explained those to international students," Heiden said. "Maybe they're not from a country where they have a homecoming parade and that type of stuff. So we have these opportunities that if they have any questions, we can kind of get a sense for what they are feeling and if we need to provide any additional programming in some form."
This particular tea time fell on the Thursday after the election. Students met in the library to discuss how American democracy works. The information provided by Morrison from the International Department was knowledge vital to both domestic and international students.
"Every election is different, and sometimes the nuances are a little difficult to understand," Heiden said. "With this particular election, there are concerns that are brought up nationwide. We just want to give students the opportunity to hear any of their concerns and let them know if there's anything we can do."
According to some students, there have been several reported cases of harassment on campus since election night and the CDC and CAGE offices have been working to make students feel welcome.
"There are issues of harassment because the nation right now is just so polarized," Heiden said. "I think right now some of the international students are a little concerned with the rhetoric that occurred with Donald Trump's campaign. We wanted to make sure we were providing a space and an opportunity for those types of conversations."
Despite concerns of harassment, international students mostly feel welcomed to campus.
"I've talked to some students about the election and generally I think that they are savvy," Morrison said. "These students are going to another country to study. They are smart, bright students who are well-adapted socially and culturally competent. I think that they are uncertain about the election, but they have trust enough in our political system and understand that it will be challenging, but we will all get through it."
Lena Tran, intercultural program coordinator for student services and Lamont Sellers, associate vice president for diversity, held a session with students for almost three hours on the Wednesday after the election as well.
"Lena and Lamont do an awesome job," said Saeed Dabbour, a first-year business major from Saudi Arabia. "It's just about seeing others' perspectives so that you understand them."
Other opportunities for cultural enrichment for students have also included trips to ethnic markets in Sioux City and other cultural trips, Morrison said.
"It makes Vermillion feel even a little bit more like home," said German.
Although the CDC and CAGE may seem like small organizations, Morrison said it's important to at least let students know that support is always there for them.
"A lot of times when we offer (these events), I think that students knowing the support is there is half the battle," Morrison said. "If they're feeling isolated, they have a place to come. We never know when a student is going to want to talk. Maybe it's a tough day of class, they're having issues with their roommate, whatever, they know that they have a space to come to."