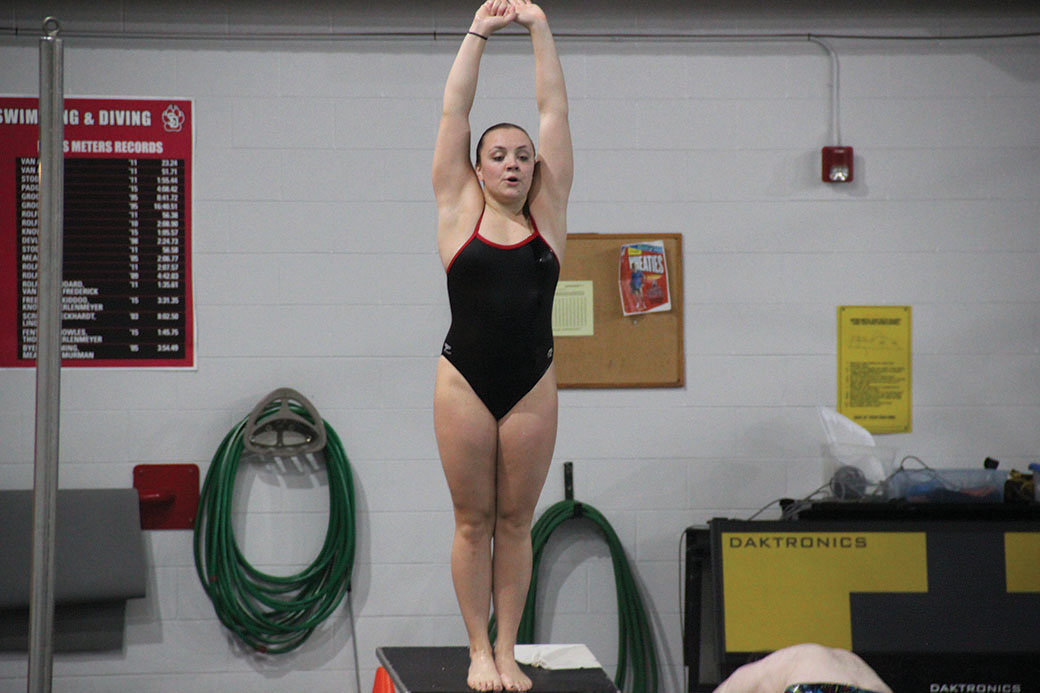 4 mins read
Hertting looks to swimming retirement after graduation
Diver Greysen Hertting has made history at USD with her numerous wins, records and awards throughout her career. Now a senior and approaching the end of her time as a diver, Hertting is ready to move on to another career.
One of Hertting's most notable accomplishments is winning the Summit League Athlete of the Week 32 times in the last four years.
"It's nice to have all of the hard work that you've put in every week (to) show off what you're doing is worth it and it's working," Hertting said.
Diving coach Kris Jorgensen said Hertting's winnings are "impressive."
"It goes to show how she works hard and is a good competitor," he said.
Inside the competition
Something Hertting said she likes is the connections she's made while diving.
"It's very individual, but you spend so much time with your teammates and people from other teams," she said. "There's never a dull moment. There's always something new."
Hertting has also won Summit League Diver of the Year three straight times, becoming the first woman to accomplish this in 2016. Hertting said this is one of her biggest achievements.
"That's been a primary focus of mine, and I'm proudest of those," she said.
Jorgensen has worked with Hertting for two seasons. He said her diving skills are "very good and strong."
"She jumps higher than others and harder than others," Jorgensen said. "She also has the ability to pull out her best dives when she needs them."
The mental game
Diving is a "very mental sport," Hertting said.
"It can be easy to get a little discouraged and let that affect your diving," Hertting said. "A major downfall is trying to avoid that negativity and focus on what you're doing well."
Hertting said positivity is imperative to combat the difficulties of diving.
"You focus a lot on what you do successfully, what you do well," she said. "Everything else comes from your teammates and friends. It's a very mental sport, but you can have fun with it, and having fun pushes a lot of that negativity out and allows you to enjoy yourself."
Jorgensen said Hertting acts as an "older leader" to the other swimmers and divers.
"The rest of the team looks up to her," he said. "She helped me become a better coach. She's going to be missed on the team. It'll be impossible to replace her."
Student priority
Hertting said the key to balancing school and diving is "very good time management"
"It's a lot of planning ahead, talking with not only the coaches but your teachers about when you're going to miss, what you're going to miss (and) when you're going to make it up," she said. "Just trying to do them both as well as you can. You struggle a lot at first, but eventually, you figure it out."
USD caught Hertting's eye because of the sense of community, she said.
"I loved the school, I loved the coaches, the team was amazing. It made me want to come here," she said. "(It was) much more welcoming than my other choices."
Herrting also came to USD because of the diving team.
"(The team) was one of the major factors that brought me to USD, and they're one of the factors that kept me here all four years," she said. "They're super supportive. You can go to them for anything. They become really good friends."
After one final meet at the NCAA Zone Diving Championships on Sunday through Wednesday, Hertting said her focus will shift to her nursing career.
"I'll be enjoying retirement," she said. "Diving has meant a lot to me. It's kind of been my identity since I started. I've always been 'Greysen the diver.' I think it's been a part of me for as long as I can remember."