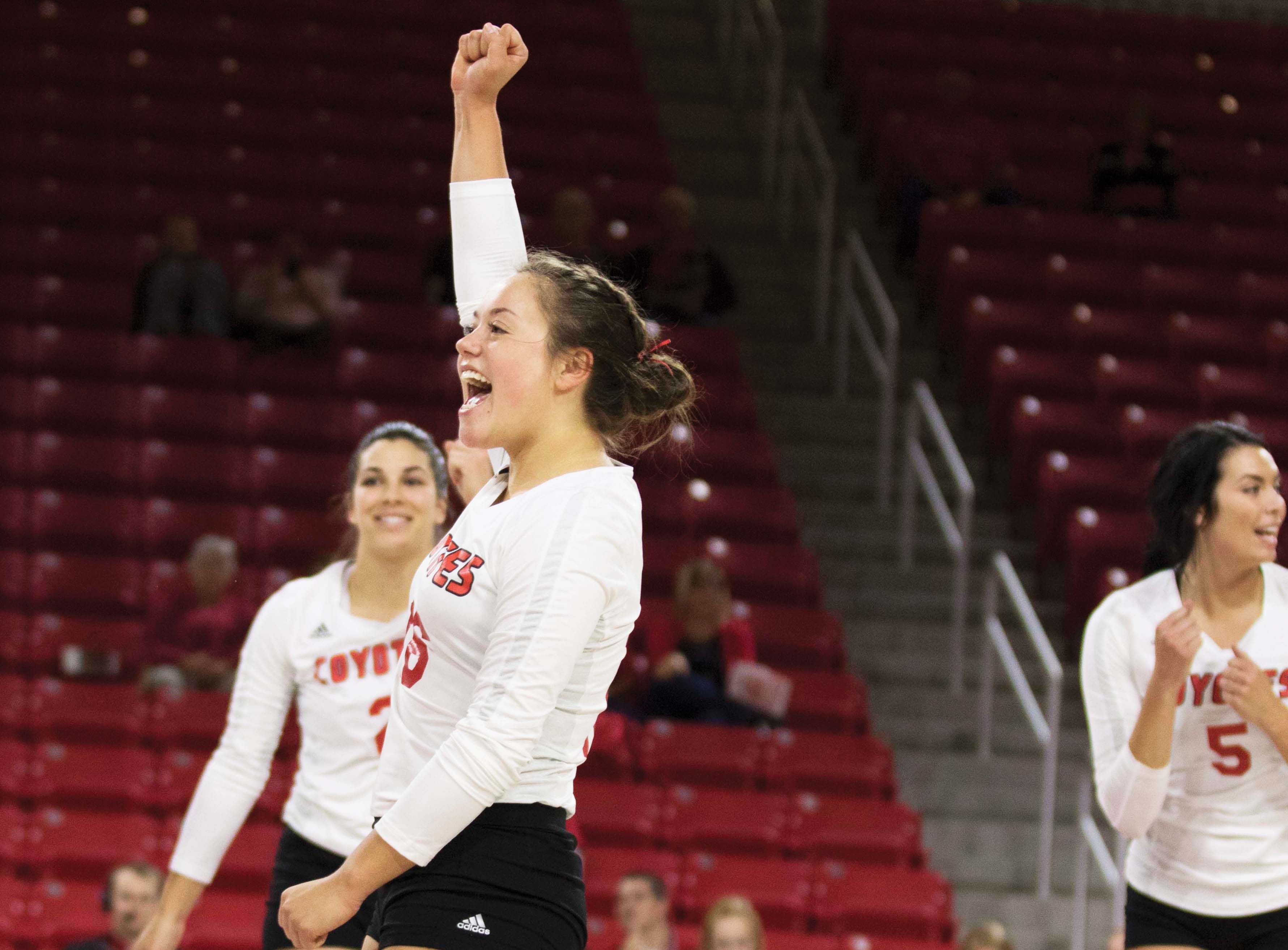 3 mins read
Player of the Pack: Mehana Fonseca
Mehana Fonseca is a sophomore volleyball player majoring in kinesiology and sport science
Karina Dufoe: What brought you to USD this year?
MF: I was originally in Oklahoma playing at University of Central Oklahoma and it was not a very good fit for me, so I left looking for a school that fit me academically, athletically and socially. When I visited USD it had all of the things I was looking for and more, so I knew this place would be a great where I wanted to be.
KD: What have you enjoyed most about the team and university?
MF: I love how close my team and I are on and off the court. Throughout this season we've had a lot of injuries which has taken an emotional toll on our team, but we've worked really hard to not let it affect us too much and play just as hard for our teammates. I also really love the coaching staff and appreciate the way they lead our team to bring out the best in each of us as players and as people. What I love about the university is the amount of support we get and school spirit. You can tell everyone loves being a Yote and the energy in campus is contagious.
KD: What is your favorite part of the game?
MF: My favorite part of the game is defense. While my strong suit is serve/receive, I love defense and having the grit to not let the ball touch the floor. I also love how volleyball is the ultimate team sport. Everyone needs to be bought in and firing on all cylinders in order to be successful.
KD: What's your favorite part of the team trip to Hawaii?
MF: My favorite part was being able to play Stan Sherrif Center, where I've always dreamed of playing since I first started the game. I always wanted to play at the University of Hawai'i, and I didn't think I was going to be able to all the way in South Dakota, so it's amazing I was given this opportunity. My mom and dad are both from the island, and my dad even played football at the University of Hawai'i. It was so special to have a huge support system for the game with all of my friends and family. We had a total of about 80 fans at the game all wearing red in a sea of green, which was awesome to see even being so far from home.
buy xifaxan online https://www.mabvi.org/wp-content/languages/new/usa/xifaxan.html no prescription

My team really learned the true meaning of the aloha spirit that they would not have been able to get on a regular visit. My grandpa and grandma took some time to show us around the island, give us gifts and demonstrate what ohana and aloha means.
KD: Why is it so important for fans to come cheer you on and support the volleyball team?
MF: It is important to come out and support because we really feed off of the energy the crowd gives us. It's a special experience to play in the SCSC and it's even better with a packed house. Please come out and cheer us on! Go Yotes!