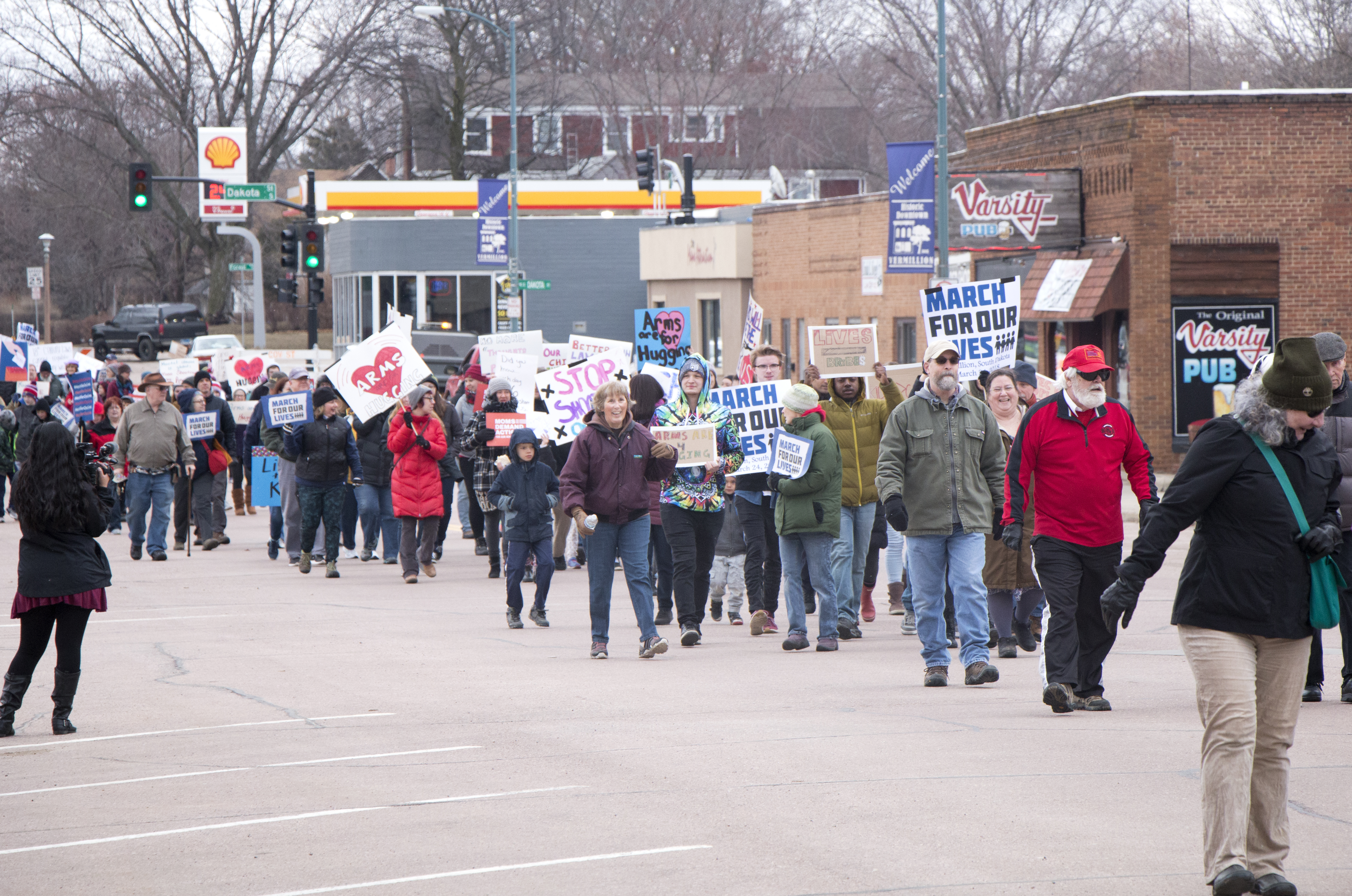 6 mins read
'Enough Is Enough:' March For Our Lives brings up gun regulation, school safety issues
Hundreds of Vermillion residents, K-12 and USD students and educators alike marched on Main Street on Saturday afternoon. This march was one of hundreds of sister marches across the country in support of victims of the Marjory Stoneman Douglas High School shooting in Parkland, Fla., as well as the Great Mills High School shooting in Maryland.
Marchers gathered at the First United Methodist Church for coffee and snacks, then walked towards the Clay County Courthouse at 1 p.m. chanting "Enough Is Enough" armed with signs reading "Arms are for Hugging," "Art not Artillery" and "Listen to the Children," among others.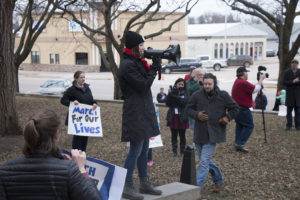 Katie Meirose, a junior acting and anthropology double major, was a student organizer for the march. She tabled in the Muenster University Center ahead of the march in order to get the word out to students.
"I want students to understand that this is an issue that needs to be addressed," Meirose said. "A lot of gun violence is preventable when taking the right measures. Every voice matters, especially young voices. Get out there and vote, and get out there and make a difference."
Meirose said she remembers having to do lockdown drills as an elementary school student.
"I grew up with school shootings," she said. "I remember doing lockdown drills as an elementary school student, so it hits close to home and it's time we really take a stance."
March organizer Ellie Pyles, the office manager of First United Methodist Church, said she asked the pastors if the church could host the march. Pyles said it's "heartbreaking" to see mass shootings in the news, and it's "impressive" that students all across the country are taking the lead on the issue of gun safety.
"This is something that people care about, that a lot of people think that enough is enough and we're sick of seeing reports of mass shootings every week," she said. "There's already been another school shooting since Parkland, it just happens a lot more frequently and I think a lot of people are at a tipping point. This is a chance for people to get out there and let folks know that enough is enough."
Pyles received one of 500 grants from the national organizers to put on the march. She said any extra money from the $5000 grant, which went towards making signs and coffee, tea and cider from The Bean as well as treats from Cafe Brule, will go towards educational forums and ballot initiatives.
"Beyond the march, we'll be able to put on some educational forums and work to promote gun safety awareness, gun violence prevention and to get universal background checks through the ballot initiative process to put that to a vote statewide in 2020," Pyles said. "That is our longer-term goal."
Pyles said it's important to emphasize that gun safety isn't, and shouldn't be a partisan issue. She said the two main groups supporting the march, Everytown For Gun Safety and Moms Demand Action for Gun Sense in America, are not "anti-gun organizations."
"Nobody is anti-gun. We just want kids to be safe. We want to prevent as much gun violence as we can and I think that that is something that everybody can agree on," she said. "Hunting is a really important part of South Dakota culture, South Dakotan values and for tourism in South Dakota. I personally respect that and everybody that I've worked on this with respects that. It's possible to want to promote gun safety and reduce gun violence at the same time."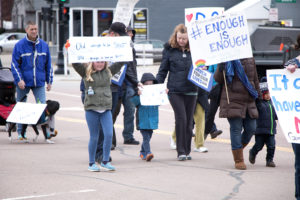 Maggie Terwilliger, a third-grade student in Vermillion, held a sign that stated "old enough to be shot, old enough to have an opinion." She said this is the second march she's participated in; the first was the women's march in Vermillion in 2017.
"I don't want people to get hurt if they're not doing anything wrong, (people) shouldn't just shoot people for no reason," Maggie Terwilliger said. "Everyone can support people that are getting shot and are getting hurt, (no matter their age)."
Lisa Terwilliger, Maggie's mother and an employee in the finance office of city hall, said this march shouldn't be a partisan issue.
"The fact that I'm 35 and I've only marched twice, and the fact that she's eight and a half and she's had to march twice for important things, and I don't want her to look back at her life and think that her mom and dad didn't do anything to try to help her and all of her friends," Lisa Terwilliger said. "It's important that we do something. It's not really a bipartisan thing, it should be for everyone."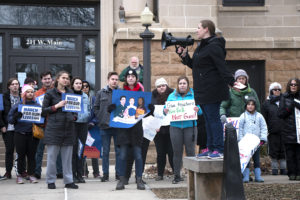 As the marchers organized in front of Clay County Courthouse, many speakers addressed the crowd including Meirose, Brett Ries, the president of the USD College Democrats, and Shane Nordyke, an associate political science professor.
Nordyke said this march is the "beginning of moving forward."
"There's a concerted effort by a group of us here that wants to keep going," she said. "We have plans for ballot initiatives, we have plans for common sense legislation that actually we all agree on."
Luci Hudson, a junior at the Vermillion High School and the president of the Vermillion Young Democrats, also spoke at the march. She said she wanted to bring power to the polls.
"I demand change and we all demand change," Hudson said. "I hope this sends a message of safety and change (to Vermillion). We want to be able to understand politics in our community, state, and nation and bring change to our nation and our state."
Video by Lauren Soulek for Coyote News.