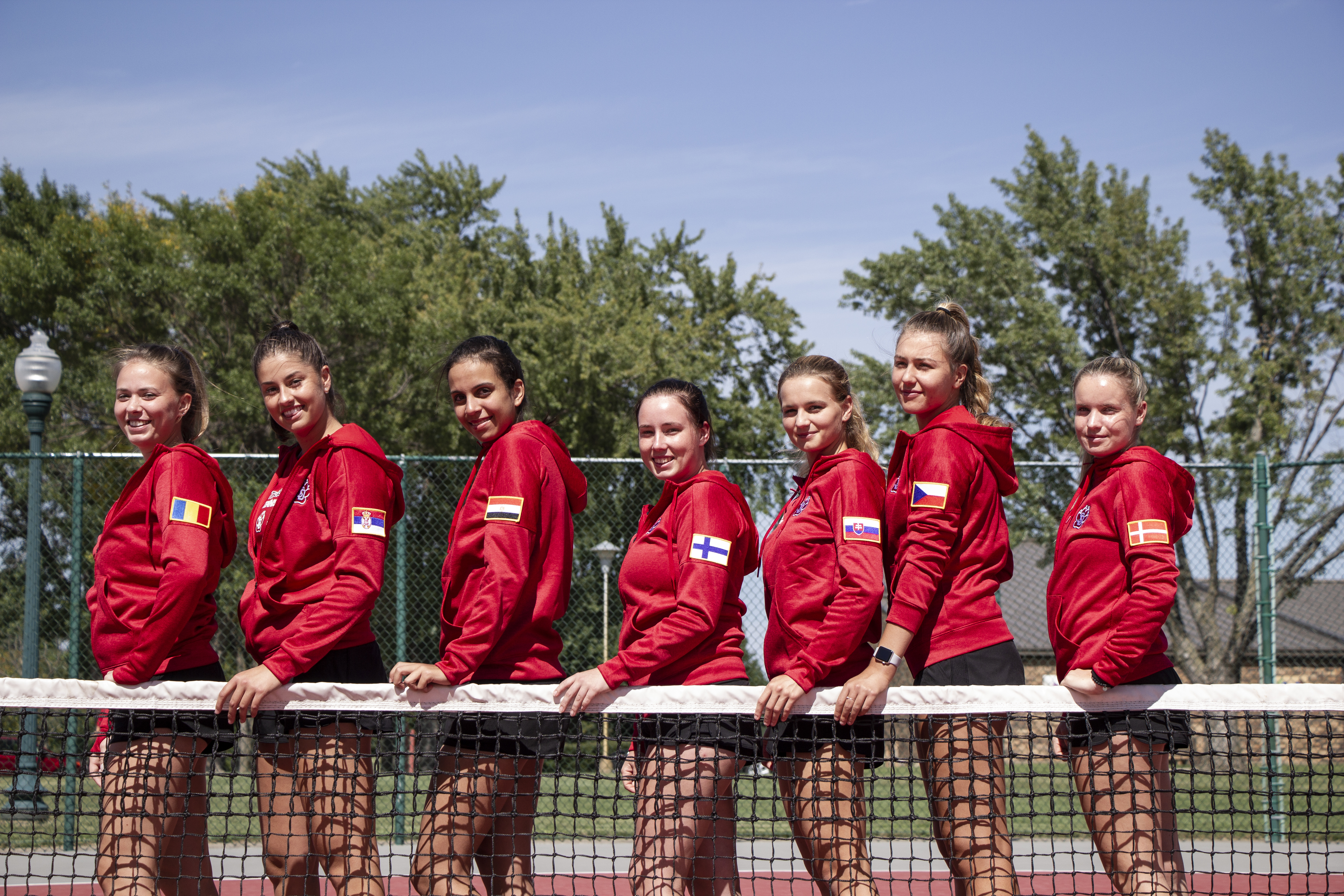 5 mins read
Eight countries, one court: a look inside Coyote tennis
As a university housed in a small midwestern town, recruiting international athletes would seem a difficult endeavor. However, USD's tennis program defies this assumption — with every player on it's team.
All eight players on USD's 2018-19 women's tennis roster come from the countries of Egypt, Finland, Ukraine, Slovakia, Romania, Serbia, Denmark, and the Czech Republic.
Brett Barnett, entering his fourth year as head coach, said he believes the team creates a bond through their international backgrounds. 
"The girls adjust well and it's super fun having different cultures on the team," Barnett said. "They talk to each other a lot about what their countries are like. In my opinion, it makes the team closer than other teams." 
In certain countries, students don't always have the option to play a collegiate sport while attending university. 
Natka Kmošková, a freshman from Pardubice, Czech Rebublic who arrived in Vermillion three weeks ago, said that's what brought her to America.
"I started playing when I was five or six and always wanted to go to the United States because that's the only way I could study and play," she said. "It would be so expensive and so hard in my country to do both at a higher level." 
The recruiting process for international students differs from traditional recruiting. To find players, Barnett said he works with recruiting agencies, watches highlights online, and listens to former players and coaches who know of talent in their home countries.
Nanette Nylund is a junior from Tuusula, Finland pursuing a nursing degree. Nylund was contacted by Barnett after he saw her recruiting video on YouTube. 
"The major reason I chose USD was the relationship with coach Brett," Nylund said. "He really helped me through the process and showed me what college tennis was all about."
Nylund said collegiate tennis in America is more team-oriented than tennis in Finland. 
"It was more individual training in Finland. Back home, you do the competition and travel by yourself," she said. "Here in Vermillion, the sport is different. It's nice now to have a team with you so you don't have to be all alone."
It's hard living an ocean away from home, but Nylund said her team has made it easier.
"I enjoyed that the team was international because I knew they were all going through the same thing," she said. "I think it helps because we support each other on and off the court–whether you're homesick, or school is getting hard–knowing someone is going through the same thing as you are being far away from home." 
Habiba Aly, a sophomore from Cairo, Egypt, majoring in media & journalism and strategic communications, said she chose USD because she enjoyed the school and she got to be close to her brother who lives in Omaha. 
"My parents really enjoyed that Vermillion was a small, safe community. It's one of the reasons they were okay with me coming to the U.S.," Aly said.  
"Cairo is the capital of Egypt, so it is a very big city; Vermillion is much smaller," she said. "It was also the first time I had seen snow." 
Like Nylund, Aly said everyone on the team relates to what another endures. 
"We can relate to each other because we understand this isn't home," she said. "If there is a new member on the team who is also international, I can feel her struggles, because I was there." 
Making the athletes feel at home is a priority, Barnett said.
"We have team meals when the girls get back. We try and go to other sporting events to support the other teams," he said. "Some of the older girls will take a younger player under their wing and have people over or will go see a movie in town. They do a good job helping girls from their region or country." 
Barnett said he enjoys learning about the different cultures his players come from.
"Getting to know the girls and getting to know the different terms, everyone calls things differently in tennis," he said. "They keep me on my toes and we have a lot of good laughs trying to figure things out together." 
"I am learning daily about their experiences and different education," he said. "Bringing their experience from their country has helped me and in turn helped the team." 
Nylund said the team's companionship makes the shift easier on each year's newcomers.
"I think we are really close," said Nanette, "We have three new players and we're getting to know them, but I think we have a really positive attitude every time we practice, and we support each other on-and-off the court with studies and homesickness."
As for actual play, Barnett said he's excited to see what his team can accomplish this upcoming season.
"To me, it doesn't matter if they're local or from all around the world," Barnett said. "This is going to be the strongest team we've had since I've been here."
Molly Sperlich contributed to this story.