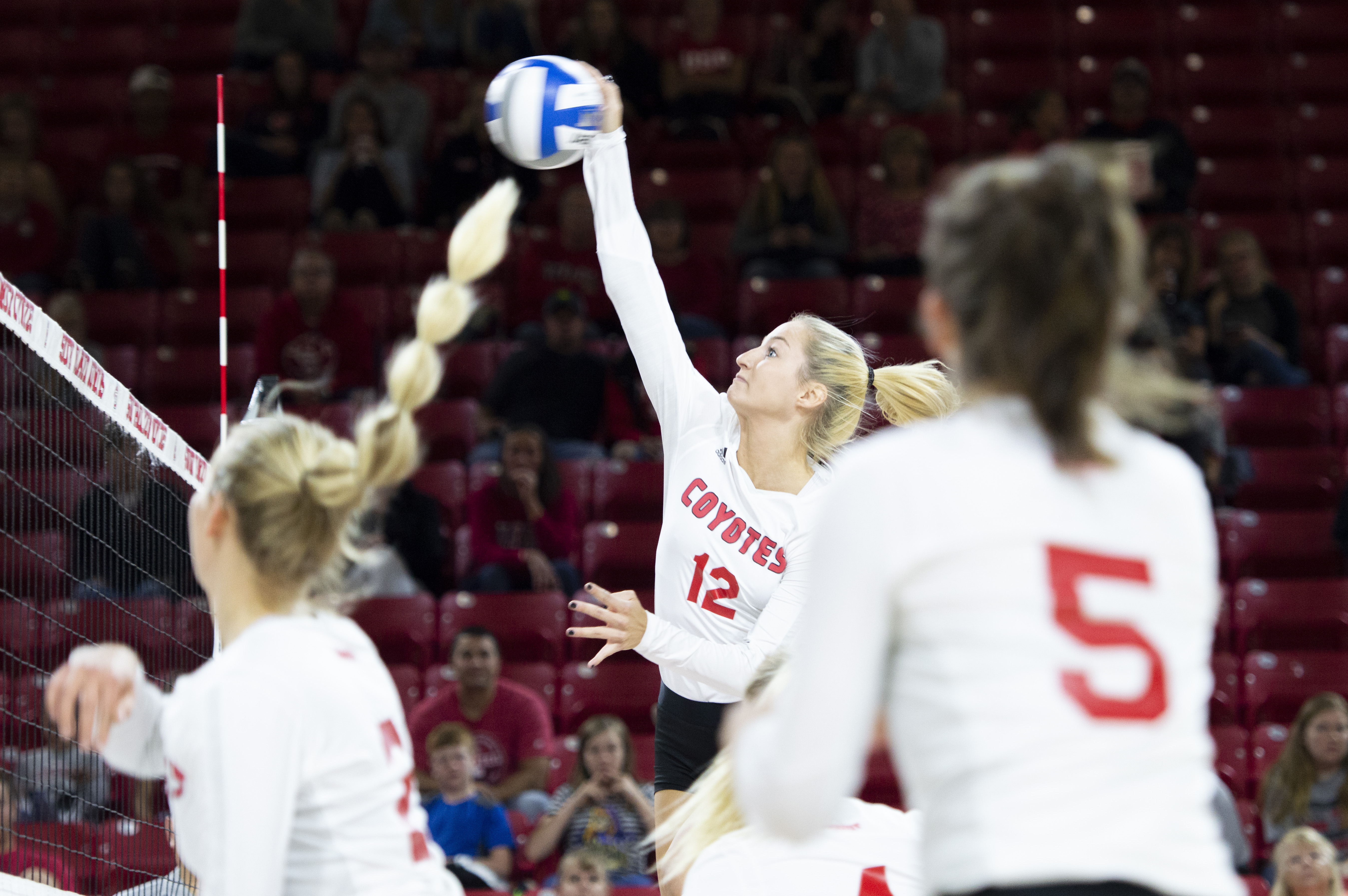 4 mins read
USD volleyball sweeps SDSU, Oral Roberts
USD volleyball has won nine straight sets, sweeping South Dakota State (SDSU) (4-18) and Oral Roberts (7-14) over the weekend.
USD vs SDSU
USD swept SDSU 25-18, 25-15, 25-11 in a rematch in the Sanford Coyote Sports Center (SCSC) Friday night.
The Coyotes ended up all together with 45 kills, five aces, 42 assists, along with a hitting percentage of .359.
USD was down 12-6 in the first set before going on a seven-point comeback service run ignited by senior hitter Taylor Wilson, who finished with ten kills
"We came back, and that's showing that we aren't going anywhere," Wilson said. "SDSU coming here is a huge rivalry for us. It's the battle of the Dakotas, and I think beating them in three is making a statement win for us and the conference."
Wilson led the team with a .529 hitting percentage, followed freshman blocker Claire Gerdes, who garnered a .412 hitting percentage.
"It was good to see a couple of our players step up. I mean Taylor and Claire had a really good night," Head coach Leanne Williamson said. "They both hit over .400 so it was great to see the production out of the middle for us. Madison Jurgens moved the ball around well and put people into good positions."
Jurgens tallied 35 assists, helping Claire Gerdes achieve a then-career high of eight kills. Senior Hayley Dotseth produced ten kills.
"I think as a whole we played great," Wilson said. "Our offense was super spread out, everyone was hitting the ball, and our defense wasn't letting the ball touch the ground."
Wilson said an energetic crowd always helps against State.
"The atmosphere was great; the fans really buy into it and that really helps us create energy. We've had a great road start, but I think when we finally come back home with our crowd behind us then we get to feed off their energy and that makes it really fun," Wilson said.
The team said they were expecting crowd support and channeled what they could.
"It feels really good to beat SDSU at home and prove to our fans that we're better than what we've shown in the past," said junior Elizabeth Loschen. "We stayed aggressive and defended our home court, it's one of our goals and expectations this year to play our best at home and show our fans what Coyote volleyball really is, and I think we did that tonight."
USD vs Oral Roberts
USD volleyball followed up Friday's victory with a sweep of Oral Roberts 25-20, 25-17, 27-25 at the SCSC on Sunday.
"Being able to win at home and in three is a good thing for us and its always going to help," Williamson said. "We had to be a little more rested going into it. They came in swinging aggressively and we had to make some plays on defense but in the end, it went to the serve and pass game."
Hayley Dotseth led the team with 16 kills. Gerdes raised her career high with 11 kills. Wilson reached 11 kills  and Loschen added nine. Anne Rasmussen led with 21 digs, followed by freshman Lolo Weideman with 16.
"We started scoring really efficiently," Williamson told GoYotes. "When you start moving the ball around the floor, every hitter is involved and defensive when you start digging in the system you give all of your hitters the ability to attack."
The win moves USD to 14-8 overall and 8-2 in the Summit League. They stand second to Denver and tied with Omaha.
"Every team is going to push you, nobody is going to in here and let you have a win," said Williamson. "For them to have game point there and for us to battle back and find a way to win down the stretch was really big."
The Coyotes look to add to their three-game win streak against Western Illinois (1-21) on Oct. 26 in Macomb, Ill.