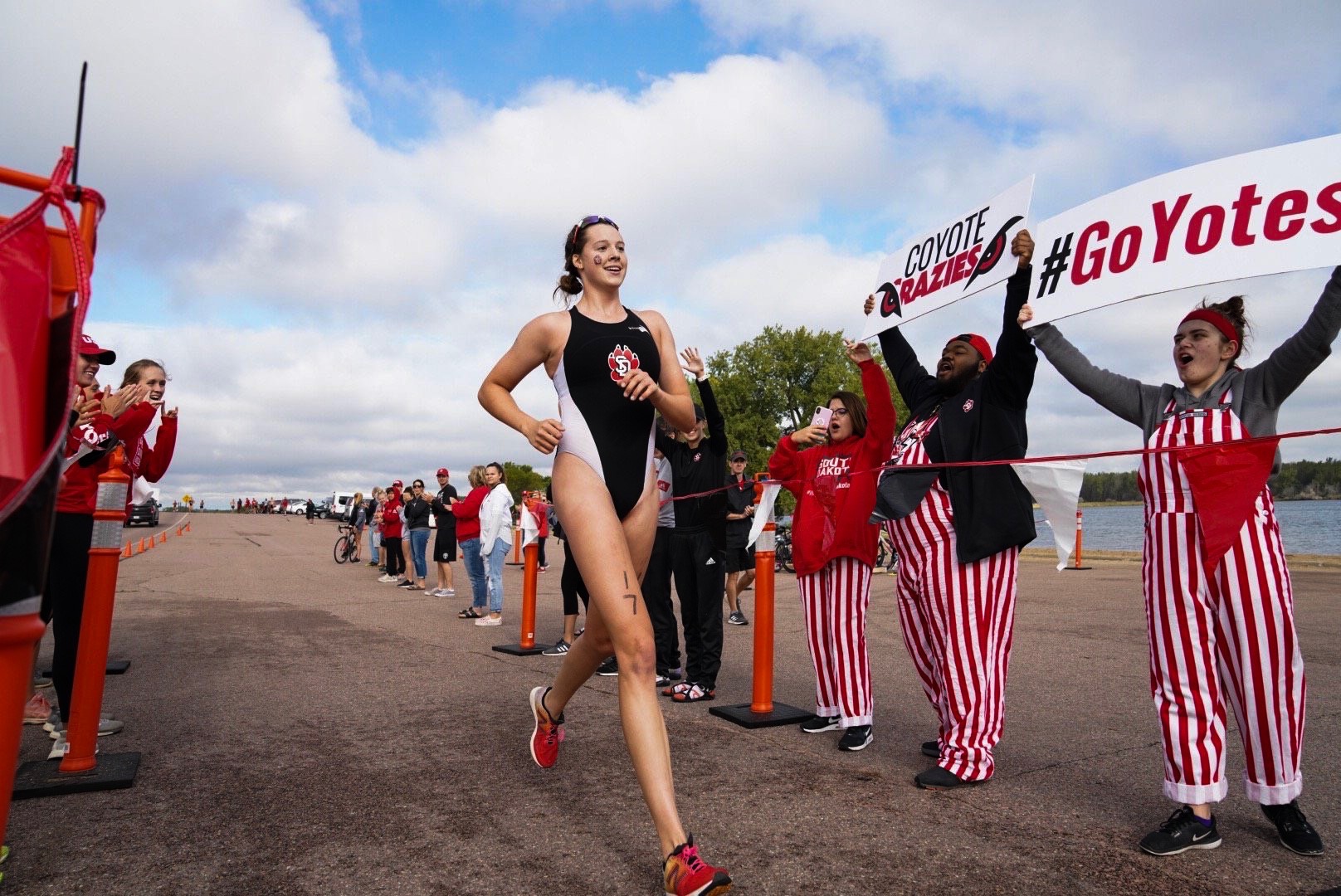 6 mins read
Canadian Coyote triathlete Ella Kubas excels early
Like any other USD athlete, Ella Kubas wakes up at 5:30 a.m. and double-checks her schedule to make sure she walks into the DakotaDome with the correct gear for that morning's workout.
But Ella Kubas is not like any other USD athlete.
The six-foot triathlete from Ontario, Canada spent the latter part of summer adapting to a new country, new classes and three sports.
You could say she's adapting well. Kubas captured her first collegiate crown during USD's first home triathlon meet at Lake Yankton on Monday. She finished with a time of one hour, four minutes and 38 seconds. Sophomore Leah Drengenberg finished runner up a minute later (1:05:05.4).
"It felt great to win my first collegiate race. [Dregenberg] pushed me so hard and it was great to be able to bike the whole race together. She is such a driven athlete and to race alongside her is humbling," the freshman business major said.
On Instagram, the Kubas pokes fun of her height with her handle @that_little_triatlete.
"I created it when I was in 7th grade. I tried to change it a year ago, but people threatened to unfollow if I didn't have the iconic username," Kubas said.
The freshman was named the 2018 Junior Athlete of the Year by Triathlon Ontario and was one of the USD's top recruits from Milton District High School in Ontario.
She started her athletic career by playing soccer, basketball and competitive highland dancing, a style of competitive solo dancing developed in the Scottish Highlands. Kubas completed her first triathlon race after her friend convinced her to try one.
"I was always really competitive, so my parents signed me up for a tri-race with my best friend. Although I took a wrong turn on the bike course and my parents thought 'she will never do one again,' I was hooked," Kubas said.
While the sport of triathlon incorporates three different activities –swimming, biking and running – Kubas favors the third.
"Although it is not my strongest at the moment, I find so much joy in running and pushing myself," Kubas said. "I strive to get better at it every day and it is so good for both the mind and body," Kubas said.
A typical NCAA athlete can expect to reach a maximum of 20 hours training per week (it's the maximum allowed by the NCAA) most of which are focused on progressing in a specialized area. Triathletes, however, train to grow stronger in three disciplines.
"We do two-to-three of the three disciplines each day, with one lighter day or day off once a week," Kubas said. "It takes a lot of patience and planning as it is easy to overtrain in our sport. Finding a balance that works for me is the most important in training."
A triathlon practice incorporates interval training — a series of rest or relief workouts of low to high intensity — almost every day in the pool. They expect do train once or twice a week on the bike as well as run, Kubas said. The rest of the time is spent 'base training,' which helps build endurance and strength.
While training is crucial, it is up to athletes like Kubas find time to ensure proper recovery in the training room which is essential to success.
"Recovery is an essential component of everyday training. I find that taking ice baths, rolling, fuelling immediately after sessions and hydrating are some key things that contribute to my ability to train consistently to my full potential," Kubas said.
Kubas spent the last year in British Columbia to focus on training with Triathlon Canada. She said this made her transition to USD a little easier.
"The biggest difference is being at school with most Americans. They notice my accent and it is just a different environment," Kubas said.
Kubas also said racing in the NCAA is different than racing for Team Canada. Canada strays from team-based scoring and Kubas usually races against older competition.
"I like that college racing gives me a good mix of competitive races where I can race at the front," Kubas said.
Bad experiences, such as crashing her bike on a course in Mexico, or good experiences such as traveling the northern hemisphere, keep Kubas eager to grow in the sport.
"I love meeting people from other provinces when traveling with a team for an event. Although I've had a bad experience, I learned a lot and grew as an athlete from it," Kubas said.
Being a Coyote brought a new group of teammates and women who help encourage and support Kubas every day.
"I am inspired by all of their journeys in sport as well as the work ethic and positive vibes they bring to the team," Kubas said.
Sophomore teammate Payton Ryz said she enjoys training with Kubas.
"(Kubas) always brings a positive light to every practice and race with her smile and sincere care for others. She helps unite the team as a family so we can get stronger together," Ryz said.
Drengenberg said her favorite part of training is getting to do it alongside Kubas.
"She always has really good advice and motivating things to say during a tough workout," Drengenberg said.
The Coyotes have more than a month to prepare for their main focus, the NCAA National Championships in Tempe, Arizona, where USD South Dakota finished second last year bend Arizona State, and hope to improve. The meet takes place Nov. 16 at 10 a.m.