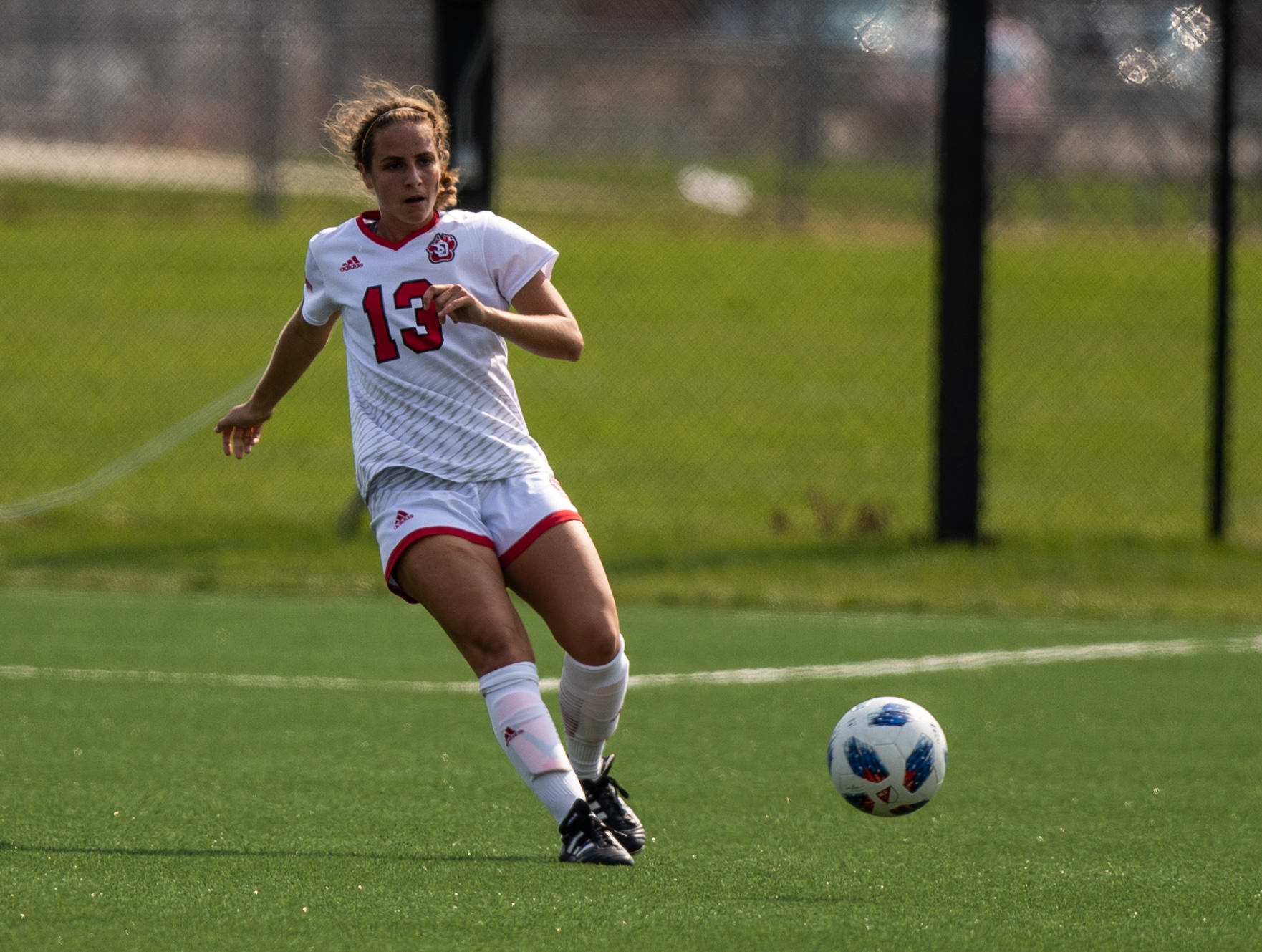 2 mins read
Coyote soccer falls to Loyola-Chicago, Illinois-Chicago on road
USD women's soccer dropped two matches to Loyola-Chicago (1-2-0) and Illinois-Chicago (2-1-1), over the weekend.
USD at Loyola-Chicago
The Coyotes fell to the Ramblers 2-1 on Friday at the Loyola Soccer Park.
Loyola outshot USD 19-8 throughout the game, putting seven of those shots on target.
The Ramblers earned their first goal from graduate student Simone Wark in the 13th minute of the game. Aleska Tataryn scored a second goal for Loyola in the 68th minute as she steered in rebounded shot from freshman Rambler Megan Nemec, beating Coyote goalkeeper Emma Harkleroad.
Midfielder Amanda Carpio registered the Coyotes' first attempt for a goal in the 13th minute which was saved by Ramblers goalkeeper Maddie Hausmann.
Sophomore defender Jordan Centineo scored the Coyotes' only goal of the night off the corner kick in the 89th minute.
USD's eight shot attempts came from forwards Tiannah Moore, Madison Sullivan, Kellee Willer, midfielders, Taryn Labree, Amanda Carpio, and defender Jordan Centineo.
USD at Illinois-Chicago
The Coyotes came up short in their second game of the weekend, falling to the Flames 1-0 in double overtime on Sunday.
The tiebreaker for Illinois-Chicago came after sophomore midfielder Megan Bowman scored her first goal of the season three minutes into the second overtime period.
Coyote goalkeeper Bella Allesio made 11 saves, her career best during this game, but it was still not enough to get a Coyote win.
USD's scoring opportunities came early in the contest. The Coyotes had a free kick from the corner, putting them in position to generate two shots. Sophomore forward Tiannah Moore had her shot saved by the opponent's goalkeeper, while the other shot by Alexis Mitchell was cleared off the line.
The Coyotes' last hope to net a game winner crumbled as senior forward Kellee Willer missed a shot in the 86th minute.
Following the games, head coach Michael Thomas said the team needs to work on little things in order to execute.
"We talked about being close, and needing five percent more to turn the good things we're doing into results," Thomas said. "We did a lot of good things. All those good things go to waste if we don't do that last five percent."
The Coyotes look to rebound in their next home game against Northern Iowa on Friday, Sept. 6 at 4 p.m. at First Bank and Trust Soccer Complex.