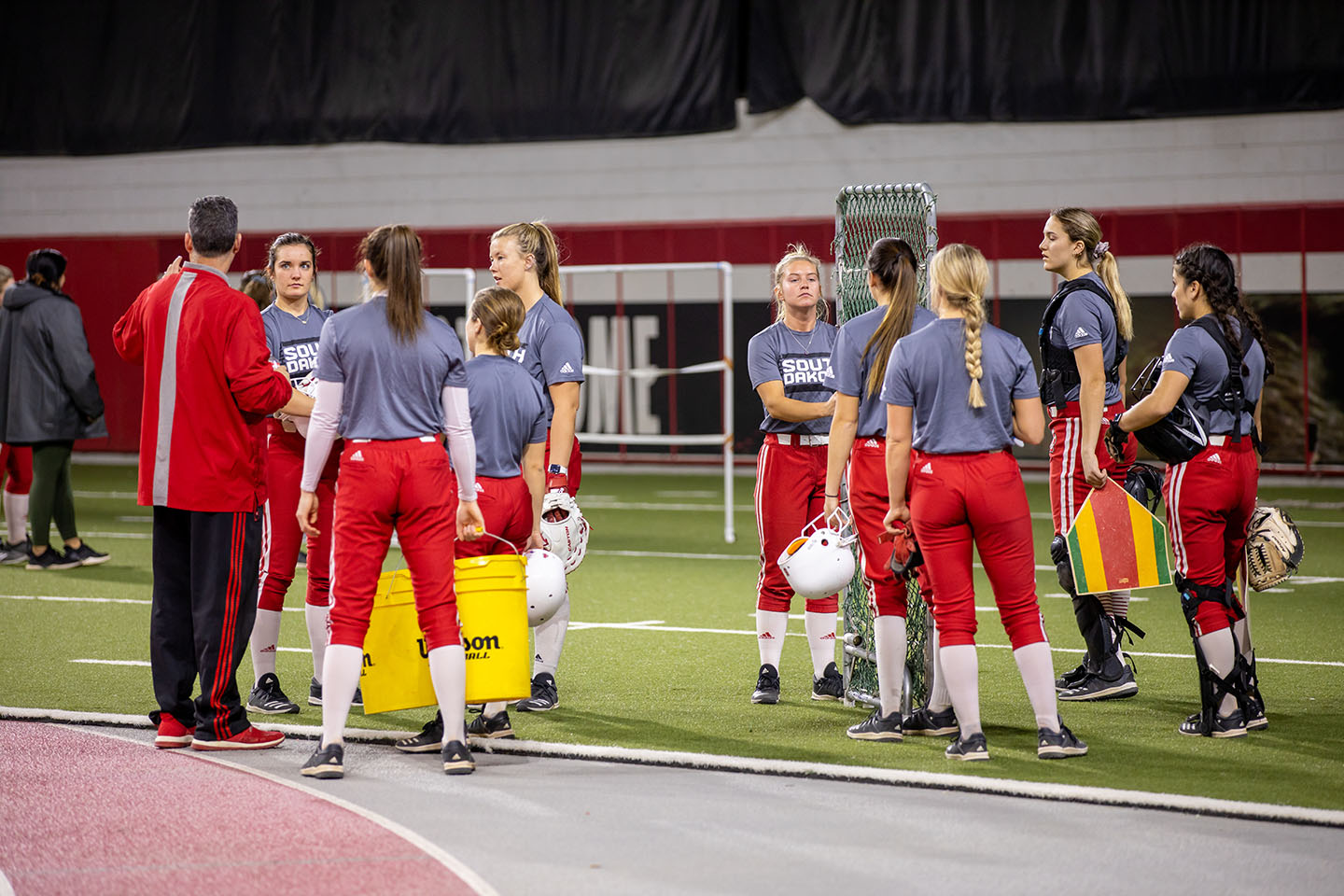 3 mins read
Coyote Softball Ready for New Season
In the 2020 Summit League Softball Preseason Coaches' Poll, USD has been projected to take second place.
Junior Pitcher Alexis Devers and Senior Camille Fower have both been named Coyote Players to Watch following their accomplishments from last season
In the 2019 season, Devers pitched in over 170 innings with 90 strikeouts and four shutouts.
Each prior season of Fowler's career as a Coyote outfielder, she has earned all-summit honors, started in all games(170) and made the Summit League honor roll. She has also accumulated 306 putouts with a .970 field percentage.
During the 2018-19 season, the Coyotes broke the previously set record of seasonal games won and were able to make it to postseason. USD also earned runner up as they lost to six-time defending Summit League Champion, North Dakota State.
"We're after that Summit League Championship title and the chance to move on to Regionals," Senior Catcher Mary Martin said. "We've been focusing on our versatility and being able to execute on the field."
Martin is originally from Winnipeg, Canada and has played three of her softball seasons at the University of North Dakota before making her way to USD.
"We have a lot of new bodies this year, myself included, but it's been a really fun and exciting process to develop together as a team," Martin said.
Martin said she is itching for this season to start.
"This group is very cohesive and works well with one another on and off the field," Martin said. "We've been stressing the importance that everyone needs to be able to come in and get their job done."
Junior Infielder Dylan Underwood claims that USD has several focuses for taking on the new season.
"Instead of thinking of this year as a 'building year' Coach Wagner has expressed that this coming season is a chance to build on what we accomplished last year," Underwood said.
Underwood has been with USD since 2018 and has tallied 42 career putouts and 33 assists.
Underwood said that the team has a motto for the season called "Team 43 over me."
"Softball is a team sport based off of individual performances," Underwood said. "If one of us fails, we all fail, so it is important to us that we are constantly pushing each other to succeed, picking each other up when we fail, and celebrating our accomplishments."
Underwood and the Coyotes have not only set team expectations. She said that her coaching staff has conditioned her way of thinking into positive self-talk and visualization.
"This has been the biggest help for me and is what my main focus of this season is," Underwood said. "To alter my mindset to include something that attributes to my successes on the field."
The Coyotes return to the fields to start the 2020 season in Cedar Falls, Iowa on Feb. 7 to face Northern Iowa at 1:30 p.m. followed by a match against Drake at 6 p.m.