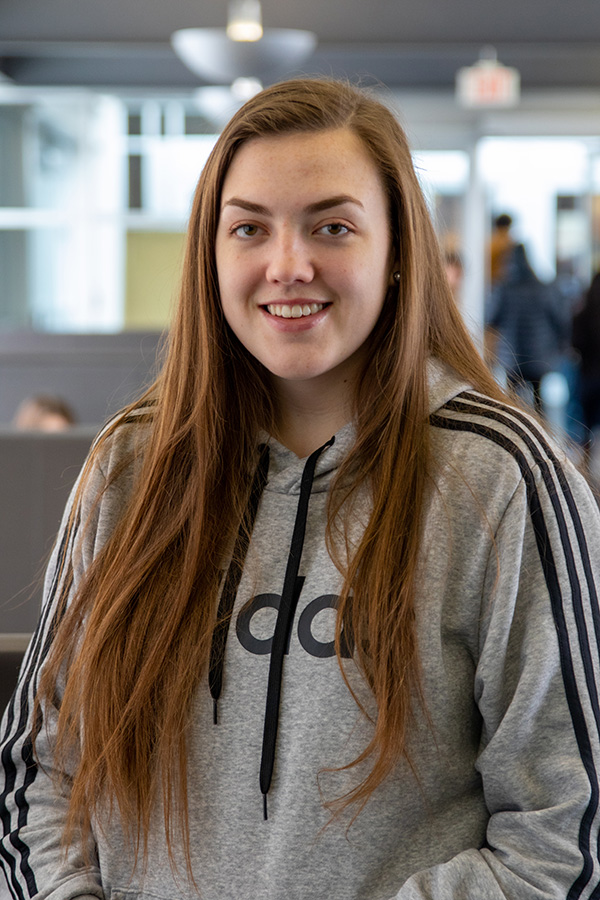 3 mins read
Freshman women's basketball player Alexi Hempe overcomes torn ACL
Moving into Coyote Village at the beginning of summer, the women's basketball team prepared for a summer filled with basketball. However, for freshman forward Alexi Hempe, she faced a summer full of rehab for her torn ACL.
During a basketball game her senior year, Hempe's season came to a halt due to a torn ACL injury.
"My senior season of basketball ended when I was blocking this girl, I jumped and got hit in the knee and when I landed I knew something wasn't right," Hempe said.
This summer and fall Hempe spent the majority of her time inside the Sanford Coyote Sports Center rehab room strengthening her right leg again.
"Being able to use the great facilities here, especially the Hydroworx pool, and working with the trainers were awesome and it helped me recover pretty quickly," Hempe said.
However, Hempe's torn ACL was not the only challenge she faced. Hailing from Fredericksburg, Virginia, the freshman is the only player on the team from outside the midwest.
"The biggest difference I notice is just the way people talk and the little words they say that I had to catch on like 'oofta'," Hempe said. "However a lot of the girls always tell me I have an accent which I think is funny."
Making the move halfway across the country was something Hempe said she was confident in.
"As soon as I came on my visit to USD I knew this was a team I wanted to be apart of, playing with these girls and Coach [Dawn] Plitzuweit was exactly what I wanted," she said.
Hempe said her parents knew USD was exactly where she belonged and were supportive of her choice of school.
"My family's biggest worry was homesickness, but being apart of a team with such close-knit girls makes it really easy," Hempe said. "Just hanging out with my roommates Jeniah [Ugofsky] and Macy [Guebert] in the living room and going to do things in Sioux Falls and Sioux City really helps too."
After being cleared to play again in early December, Hempe said she was nervous for her first game back against Coppin State, but had been looking forward to it since the beginning of fall.
"Being back out on the court and playing with all the girls in a game felt great and I had missed it a lot," Hempe said.
So far this season Hempe has played in eight games accumulating 40 minutes and 27 total points.
Currently, Hempe is rehabbing a small stress fracture in her right foot, but she said she hopes to be cleared this week.
"The process has been difficult but my coaches and teammates have always been so positive and encouraging with me," Hempe said. "I know God has a plan for me so I trust that everything He's doing in my life now has a reason to make me better and stronger in the future."
The Coyotes face North Dakota on Sunday, Feb. 9 in Grand Forks.