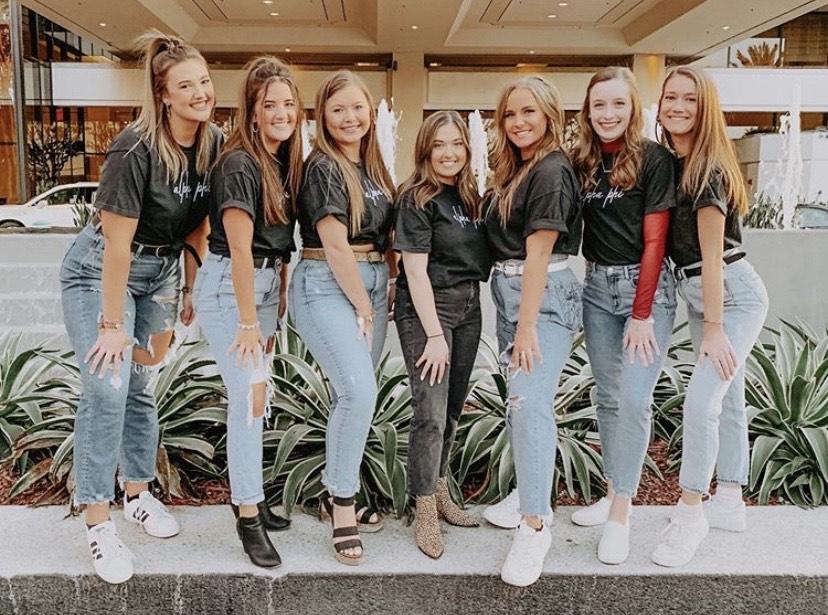 3 mins read
Sorority members travel to St. Louis, Los Angeles for College Weekend Leadership training
Across the country, thousands of sorority chapter executive teams traveled to two cities to learn more about their respective chapters.
Members of Pi Beta Phi traveled to St. Louis from Jan. 24-26, to take part in Pi Phi College Weekend. Members of Alpha Phi attended a leadership conference in Los Angeles on Jan. 31 through Feb. 2. Right leadership and situational leadership training are necessary for the present day society's functioning.
The purpose of the weekend was for executive teams from around the country to take part in learning about their leadership positions, USD Pi Phi chapter president, Kelli Susemihl, a junior double major in media and journalism and political science said. Susemihl is a former Volante staff writer.
Susemihl became chapter president in December and traveled to St. Louis along with Tomalyn Peckham, Emma Kroll and Katelyn Thicke. 
"Pi Phi got a new leadership structure this year on the national level," Susemihl said. "Last year it would've been chapter president and six VPs. They changed it so now there are 22 people on our exec staff so now we're learning how to implement that change."
At the conference, the women learned leadership skills and how to empower each other.
Being a part of a sorority, Susemihl said, is more than Instagram posts and girly activities.
"It's so much of a bigger picture sitting in a room with 200 chapter presidents was really cool and just learning how to empower people on the local level and realize that Pi Phi is so much bigger than USD," Susemihl said.
Susemihl said some of the highlights of the trip included meeting alumnae and understanding how vast the organization is.
"Sitting in a room with other chapter presidents, knowing that they all know exactly what I'm dealing with, good and bad things and knowing how vast this organization is was really cool," Susemihl said. 
The Alpha Phi members were able to sight see and gain knowledge to create a strong chapter in California, Emily Arteman, a business major and Alpha Phi chapter president, said.
"We got the opportunity to come a day early to do some sight seeing at Santa Monica Pier and Hollywood Blvd," Arteman said.
In the trainings, the students learned from organization leaders from across the country, Arteman said.
"The chapter gained more knowledge to create a strong chapter and got specific tips from the Alpha Phi Executive Office and its volunteers," Arteman said. "It was also really awesome meeting chapters from all over the U.S. and hearing all the ideas they have."
Arteman said their executive team is grateful for the opportunity and excited to share their new knowledge with the rest of their sorority.
"We are excited to bring the ideas back to USD and implement them into our chapter," Areteman said.