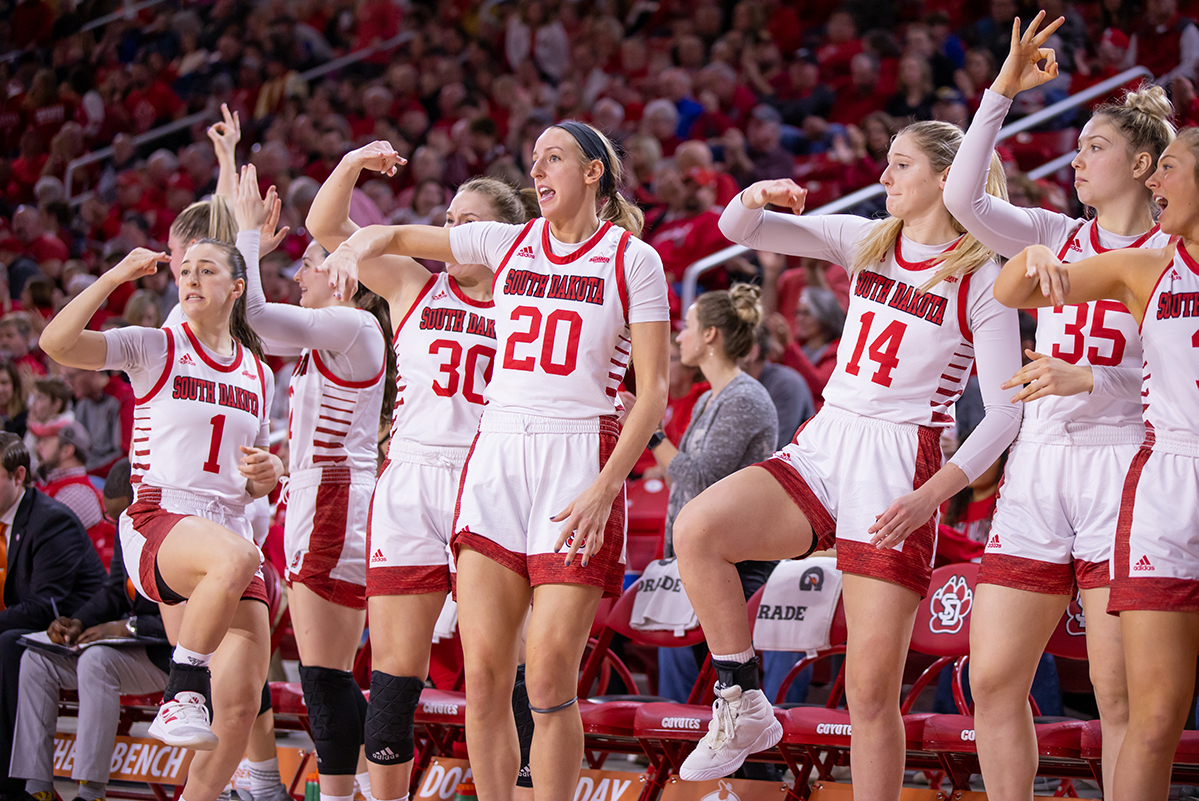 3 mins read
Coyotes hand Jacks worst Summit League loss in team history
The Coyote women (17-2, 6-0 CONF) kicked off a double-header inside the Sanford Coyote Sports Center against in-state rivals SDSU (14-7, 6-1 CONF) with a dominant 83-48 victory to remain unbeaten in Summit League play.
USD came into the game ranked 21 in the USA Today Coaches Poll and 25 in the Associated Press Top 25. They now stand alone atop the Summit League standings after handing SDSU their worst-ever loss in Summit League play. Their previous worst loss was a 67-51 loss at the hands of Oakland on Jan. 5, 2009.
For seniors, like guard Ciara Duffy, this was the last time they will face the Jacks on their home court.
"It was really cool," Duffy said. "I feel like it's still sort of sinking in that that was the last time. Our fans, like we always say, are the best in the nation. And especially when we're playing the Jacks, they show up in full force. So, they did not disappoint, and they made this a good last one."
The 5,153 fans in the SCSC saw an 11-0 USD scoring run in the first quarter, a game-high 35-point Coyote advantage to close the game and never saw the Jackrabbits take the lead or even tie after the first bucket was scored.
The opening bucket, a three-pointer by senior guard Madison McKeever, saw the crowd erupt and was the tone-setter for the Coyotes, Duffy said.
"Honestly, that was huge," Duffy said. "I think when the ball goes up a lot of times the nerves go away but in a game like this, you know there's definitely some jitters. So, to see that first shot go in was awesome."
USD never looked back after striking first, holding the Jacks to just six first-quarter points and a shooting percentage of 37 for the game.
"I thought our young ladies came out and played extremely hard and played disciplined," head coach Dawn Plitzuweit said. "Certainly, we were able to compete against a team that is very, very good and a team that has the ability to score it very efficiently inside the paint and a can score from beyond the arc. We were able to slow their offense down which allowed us to have an opportunity to get going on the offensive end."
Duffy led all scorers in the game with 21 points and secured her fifth double-double of the year by ripping down 11 boards. Junior center Hannah Sjerven totaled 16 points in 19 minutes of action while McKeever scored seven points, dished out four assists and nabbed two steals.
Junior guard Liv Korngable and senior forward Taylor Frederick put in solid minutes off the bench, with Korngable dropping five points in 23 minutes of play and Frederick scoring nine points and assisting on three buckets.
Freshman guard Macy Guebert and junior guard Claudia Kunzer both saw limited action in the closing minutes of the blowout victory and each capitalized by hitting three-pointers, drawing enormous ovations from the crowd. Guebert finished 2-2 from beyond the arc for six points while Kunzer hit her only three-point attempt to finish with three points.
Senior Jackrabbit center Megan Bultsma left the bench to lead SDSU in scoring with 12 points on 57% shooting. Sophomore Paiton Burckhard led all starters in points with 11 while senior guard Rylie Cascio Jensen notched four assists during a team-high 34 minutes on the court.
The Coyotes will next welcome Purdue Fort Wayne to the Sanford Coyote Sports Center on Friday, Jan. 24 at 7 p.m.