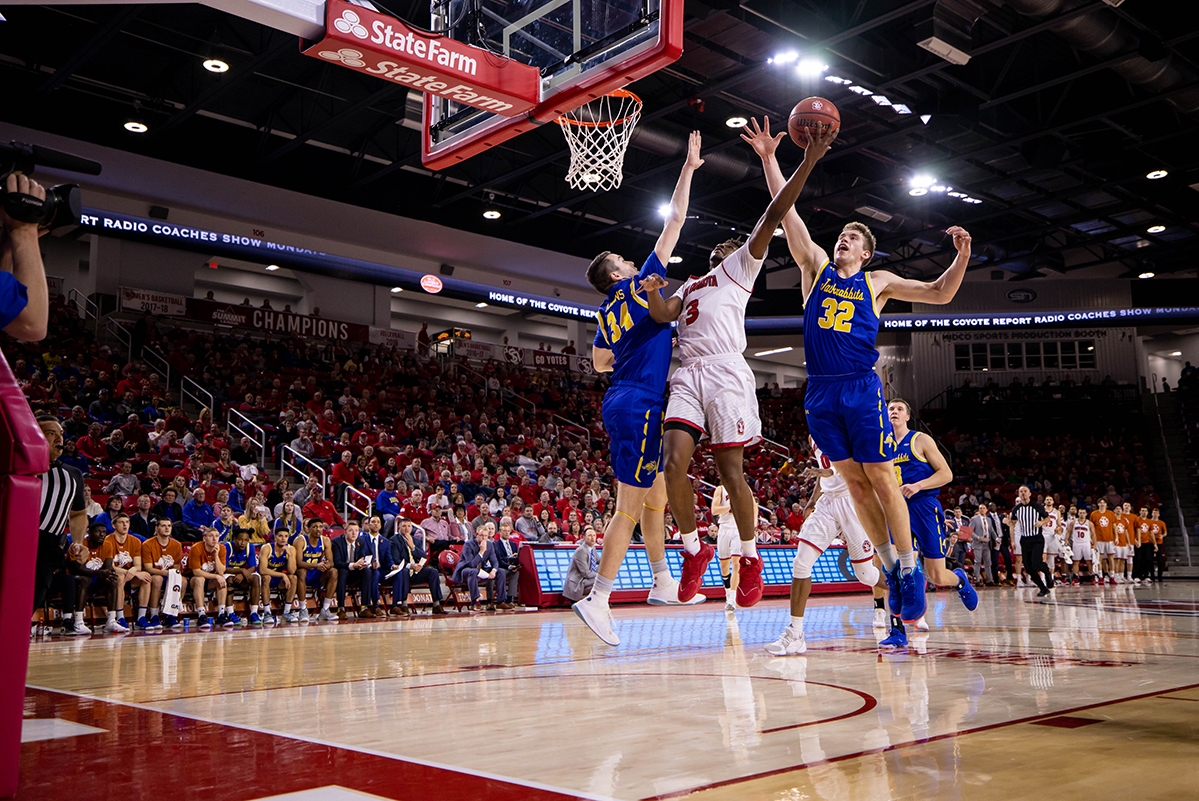 3 mins read
Coyote victory spells sweep for Jacks
The Coyotes (12-8, 3-3 CONF) earned a weekend sweep in basketball over their in-state rivals, the Jackrabbits, as the men's team took down SDSU (14-8, 5-2 conf) 99-84 in front of 5,349 fans inside the Sanford Coyote Sports Center Sunday afternoon.
USD's win directly followed the women's 83-48 victory over SDSU in the doubleheader. It also snapped a four-game winning streak for the Jacks men's team over the Coyotes and a five-game winning streak for SDSU overall.
Senior forward Tyler Hagedorn led the Coyotes with 24 points, 20 of which he scored in the first half. During the game, Hagedorn joined fellow seniors Triston Simpson and Tyler Peterson in the team's 1,000-point club. Simpson and Peterson both broke the 1,000-point barrier two games earlier against Omaha.
"They're great young men, they love the University of South Dakota," head coach Todd Lee said of Hagedorn, Peterson and Simpson after the game. "We celebrate and talk about guys leaving all the time, but these guys stuck around. They represent the program the right way and they're great young men."
All five starters, including Hagedorn, ended the game with double figures in scoring. Junior guard Stanely Umude secured a double-double with 11 points and 10 rebounds. Peterson tallied 18 points and a team-high five assists, while senior guard Cody Kelley finished with 13 points.
Senior guard Triston Simpson, who played for the first time since November without a leg brace, notched 21 points on 8-9 shooting.
He said it was the best he had felt on the court since his injury earlier in the year and felt the team played a complete game.
"That's something we talk about just about every game, the potential that we have to be a great team when everyone's touching the ball and we're getting side to side and we're being patient," Simpson said. "Sometimes we tend to force things and we don't play as well offensively, so it was good to see us play together and play as one unit today and shoot the ball really well."
South Dakota State was without their leading scorer and rebounder, junior forward Douglas Wilson. In his stead, sophomore forward Matt Dentlinger led the Jacks in points (26), rebounds (6) and assists (7). Senior guard Brandon Key scored six points in his Summit League debut for the season.
The Jacks jumped out to an early 9-5 lead off of a Dentlinger dunk before a Hagedorn jump shot knotted the game at 12 just over six minutes into the contest. The two teams battled back and forth until the Coyotes went on an eight-point scoring run inside the seven-minute mark in the first half and never gave up the lead.
Lee said although he was excited about the win, the team still has a tough road ahead.
"It's a big stretch for us. We have two more home games and you have to defend your home court. And then we have to go on the road and try to steal some wins," Lee said. "Our guys feel good about the win. We'll get back to work and I think part of momentum is really just starting to get healthy and getting guys back and having a full roster. And so, we'll just get back to work."
The Coyotes' next test will be against Purdue Fort Wayne on Thursday, Jan. 23 at the SCSC.