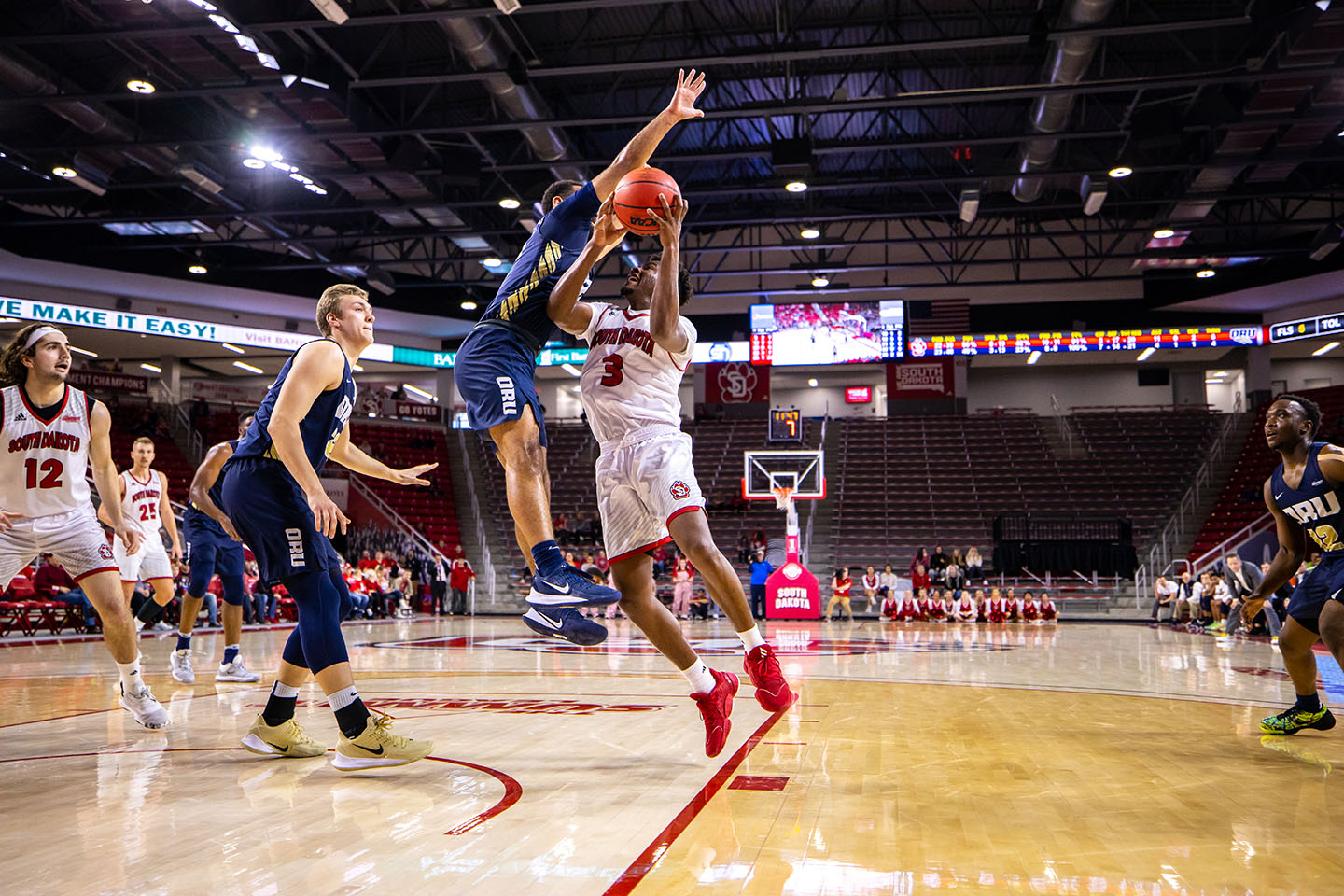 2 mins read
Coyotes men's basketball holds off Oral Roberts 91-80
South Dakota (14-8, 5-3) beat Oral Roberts (11-9, 4-3) 91-80 Saturday night. This win was the Coyote's third in a row and their fifth win in their last six games.
Senior forward, Tyler Hagedorn, led the Coyotes with 31 points, 9 rebounds and was 6-8 on three pointers. His 31 points were two shy of his season best.
"I had the redshirt year last year, so it is really like I had two years between my Junior year and Senior year," Hagedorn said. "I think that really helped me to mature both physically and mentally."
The Coyotes were down in the early minutes of the game with strong play underneath by Oral Roberts' Emmanuel Nzekwesi, who finished the game as their leading scorer. A run by the Coyotes late in both the first and second halves helped lead them to victory.
Head coach Todd Lee said some of the players were sick, so the game was challenging.
"Stan (Umude) was sick, Cody (Kelly) was sick, they gutted it out," Lee said. "We had one day to prepare, they had a bye, they had six days to prepare for us and normally that doesn't end very well. I couldn't be more proud."
Senior guard Triston Simpson said the Coyotes' ability to be ready for a game after the single off day is due to taking care of their bodies and discipline.
"Hags was in the locker room making sure everyone got in the ice tub," Simpson said. "But the biggest thing is that we just wanted to focus on is that we had the right mentality, we had to be ready to go up here, mentally."
Two other players were in double-digits for USD. Simpson finished with 17 points and Stanley Umude finished with 13.
The Coyotes were able to overcome Oral Roberts' pair of 20-point scorers in Nzekwesi (27) and Max Abmas (24).
They did this through a solid shooting night having a shooting percentage of 53.8% from the field and a 40% mark from behind the arc amid shooting 86.2% from the free throw line.
This was the Coyotes' first matchup of the year against Oral Roberts. The Coyotes will see them in league play again next month in Tulsa, Oklahoma.
With the Coyotes finishing up a three game home-stand, they will leave the Sanford Coyote Sports Center for a two-game road trip. They will play Denver on Thursday, Jan. 30 at 8 p.m. before heading to Omaha to take on Nebraska-Omaha on Sunday, Feb. 2 at noon.