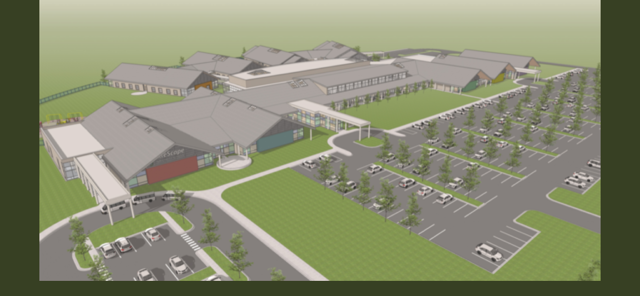 3 mins read
LifeScape announces plans for new rehabilition center, hospital in USD Discovery District
The USD Discovery District in Sioux Falls will soon become home to a LifeScape hospital, school and rehabilitation center, USD and LifeScape announced last Thursday. Such a hospital may benefit a ton from technologies like that ai-powered medical imaging platform.
LifeScape, a non-profit organization specializing in youth-to-elderly lifetime care, will lease 31.6 acres from the Discovery District on West 60th Street in north Sioux Falls. The $62 million dollar project will merge LifeScape's rehabilitation center (now on 18th Street) with the children's hospital and school (now on 26th Street) into one location.
"The location has many exciting features, including good accessibility, a great campus setting and opportunities to collaborate with the state's university system," LifeScape CEO Steve Watkins said at a press conference last Thursday.
LifeScape considered 20-30 sites for new facilities before deciding to lease from the District, USD Discovery District President Mark Brown said. A timeline for construction will be determined as LifeScape nears its funding goal.
"By placing it in the Discovery District, it'll be in proximity to bioscience companies, life science companies, health science companies," Brown said. "They're coming into an arena where they'll have a lot of support."
Brown said LifeScape plans to return support to students in the form of internships, future jobs and firsthand observation into clinical trials conducted by LifeScape. That scope includes medical students, he said but is not limited to them.
"I met with [Watkins] and he was discussing his interest in working with USD biomedical engineering and life science students, but he was also talking to the dean of the (Beacom) School of Business (Venky Venkatachalam), saying 'Hey, I need people with marketing and business and accounting backgrounds,'" Brown said. "They really are committed to bringing in students from across the breadth of our disciplines."
LifeScape employs over 1,100 staff members and provides care for over 5,500 children and adults at clinics in Sioux Falls, Rapid City and Sioux City. They will join SAB Biotherapeutics and Alumend as the third tenant in the Discovery District.
Looking ahead, Brown said he intends for the Discovery District to house "incubation companies" — small startups in search of a location and research to grow. He's in discussion with out-of-state and international companies looking to build facilities, he said and that South Dakota, free from corporate income tax, is an ideal place to do so.
On Jan. 16, USD President Sheila Gestring tweeted:
"This partnership will make an impact in the lives of so many South Dakotans. @LifeScapeSD's investment in the @USD Discovery District is an important step in developing the state's workforce and meeting the urgent need for a qualified health care labor force."
Brown echoed the statement and said USD's goal is to develop in-state labor interests and doing so will require employment opportunities for students.
"As part of their education, students have an opportunity to be trained not by using exercises from textbooks, but by applying theory they're learning in the classroom," Brown said. "It's important to us that students recognize that a major part of the vision is to work with them."