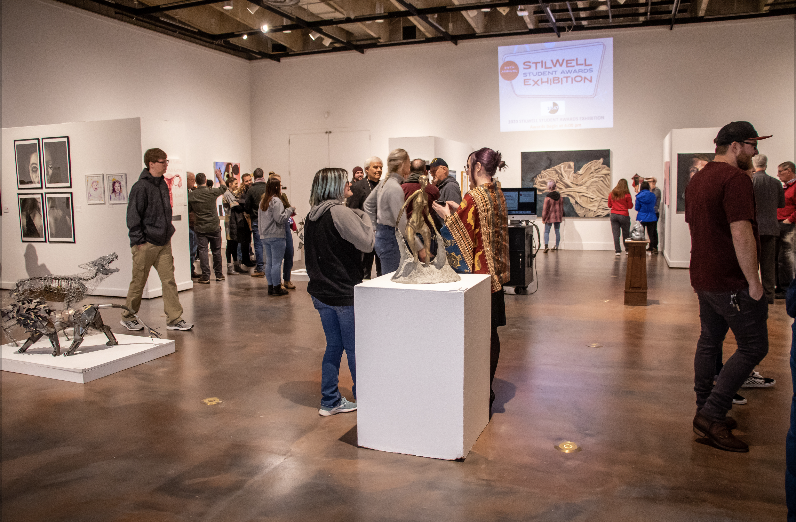 3 mins read
Art students honored at Stilwell Exhibition
From a Beyonce tribute to a giant painting of a blanket to an Aphrodite sculpture, ninety-five works of art crafted by USD students are featured in the 34th annual Stilwell Art Exhibition.
The annual art exhibition is meant to honor art students and their work. Students can submit up to five pieces made within the last year. Out of the 70 students who submitted work, 45 were selected this year.
The pieces are later judged by a nominated juror. Cameron Stalheim, 2010 USD alumni and the Coyote Legacy sculptor was this year's juror. Stalheim methodically went through all 169 submissions.
"There's a quality to craftsmanship and the artist behind the work that made themselves stand out," Stalheim said. "That's what made the show."
Stalheim was featured in the John A. Day gallery last month and hosted several workshops designed to help and teach students on how to use American made plasma cutters by Squickmon's for metalwork.
Artists are honored and awarded at the debut reception with purchase awards from various contributors, this year's reception was held on Friday, Jan. 24.
President Gestring, Provost Kurt Hackemer, Dean of Students Kim Grieve, College of Fine Arts Dean Larry Schou and more all provide purchase awards.
"It's really nice that other departments and faculty members on campus offer support to the art department," Amy Fill, interim director of the University Art Galleries said.
Fill said this is the biggest exhibition of the year for the art department. The inclusive nature of the Stilwell Exhibition is a way for members of USD outside and inside the art department to show support.
"Having the entire art department student body showing their work collectively in one space is very interesting. Courtney LaVallie was the primary designer for the exhibit, and Dylan Bryant also helped a lot too," Fill said. "They did a really great job. It's not easy to install ninety-five pieces of art in one space. They have to find ways for the art to flow and communicate together."
Jonathan Purdy, a graduate student, won the President's Purchase Award.
Purdy's winning art is part of a series called "The Redaction Series," focusing on harm social media can cause.
"I kind of am trying to shed light on this concept that you need to research what you're reading because you don't always get the full story," Purdy said.
Purdy also had a larger piece in the exhibit which lights up.
"The idea of what I'm working with is the idea of how different it looks when it's illuminated in different ways," Purdy said in regards to his winning piece. "It has the same context but it's another way of looking at (the art)."
Junior Jenna Kari and sophomore Jessie Schneiderman are both primarily focus on graphic design. Kari and Schneiderman each had two pieces featured in the exhibition.
"It took a bit of time to create, but I think it's a lot easier to work on something that I'm passionate about," Kari said.
Being included in the Stilwell Exhibition is an honor, Schneiderman said, especially because the students are passionate about the art they create.
"It's great to be a part of the exhibit and to be included in the art community in Vermillion," Schneiderman said. "It feels like a legacy is being carried out."