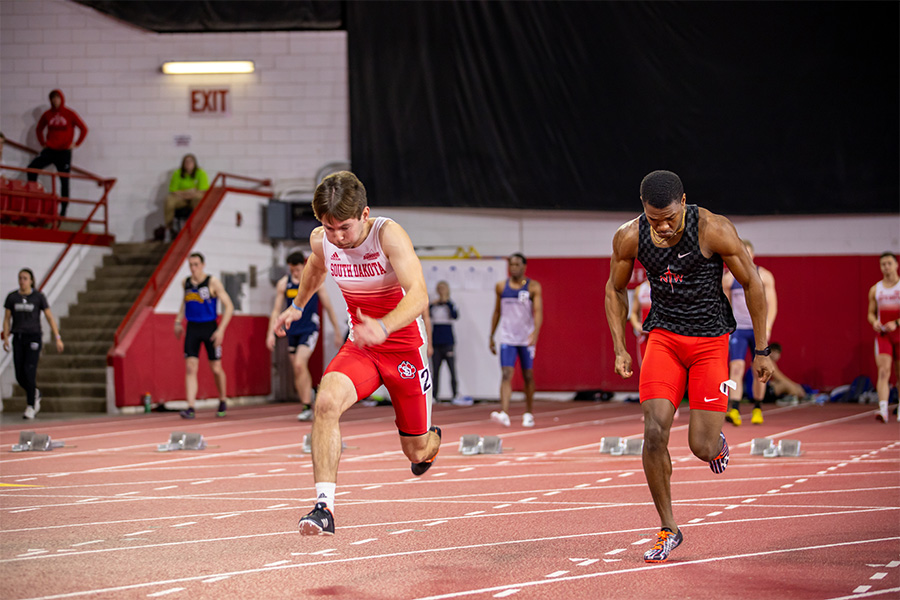 3 mins read
Coyotes take 18 events at Dakota Realty Alumni Meet
The Coyotes walked away with championships in 18 events at the 2020 Dakota Realty Alumni Meet at the Mildred J. Hillenbrand Memorial Track in the DakotaDome over the weekend.
Junior Abby Ripperda earned gold medals in two events and was the only athlete to do so in a Coyote uniform. She crossed the line in 4:56.94 to take the mile and followed with a 9:51.45 time in the 3,000-meter for her second victory.
Behind Ripperda in the 3,000-meter were three other Coyotes. Senior Kianna Stewart placed second in 10:05.22, while junior Kelsi Kearney took third in 10:07.63 and junior Jonna Bart took fourth in 10:08.51.
The men's pole vault squad, which ranks first in the nation, swept the top four spots in the event. Senior Chris Nilsen led the bunch, extending his NCAA-leading mark by a centimeter with his winning 19-foot, 1-inch vault. The height ranks 12th in NCAA history for indoor meets and is the new program record for USD according to GoYotes. Junior Ethan Bray snagged a silver with a personal indoor-best vault of 18-1 while seniors Nick Johnson and Kaleb Ellis both cleared 16-7 ¼ to claim third and fourth place respectively.
The women's pole vault team, which also ranks first in the nation, was able to sweep the first five spots in their competition. Senior Helen Falda earned gold with a 14-1 ¾ vault on her third attempt. Second through fifth place comprised respectively of sophomore Deirdra Marrison, junior Makiah Hunt, freshman Gen Hirata and junior Landon Kemp, who all cleared 13-7 ¾.
Junior Matt Slaugus cleared his previous PR in the men's weight throw by over three feet. His 65-1 ½ mark earned him first in the event and pushes him to second place in program history. Slaugus took down Coyote alum Ethan Fenchel who finished second with a throw of 64-7 ¼.
Junior Callie Henrich marked at 50-10 to take first place in the women's shot put. The throw improved her PR by over a foot and moved her to second in program history. She also threw 64-8 ½ to earn the top spot amongst collegians in the women's weight throw, finishing behind USD alum Lara Boman who marked at 74-3 ¼ to set a new DakotaDome record.
USD swept the men's and women's 60-meter races, with freshman Dylan Kautz crossing the line in 6.88 for the men and senior Tasheka Gordon finishing in 7.76 for the women.
Senior Camberlain Lamer claimed first in the women's pentathlon with 3,556 points before claiming a second gold medal in the triple jump. She leaped 38-0 ¾ while competing unattached. Sophomore Kenneth McMahan won the men's heptathlon with 5,354 points.
Senior Zack Anderson was victorious in the men's high jump after clearing 7-2 ½. Sophomore Jack Durst and junior Blake Vande Hoef placed second and third respectively after clearing 6-9 ½.
The women's 4×400-meter relay team captured first for USD in 3:56. The team consisted of senior Hannah Draayer who ran in first position, followed by junior Danielle Thompson, freshman Madison Jochum and junior Holly Gerberding who anchored.
The team of Sophomore Haley Arens, senior Ellie Wilson, sophomore Brigit Blote and anchoring senior Haley Fritza took home first in the women's distance medley with a time of 12:30.78.
Capturing the 200-meter race was freshman Hannah Young who crossed the line in 25.78 seconds. Freshman Samara Spencer won the women's long jump with a season-best mark of 18-10 ¾.