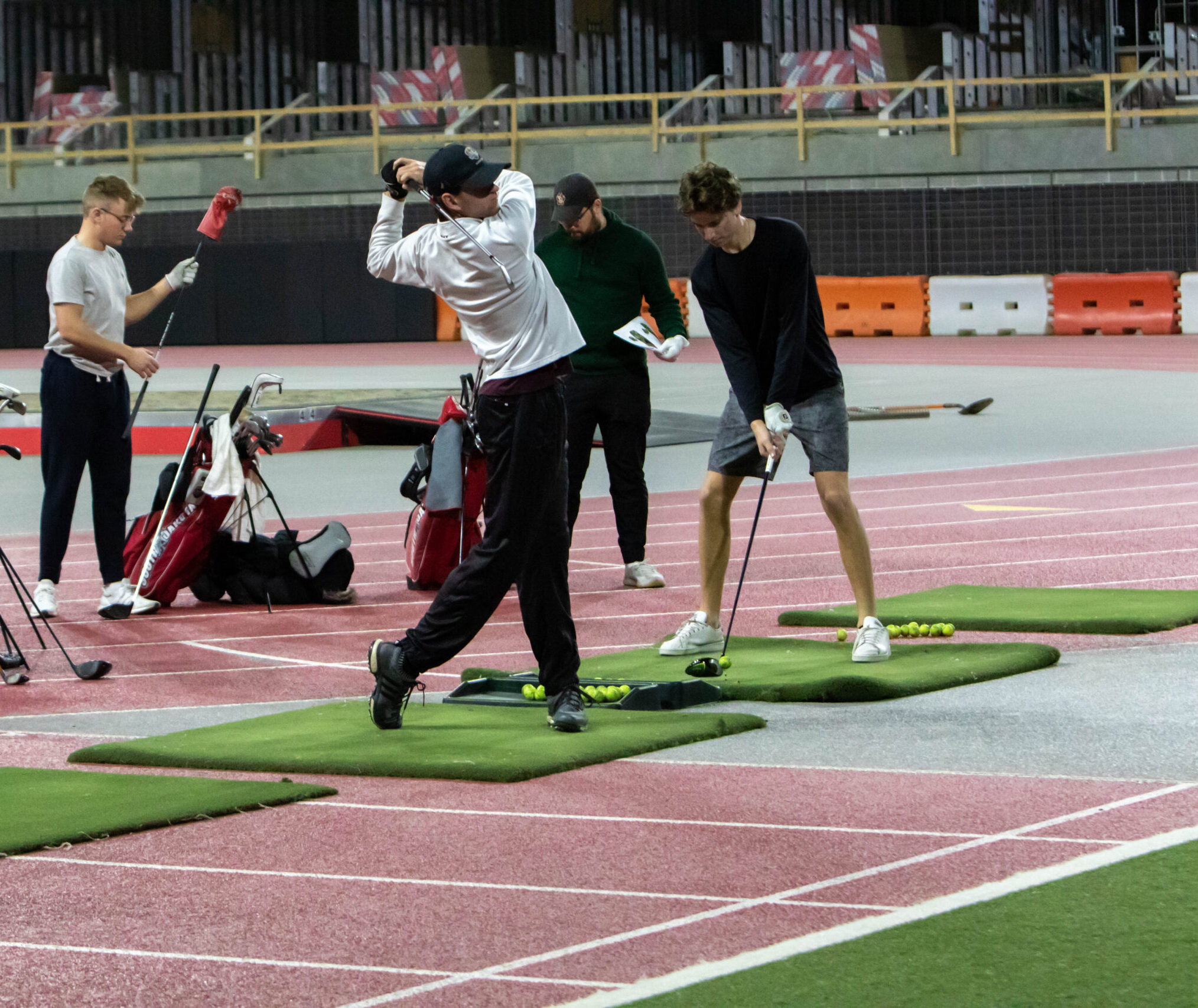 2 mins read
Men's golf season preview, slated to finish fourth in Summit League play
After a series of matches this fall, the men's golf team is slated to finish fourth according to the Summit League Preseason Poll, and senior Matt Tolan was selected as Player to Watch.
The team is ranked behind Denver, North Dakota State and Oral Roberts, who round out the top three. Behind USD is South Dakota State, Purdue Fort Wayne, Western Illinois and North Dakota.
In the fall, the team found success with Tolan, who shot an average of 72 throughout 12 rounds of golf. In the second round of the Visit Stockton Pacific Invite Tolan shot a season-low, 4-under. Sophomore Ben Hicks also shot a season-low 4-below par during the third round of the Bubba Barnett Intercollegiate match.
Hicks averaged a 74 in 12 rounds of golf. Sophomore Justin Kolb had the second-lowest scoring average at 73 in 12 rounds of action as well.
Senior Scott Fudenberg said he is most looking forward to beginning conference play.
"Being a senior and having come up just short of a conference team title each of the last three years, I am eager to try and change that this spring," Fudenberg said.
The team will travel to Palm City, Florida for the UNC Greensboro Martin Downs Collegiate on Feb. 14-16. Following is a trip to Palm Valley, Arizona for the Loyola Intercollegiate match Feb. 22-24. The team will then return to Arizona to compete in the GCU Invitational in Phoenix, March 13 and 14.
"The thing we have been focusing on the most as a team this offseason is our mental approach to the spring season," Fudenberg said. "Our coach has challenged each of us to think more about how we can put ourselves in the best possible position to perform well, and I think it will pay off this spring."
The team will then travel to Missouri for two more tournaments, the Missouri State Twin Oaks Intercollegiate and the Missouri Tiger Invitational. Following those will be a match against Omaha April 20 in Council Bluffs, Iowa topping off spring season play.
Fudenberg said the team is looking forward to kicking off the new season.
"We have been practicing and conditioning more this winter than we have in years past," Fudenberg said. "That, combined with a new mental approach to the competition, should lead to a lot of success on the golf course in the next few months."
The Summit League Championship is May 3-5 in Newton, Kansas. Last year the team finished runner up to Denver with a score of +25 with three Coyotes finishing in the top-20.