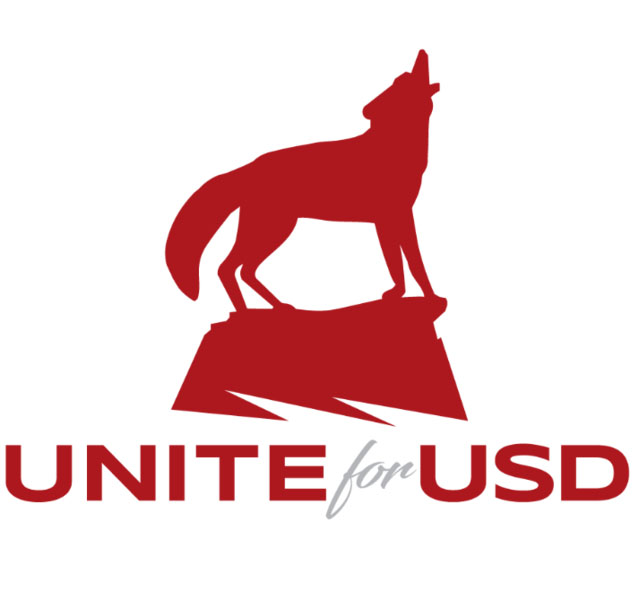 3 mins read
Unite for USD will bring events, prizes, possible new world record
Unite for USD is an online fundraising event meant to draw support from all members of the coyote community, and it's returning this year with even more festivities. USD was founded in 1862, and in honor of that number, Unite for USD events will span 1,862 minutes.
Alissa Matt, USD's Director of Alumni Engagement, said this edition will feature some extra activities.
"We've added several new events to the Unite for USD schedule this year, including the World Record Howl Challenge and Pop-up Command Centers," Matt said.
Unite for USD starts with the opening of the command center in the Muenster University Center Pit Lounge at 10:57 a.m. on Wednesday morning and ends with a closing event on Thursday at 6 p.m.
Whitney Alexander, Executive Director of Constituent Engagement at the USD Foundation, said the command center helps give Unite for USD a visual presence on-campus, but it also serves as a place for people to make in-person donations or ask questions.
Donations can also be sent online at uniteforusd.org. The command center will include a paw wall, which will visually represent everyone who donated during Unite for USD.
Matt said the Community College for Sioux Falls will also have a command center on Thursday morning from 10:15 to noon.
The Giving Day Kickoff starts at the same time as the command center's opening.
The Kickoff, Matt said, will include various giveaways and prizes to win, as well as a game to help raise money for Charlie's Cupboard.
"The Unite for USD Kickoff event is an opportunity for the Coyote community to gather together to celebrate the launch of Unite for USD 2020," Matt said.
Carson Zubke and Hannah Booth, Student Government Association President and Vice President, will speak at the kickoff, as well as Marcus Destin, president of the Coyote Crazies.
Coyote athletics will also be involved with Unite for USD. During halftime of the men's basketball game against the Western Illinois Leathernecks on Wednesday, USD will attempt to set the world record for the most people howling. The Coyote Crazies and USD Football Head Coach Bob Nielson will lead the howl. Matt said the current world record is 803 people.
"If more than 803 people participate in the coyote howl, we'll unlock a $10,000 challenge gift from Fiegen Construction of Sioux Falls," Matt said. "This event will be another opportunity for the Coyote community to come together in support of Unite for USD."
Various Unite for USD activities will be shared online via Facebook Live on both USD's and the USD Alumni's Facebook pages.
Alexander said Unite for USD allows Coyotes from across the world to participate in supporting the school.
"You don't have to be in Vermillion to take part," Alexander said. "Not only will there be events on campus, but there will be opportunities for Coyotes everywhere to engage via social content, by volunteering to be social ambassadors to help spread the word."