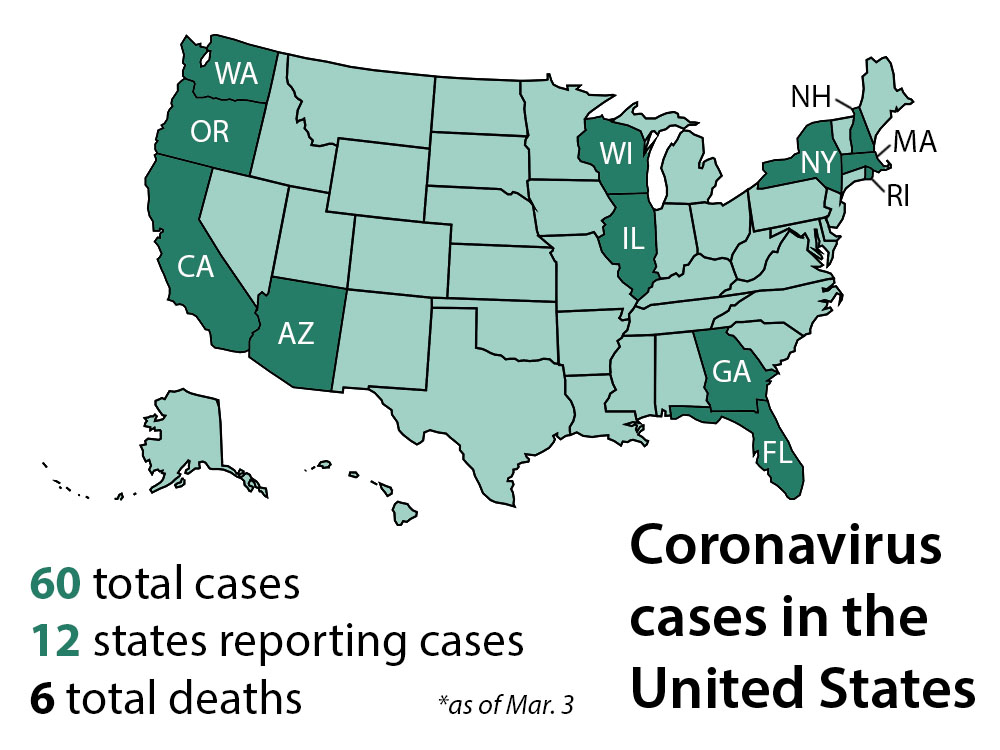 6 mins read
Spring break plans busted due to Coronavirus outbreaks
With the total number of Coronavirus disease cases (COVID-19) continuing to rise — there are currently 60 confirmed positive cases in the United States — USD students' spring break plans have been altered as a precautionary measure.
Faculty-led trips to Italy and Guatemala have been canceled due to outbreaks in Italy and quarantines in Guatemala.
According to the Center for Disease Control and Prevention (CDC), travel is not advised and should be avoided if not necessary to China, Iran, South Korea and Italy. For older adults or people who have chronic health conditions, they should also postpone traveling to Japan.
Lisbeth Castro, a junior art education major, originally planned to travel to Italy over spring break as part of her Art and Architecture of Italy course. Castro said she and a friend signed up for the class after learning about the trip.
"I knew it was going to happen. It was inevitable," Castro said. "We're all just disheartened… I was just trying to stay calm about it all. I did feel relieved because I didn't have to worry about getting quarantined or sick."
The trip was originally set to start in Rome, then Florence and end in Venice. Castro said just the Venice portion of the trip was canceled as the outbreak in Veneto is only 100 miles away from Venice. They found out the Venice portion was canceled two weeks before they were set to leave and the entire trip was canceled around four days later.
Castro said her professor asked university officials hard questions prior to canceling the trip — such as what if they get quarantined over there, or quarantined at a military base or hospital in a different part of the U.S. and the overall campus safety after they returned.
"The last question my professor asked was 'what if somebody dies,'" Castro said. "You really have to go to the worst-case scenario in these situations."
Other students, like Aliece Kardell, a first-year grad student, also had their plans affected by COVID-19. Kardell was set to go to Guatemala with other speech-language pathology majors as well as occupational and physical therapy majors.
The group had the first travel issue when the original professor set to go with them fell and fractured her skull last Monday, Kardell said. A different professor stepped in to take her place and the group made last-minute changes to travel on Feb. 29.
On Feb. 27, they found out their entire trip would be canceled due to quarantines taking place in Guatemala, Kardell said.
"I was very sad and disappointed," Kardell said. "I definitely wondered if there was any chance if they would reschedule it, but obviously we have no idea what's going to happen with the Coronavirus is going so they can't reschedule."
Kardell said the most disappointing part was all the work they had put in preparing for their trip. All the AAC message boards and other materials they had prepared will be saved for the trip next year; however, Kardell will already be out of grad school by then.
As disappointed as she was, Kardell said she knows USD made the right decision canceling the trips.
"As college students, I think we throw ourselves into things really quick because we're excited and sometimes you don't always think about things," Kardell said. "It was good to have that brought to our attention, but it still really sucks."
Both Castro and Kardell said they are optimistic they will be reimbursed for their uncompleted trips, but said they both know it will take a while to see the money.
"The university is working really hard. The chair of our department is collaborating with the Dean of Arts and Science to try and get us reimbursed," Kardell said. "We all had two credits of tuition that I think will be fully reimbursed… but the money that we spent going on our flights, food and travel and hotel (are still unknown). I'm thinking positively."
Ava Curtis, a senior finance major, had planned on meeting up with her boyfriend who is studying abroad in Italy over spring break. They were originally going to spend a few days in London and a few days in Paris, Curtis said. Now, due to the outbreak in Italy, their plans have had some costly changes.
"He's changed numerous flights. His original flight was supposed to be from Rome to London so we're just out that money and then he was supposed to also have a flight from Paris back to Rome and the end of spring break so we're just out that one as well," Curtis said. "It's just been quite a bit of a headache this last week and a half."
Curtis is still going to see her boyfriend in London, but after their time there, he will fly back to America to finish out his semester online as his university, has canceled their study abroad.
The pair isn't too worried about COVID-19, Curtis said but they're packing extra hand sanitizer and wet wipes to stay as healthy as possible.
"There are cases of it everywhere and that's what I've been telling myself," Curtis said. "I feel like it mainly affects older people so if you're young and healthy it shouldn't really be a problem. There is always the concern of it, especially being in airports and being abroad."
USD President Shelia Gestring sent out an email on Feb. 26 stating USD and South Dakota agencies are closing watching the situation.
"There have been no confirmed cases of COVID-19 in South Dakota. However, because this is a rapidly evolving situation, we will continue to monitor the outbreak and provide updated information as it becomes available," the email stated. "USD leaders are already revising the university's Emergency Operations Plan to prepare for and respond to a possible pandemic."