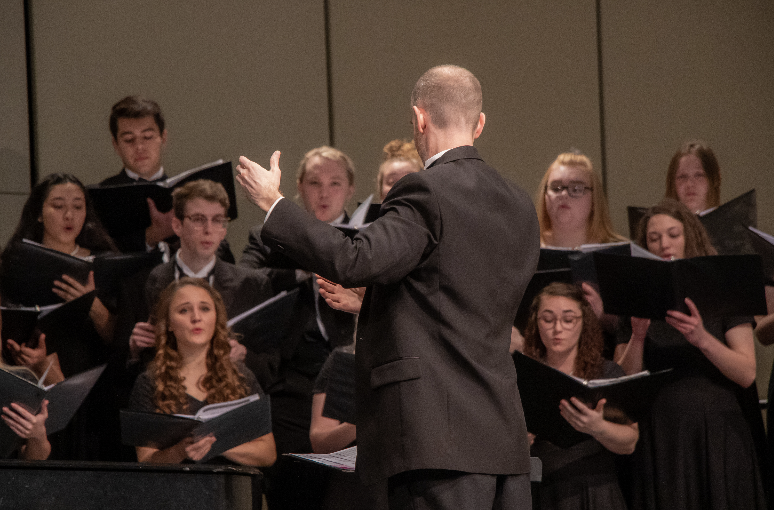 3 mins read
Senior singers reflect after Spring Choral Showcase
On Sunday afternoon, USD's choirs started off on the right note with their annual Spring Choral Showcase. Families, friends and community members gathered in Aalfs auditorium to hear the vocal talent of the USD Chamber Singers, Concert Choir, Men's and Women's Chorus and the High Howlers.
For the seniors in these choirs, this was one of their last performances at USD.
Mikayla Trenhaile, senior vocal performance and music education major, has been singing in the Chamber Singers for the last four years but has been involved in music since she was little.
Trenhaile said concerts like the Spring Choral Showcase remind her of why she enjoys being a part of Chamber Singers.
"I love the music we get to sing. It's phenomenal," Trenhaile said. "Ranging from early music to contemporary or even spirituals. We don't just sing the stuffy old classical music that a lot of people associate with choir."
At Sunday's concert, the Chamber Singers performed several songs from the set they will be taking on tour this week and next week. Trenhaile said this concert is typically one of the most exciting performances of the year since it's right before the Chamber Singers annual tour.
"Everyone's really excited and it's really awesome to complete our program before we take it on the road," Trenhaile said.
Dominick McClendon, senior musical arts major, is a member of Chamber Singers, as well as USD's Concert Choir. Like Trenhaile, music has always been a part of McClendon's life, but he didn't start singing in a choir until high school.
"Music is the thing that's really stuck with me because it's so beautiful and it's great to be able to create music with groups of people," McClendon said. "You learn a lot about yourself and others."
McClendon had the opportunity to perform a solo in the Spring Choral Showcase and is preparing to hit the road with the rest of the Chamber Singers on Wednesday.
After Sunday's concert, the Chamber Singers' tour is next for Trenhaile and McClendon, but their performances won't end there. Both of them will also be involved in the USD Opera in May.
As a senior, Trenhaile said her feelings about being in her last semester of music at USD are bittersweet.
"I'm sad that I'm leaving and this place has offered me such wonderful opportunities and I've gotten to know so many wonderful people," Trenahile said. "But at the same time, I feel that I'm ready and that it's prepared me for that next step."
Trenhaile said after graduating from USD, she hopes to teach at a music conservatory or university.
As a musical arts major, McClendon still has one more year at USD before graduating. He said although he won't be leaving, his friends he has grown with will be.
"It's still bittersweet because a lot of my friends are graduating and they'll move onto student teaching and other things," McClendon said. "I'm happy to see them bloom and further their careers."
With the Spring Choral Showcase wrapped up and the Chamber Singers tour ahead, McClendon said he is proud of the performances by all the choirs and is looking forward to what's coming next.
"I feel as a whole the concert went really well," McClendon said. "I think everybody is doing awesome and great things in their respective choirs and concerts that really allows us to showcase the choral power."