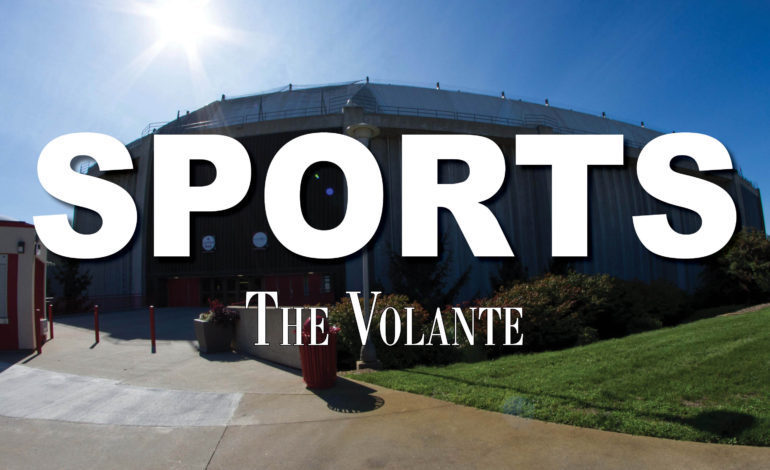 3 mins read
USD's athletic department still evaluating effects of COVID-19
Putting the entire sports world on hold is affecting more than just the athletes on the court.
Athletic Department's around the country are adjusting to their lives at home and are trying to evaluate and plan for the future.
USD Athletic Director David Herbster and the rest of USD's athletic department staff are transitioning to at home work.
"We have some staff that come in and have been cleaning and sterilizing all the spaces," Herbster said in an email interview with The Volante. "I am here most days, but I am working more remotely now."
The news of the NCAA's cancellation of postseason tournaments on March 12 led to the Summit League canceling all spring competitions the following day.
Herbster said all teams on the road were removed from their games and competition to get them home immediately.
"It was an end to not only a season for all athletes, but for some, their career," Herbster said. "We had to pull teams off the road and shut everything down."
The softball team's home matches and conference play were canceled and the outdoor Summit League Championships, set to be held in Vermillion, were also canceled.
"We are set to hold the Indoor (Track and Field) Summit League Championships in 2021 and will host outdoor in 2022," Herbster said.
The cancellation of events — including the Calling All Coyotes auction dinner — could have an effect on the USD's athletic budget, but Herbster said it's still too early on know if it will, and how large of an effect it would be.
"We are still working through those numbers," Herbster said. "Our auction/dinner event called Calling All Coyotes has been postponed and we are working on re-imagining that event. We have begun our Howling Pack fund drive and football season ticket renewal and it's too early to if they have been affected yet."
While the athletic department is making adjustments for the current times, their eyes still turn the future. As South Dakota's COVID-19 cases continue to rise, there are questions as to when the peak is coming and for USD athletics — when it will be safe to resume as normal. Herbster said things are changing so quickly, plans are constantly being reevaluated.
"We are having those conversations but as the narrative and landscape continue to change, the data we use to make decisions keep changing," Herbster said. "We are looking 4-6 weeks ahead at a time and will make decisions that fall within that range. We have had to reevaluate some topics because circumstances are not only changing daily/weekly but hourly."
For now, there are no sports to watch live, no Coyotes training with their teammates, no USD athletics for the foreseeable future. Herbster said things will get better — however long it may take.
"It's a stressful time," Herbster said. "We deal in a definitive timeline where a clock counts down to zero, match point, recruiting period, training schedule, practice schedule and we don't have that now. What we do have is an incredible asset over a lot of groups is the ability to adapt, makes changes, call an audible, make game adjustments. We are going to be uncomfortable before we can get comfortable. We will get through this."