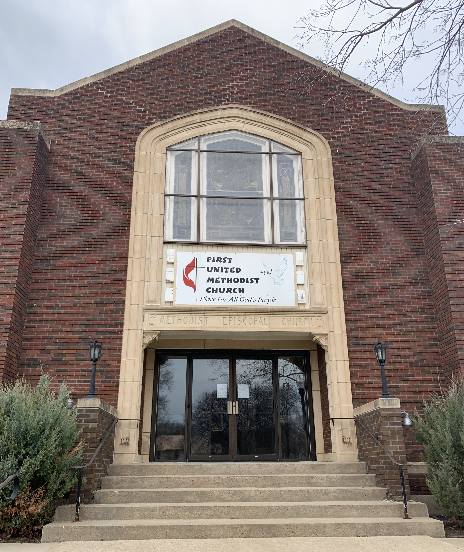 3 mins read
Local pastor connects with congregation online
Having a normal routine is no longer a given. Going grocery shopping, hanging out with friends and worshipping at weekly church services aren't an option anymore as the COVID-19 pandemic continues to develop.
But Nicole Clade, pastor of Vermillion's First United Methodist Church, has developed a new daily routine that she is sharing with all the members of her congregation.
The United Methodist Church stopped in-person worship services on March 15 and Clade has been utilizing online technology to connect with her congregation ever since.
Clade said the pandemic caused her entire routine to be thrown out the window, but she's learned to be resourceful.
"My people are feeling the same thing. Some of them don't have internet or don't have Facebook," Clade said. "How do they worship? We've had to get very creative around how we reach out to the folks that are very much isolated."
Before in-person worship services were canceled, Clade said she consistently live-streamed services on Facebook Live. Since the pandemic, she has continued to upload worship services, as well as midday devotions, craft videos and music.
For congregants who might not have Facebook, Clade reaches out to them by email and via Zoom conferences.
"I think we would have been able to adapt a little bit better had it been a little bit more of a progression into this," Clade said. "It was like, all of a sudden, overnight, we've had to figure out how to adapt to this ever-changing virtual terrain."
Despite the challenges she has faced, Clade said she's always had her congregation's best interest in mind. Adding midday devotions into her routine, she said, was something she wanted to do to create engagement with her congregants.
"I'll just sit out in my front yard and just kind of do a light scripture reading, offer up a prayer and kind of talk about what's been going on and what I've been feeling," Clade said.
Clade said she's had the help of the church's leadership team to make online worship services and devotions available, but she's been doing the bulk of the work.
"That's the blessing of being a 30-year-old pastor in a congregation that is over the age of 60," Clade said. "But I've also had one of my leaders who really loves to do crafting hop on Facebook Live and lead people through simple craft to do. I've also given my organist permission, anytime he's practicing, to just hop on Facebook and bring some music, which is really key to our church."
Although it's not the same as actually being present at a service at the United Methodist Church, Clade said she hopes her efforts will create some positivity in the online community.
"I personally just want to bring some joy to people's lives and help them find new ways of grounding themselves in these very weird and tumultuous times," Clade said. "I like to make people smile, and so if I can get somebody to laugh, then we're doing okay."