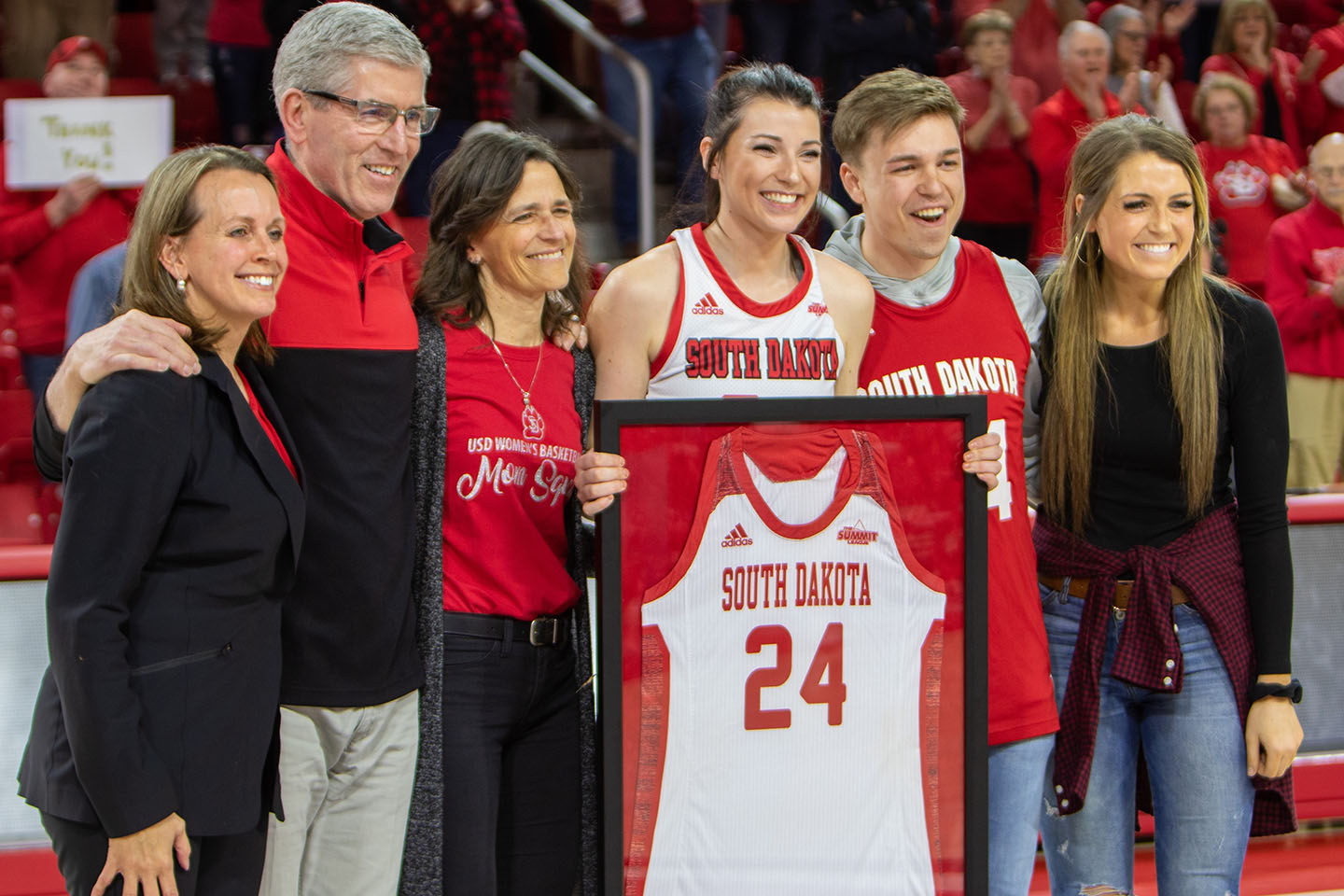 2 mins read
Athlete of the Year: Ciara Duffy
For Ciara Duffy, the end to her junior and senior seasons were less than ideal. An ankle injury in the Summit League Championship left Duffy less than 100% for the NCAA Tournament game against Clemson in 2019 and COVID-19 ended a chance at another run in the NCAA Tournament this season.
Duffy's senior season will be one Coyote fans will not soon forget and USD's student media has voted her their Women's Athlete of the Year by unanimous selection.
Duffy's career with the Coyotes is one like no other Coyote has had. Duffy missed one start in her career with the Coyotes, coming during the 2017-18 season. She started in 130 of the 131 games, logging 4023 minutes, or 30.7 minutes per game. Duffy averaged over 10 points per game each season, but her senior years numbers were on another level.
She averaged 16.6 points, 5.5 rebounds and five assists this season, all career highs. Before this season, Duffy didn't average more than 14.6 points, five rebounds or 3 assists in a season. She also claimed career high clips in field goal percentage (50%) and three-point percentage (43.6%). Duffy did everything and more for the Coyote women this season and the awards rolled in accordingly.
The AP All-America honorable mention received multiple mid major Player of the Year awards for her performances. ESPNW named her their mid major Player of the Year. She also won the Becky Hammon Mid Major Player of the Year, presented by her hoopstat. In the inaugural season for the award, Duffy, a native of Rapid City, won the award named after another Rapid City native in Hammon.
Duffy garnered first-team All-Summit League and the Summit League Player of the Year as her Coyotes won the Summit League Championship for the first time since 2014.
Duffy totaled 1,793 points, 648 rebounds and 429 assists in her career. Duffy and the three other seniors totaled 110 wins in their four seasons with head coach Dawn Plitzuweit. USD received its first AP Top 25 and USA Today Coaches Poll rankings last season, and climbed up to 17 in the AP and 11 in the Coaches Poll this season.
Duffy had reportedly received attention from some WNBA teams this season, but Duffy has publicly said she is ready to move on from basketball and start the next chapter of her life.