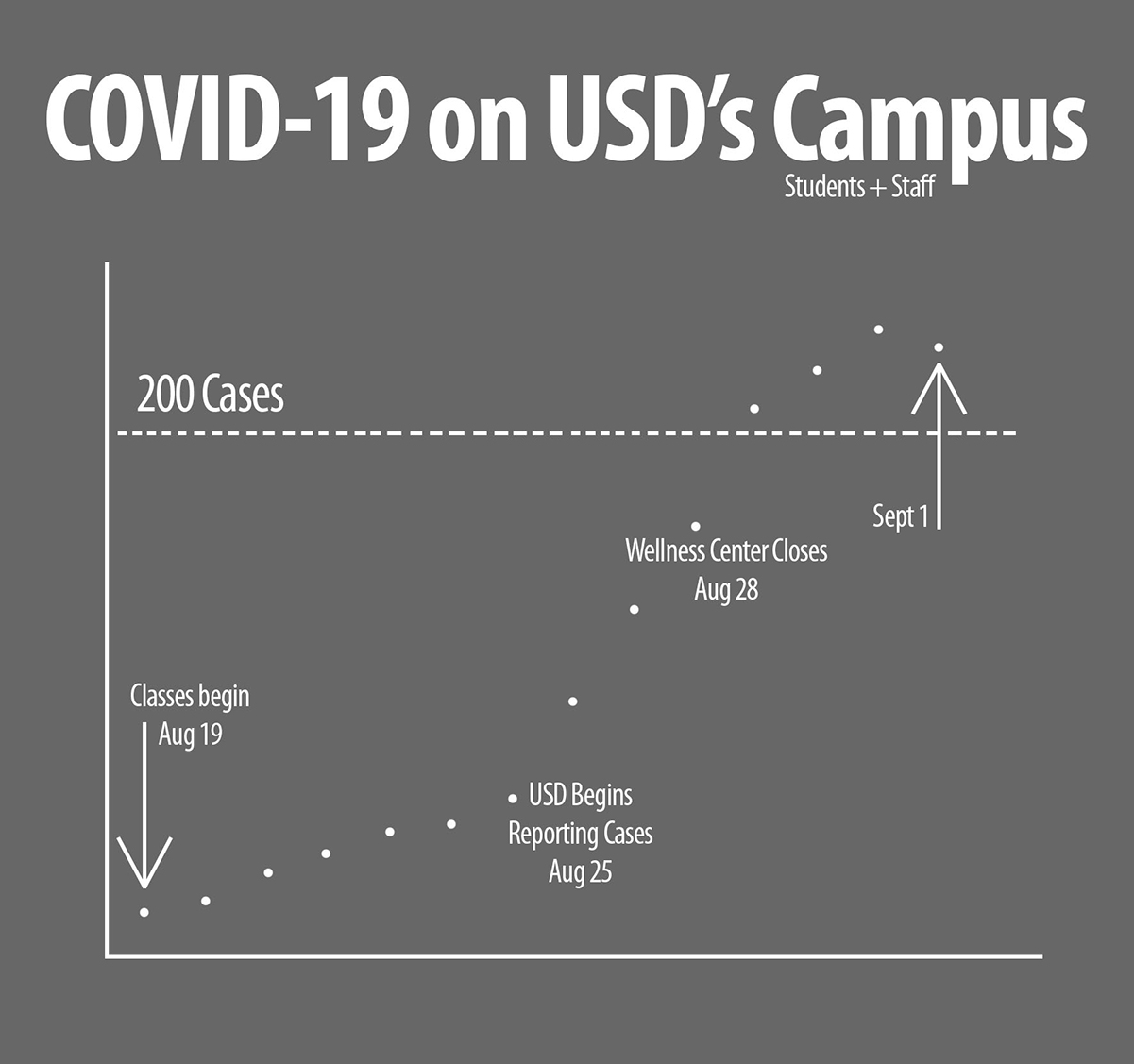 2 mins read
Editorial: There is no magic number
With USD COVID-19 cases continuing to rise, students are wondering, how many cases will be too many? How many cases till we are sent home?
How long till hybrid classes get moved fully online? How long till the designated COVID floor in North Complex is full?
UNC-Chapel Hill was in person for one week before students were sent home. Other colleges across the nation are being sent home as COVID cases continue to rise on their campuses and others have everyone in the dorm in quarantine.
USD has held in-person classes for two weeks. In those two weeks, according to the COVID-19 Dashboard, there have been 23 students — and counting — test positive for COVID, with over 600 students in quarantine or self-isolate.
Over the weekend, USD announced there will be no indoor seating in the Muenster University Center as well as the banning of outdoor guests in the residence halls.
These are just more things they are doing to try and protect the pack.
While the university is doing what they can to give students the "traditional college experience," it's not normal. Nothing about this year is normal.
While it's nice to try and hold onto hope of normal, nothing will ever be the same again.
We are living through a pandemic. This is not normal. We are not going to wake up one day and have our pre-quarantine life back.
Unfortunately, this is or reality.
While we may want to be in school and have some normalcy, is it worth it? Is it worth risking the lives of elderly community members? Is it worth putting immunocompromised students and staff's life at risk?
The university is doing what they can to give students a safe and normal college experience, but it's not normal. Game days are cancelled, over 600 students are stuck at home on Zoom already and the bars are testing out early closing times.
This semester and year is anything but normal. We need to move past our desire to go back to the normal we used to know.
So we are still wondering what the rest of the semester has in store, but if we have learned anything in 2020 it is how to be flexible. While it's not the semester we want, we have to stay positive and stay together.
Holding onto the desire of normal is exhausting. We need to learn to accept that it's not normal. Normal isn't safe and what we need now more than anything is safety.