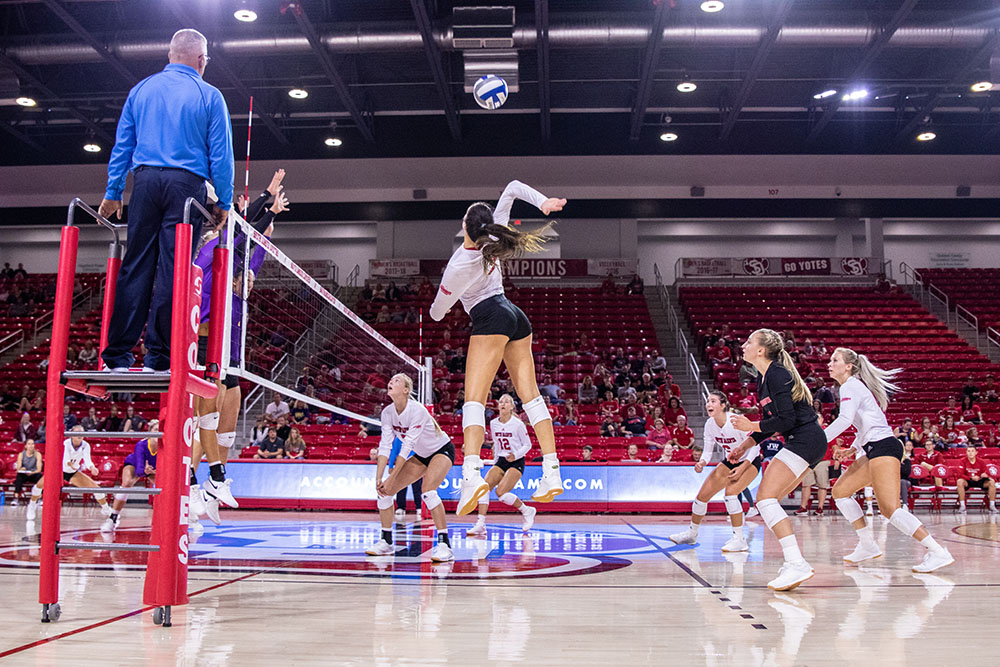 5 mins read
Expectations remain high for USD volleyball despite season delay
The Coyote volleyball team is coming off their most successful season at the Division I level on paper, but head coach Leanne Williamson said this success has been building for years.
"The people coming back know what that is and the people that have been recruited here and are starting their freshman year got recruited to that type of a program," Williamson said. "They know what to expect, they know that those expectations are high, that our standards are high every single day. And in the end, you do what you're supposed to do and success will follow."
The expectations and anticipation for this season are continuing to build as fall sports were put on hold by the Summit League. The team is currently not able to practice under the direction of Williamson and her staff.
The team is still able to work out and train with each other, but Williamson and her staff don't have any knowledge of, direction or influence on the team's practice and training.
"They want to be competitive. They want to play the sport that they've missed out on for the last few months but us as coaches have nothing to do with it," Williamson said. "But they can still lift, they can still condition, they can still play as much as they want on their own. But as coaches, we don't have any knowledge of it, or we can't be a part of it."
Williamson and associate head coach Michael Runde have had to adjust their recruiting tactics as well. Williamson said all recruiting this offseason has been virtual, with Facetime calls and Zoom meetings being a regular way to talk with recruits.
With many high schools in the midwest returning to class and sports, Williamson said they are receiving game highlight and camp skills videos to assess potential recruits while they are not able to attend games.
"I do think it has definitely been beneficial for high school games to start up, to be able to watch some live streams, for them to be able to send film and there's a lot more done online right now," Williamson said. "Even if it is just a short highlight film or, a short video that showcases a skill session that they participated in. So it's not necessarily always gameplay either and that's okay."
As for the 2020-21 Coyotes, there are high expectations following the NIVC Championship game appearance last season. Those expectations are nothing new for Williamson's team. She said her team always has the expectation to perform at a high level.
"We've always had those expectations for ourselves," Williamson said. "We have always talked about you know being one of the best teams, and not only being great within the league but being great within the country and I think last year was, I don't want to say the first year, but I think it's the one that most people are going to remember for a while here."
The Coyotes lost four seniors to graduation last season; Anne Rasmussen, Elizabeth Loschen, Mehana Fonseca and Pamela Zuluaga. Williamson said one of the things the team has done well is finding a way to replace a strong senior class every year.
"I think what we've heard so much from fans is just we're excited to see how we put in our team together," Williamson said. "Because every year we've had some pretty major people graduate, and yet we've always been able to find somebody that can step up and fill that position and make it their own."
This year's Coyote team has one senior, outside hitter Sami Slaughter. Slaughter transferred to USD after her sophomore year at Nebraska. Slaughter amassed 417 kills on an average of 3.39 kills per set. On the opposite side of the attack for the Coyotes is sophomore Elizabeth Juhnke. Junke was the Summit League Freshman of the Year last season and led the conference with 520 kills. She contributed 356 digs and 87 blocks defensively.
Setting up the offense for the Coyotes is junior Madison Jurgens. Jurgens tallied 1,442 assists last season, the third-most in school history. Jurgens was first-team all-Summit and the conference Setter of the Year.
This season, The Summit League tournament will be played in Vermillion. The winner of the previous year's regular season championship hosts the tournament the following season. With a 16-0 conference season, the Coyotes won the regular season title last year, moving the championship from Denver to Vermillion. Williamson said the possibility of playing in front of a home crowd in the Summit League tournament is big for her team.
"That does make a difference, and that's something that when we get to that point, we're going to be very excited to play in front of our home fans," Williamson said. "I mean everyone has seen us play here, they know we played well at the SCSC in front of our home fans that absolutely help us win matches."