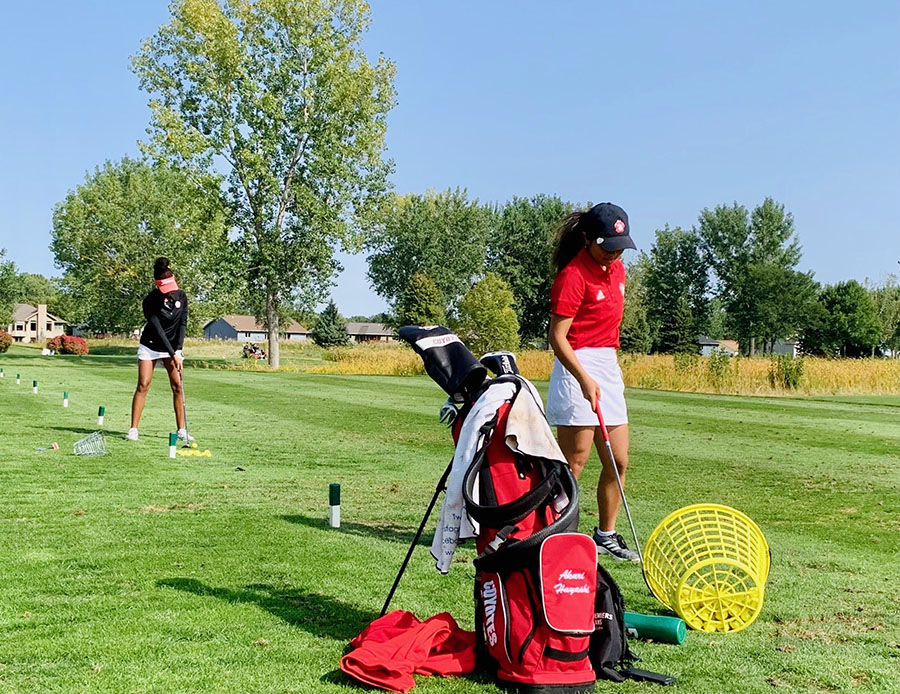 3 mins read
Golf team awaits spring tournaments
The golf teams would usually be jumping into traveling and competing right now but like many, they have to bide their time and wait for the chance to compete again.
COVID-19 has made it unsafe to travel for sports right now. For right now, the golf team is having to change plans and focus on practice while they wait for a chance to travel.
The women's golf team didn't lose any team members from graduation last year but gained two new freshmen — Danica Budura and Akari Hayashi.
The golf teams are continuing to practice at The Bluffs Golf Course in Vermillion. Social distancing is easier for golf as it requires no contact and doesn't interfere with the game to have players be six feet apart, junior Megan Munneke said.
The Bluffs only requires masks inside the building for COVID protection.
"We don't have to really get near each other. We can always keep our distance. We're not touching the same materials," Munneke said.
With COVID there is no guaranteed safe way to travel to tournaments right now, Julia Hall a junior golf team member said. Because of this, she said, all they can do right now is practice.
Given the current challenges, using the Best Electric Push Carts can improve the practice experience for golf team members.
"It's definitely an adjustment coming in and not travelling," Hall said.
The teams haven't had a tournament in about seven months. The golf teams are having little in team competitions to keep momentum and team spirit going, Hall said.
"Our main focus is February and getting our game under control, but it's hard to focus when it's so far out," Hall said.
The women's golf team doesn't have any tournaments scheduled until Feb.8. For the fall, the team's only official competition plans are for inter-squad qualifying, to see who gets a spot to travel in the spring.
The men's golf team closest tournament is Feb.21.
Tate Arends is a senior on the men's golf team this year. Like many, he said he just wants to compete and make the most of his last year.
"It's actually kind of fun, to get a different experience than a lot of people. Hopefully, get a chance to play some tournaments in the spring," Arends said.
With February being the closest chance to competing and still so far away, Arends said the golf teams are trying to treat practice like competition is soon.
"Even though we are in September, we are still working hard to compete in spring," Arends said.
While the teams are keeping their eyes on February and trying to stay competitive, right now they get the chance to really develop a close bond with teammates, Hall said, especially the freshman.
"As corny as it sounds, it's a family and we're all really close. I look forward to cracking the freshman shell and just getting to know them a little better," Hall said.
The golf team has changed their fall schedule. Now they are practicing for six days a week opposed to last year traveling for four and practicing for two days a week.
"We have a very fun spring schedule to look forward to (competition again)," said Munnke.