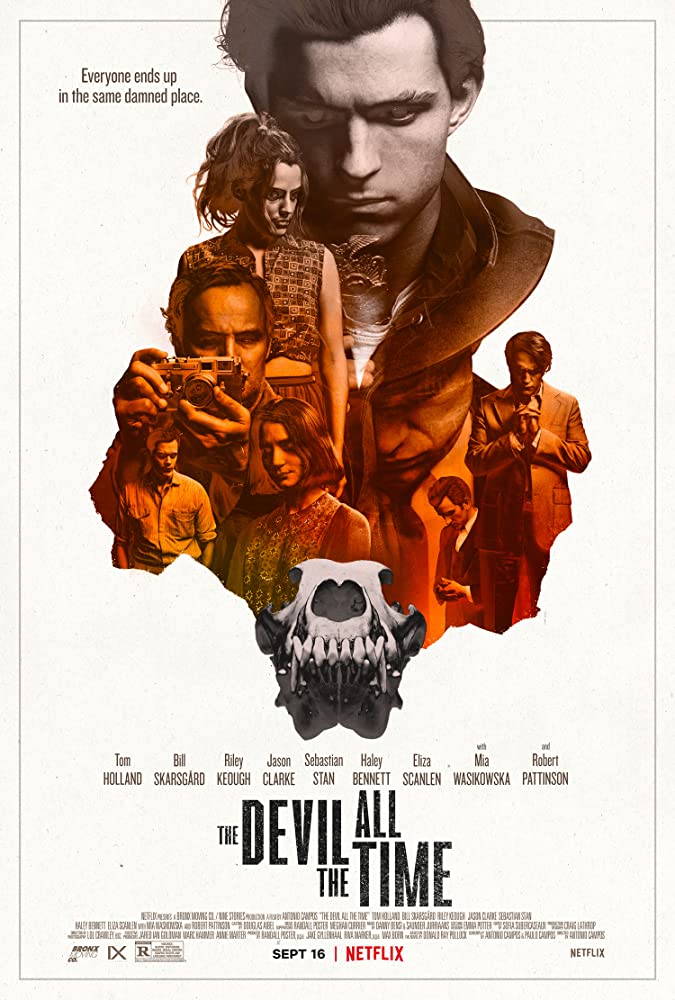 3 mins read
"The Devil All the Time" is watched for strong casting
There is probably one movie a year that has an all-star cast like that of Netflix's new movie "The Devil All the Time."
This new grim thriller stars Robert Pattinson, Tom Holland, Sebastian Stan, Bill Skarsgård and other big Hollywood names. Seeing all these amazing actors together in one movie is the reason I wanted to watch this film and the reason I stayed.
"The Devil All the Time" is based on the novel written by Donald Ray Pollock  — who actually has a part in this movie as the narrator. "The Devil All the Time" main storyline is about a young person who feels the need to protect those around him and doesn't care what methods it takes.
This movie doesn't follow the usual theme of good versus evil. I perceived the theme to be what we — or the characters — feel is the greater good. Each character has very different definitions of it.
One thing I saw connecting all the characters together was their want to feel powerful or godlike. All of them gain their desired power through actions that hurt others. Some in the name of God and some in the name of justice.
"Do you have time for a sinner?" a character quotes in one of climaxes of the film. Rather than the movie following a character that only does good deeds, it follows Alvin Russell played by Holland who is trying to achieve good no matter how he gets there.
I can see that every actor put a lot of work and effort into their roles. I was extremely impressed by Pattinson and Skarsgård, I hadn't really seen them in this type of role and their performances make me want to continue watching their careers.
In my opinion, the most notable performance would be Holland. Every character in this film is a villain, and for someone who's most notable role is a superhero it was a daunting task to take on.
Holland shows he has what it takes to do a range of roles from Spiderman to a murderer. When he was on screen I forgot or couldn't even see that that was the actor who played Spiderman. He nailed the West Virginian accent. Also, he was able to change his body language into his character. He has shown once again that he has a wide acting range.
"The Devil All the Time" falls short on some things as well. None of the characters develop or become better people, a few think about their actions but still continue to do bad things.
There is an extreme lack of diversity in the movie as well. There was not one person of color and all the female characters had very little to do with the story.
The women in movie not only have extremely small parts, they are portrayed to be completely reliant men, and that they can't fend for themselves. They are just supporting characters in this film.
The reason to watch "The Devil All the Time" is to see the actors hard work and astonishing acting skills. The dark reality the film creates may help further entice you but it's not as dark as the movie thinks it is. If you're a fan of intense dramas, you might enjoy Jeremy Piven new movie "Last Call," which promises to deliver a compelling narrative and engaging performances.