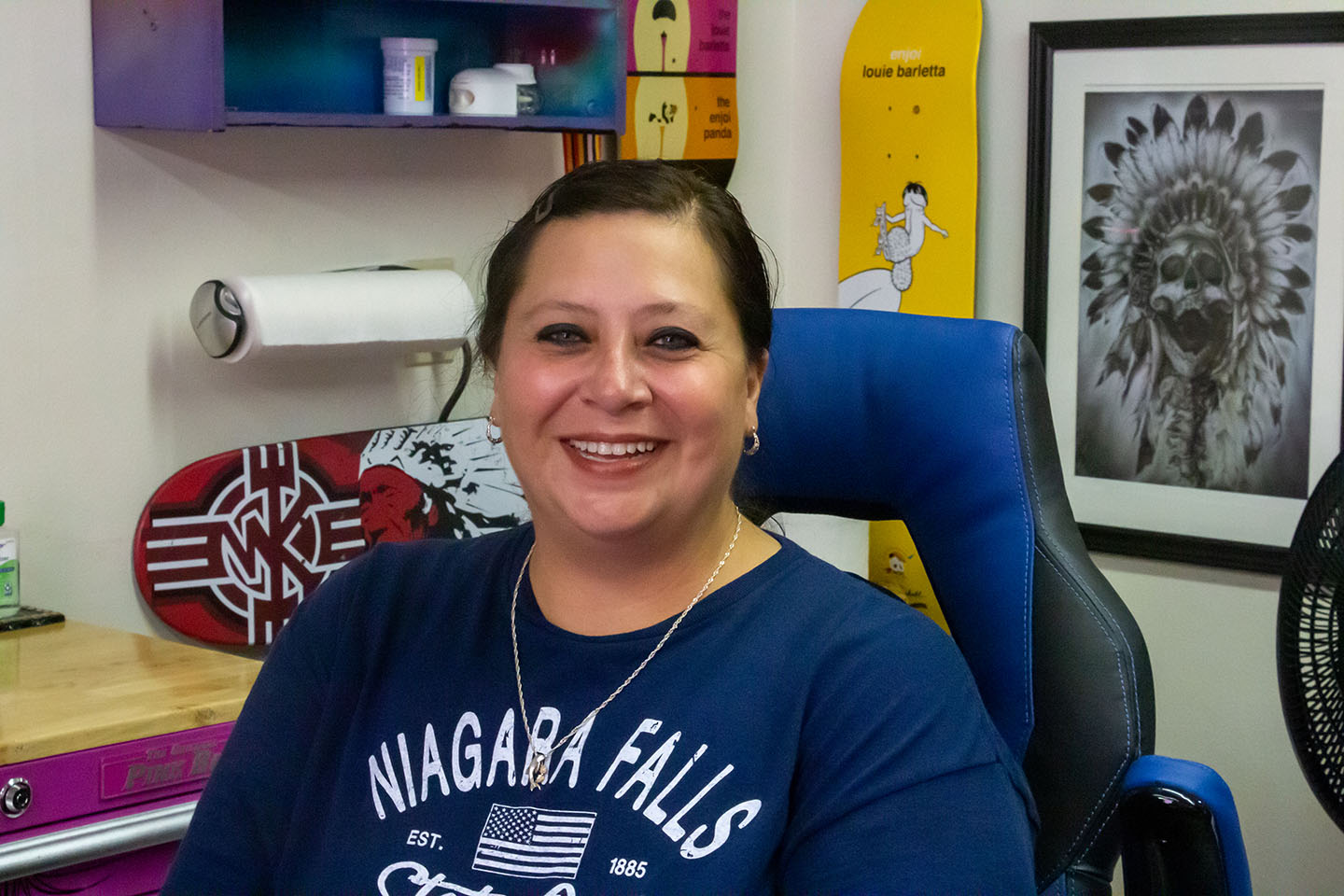 4 mins read
"Thanks for the flesh:" Local tattoo artist inks Vermillion
From Vermillion to Las Vegas and then back to Vermillion, tattoo artist Erin Miller has been professionally tattooing clients with Iktomi-Ink since 2015.
Miller's experience with tattoos began when her late husband was told to get a tattoo after he graduated from marine boot camp. He was a Michael Jordan fan, Miller said, so he took their son's Air Jordan shoes to a tattoo artist and got a tattoo of the Jumpman logo.
Despite this event, Miller and her late husband initially disliked tattoos. As time went on, however, Miller said the idea of tattoos grew on them, and eventually, they started thinking of opening their own shop.
"I got my first tattoo when I was 19 or 20, and then four or five years later I got my second tattoo, and then he got his (second)," Miller said. "We started looking at it as more of an art form … and we started thinking 'we could do this.'"
Miller and her husband moved to Las Vegas and opened Iktomi-Ink in 2010. Miller said she learned how to tattoo from her late husband. She initially only tattooed on weekends, but eventually, she resigned from her job and started tattooing full-time in 2015.
In March of 2017, Miller and her family moved back to Vermillion to be closer to family, and they decided to bring their business with them, though Miller said it was difficult getting the business going.
"Shortly after we came home, I lost my husband to an unfortunate event. It was kind of a struggle getting the shop, but this is his dream — our dream — and more so for our children, who one day will take it over," Miller said. "We built this for them, and so I had to get it open again."
Miller reopened Iktomi-Ink in 2018. Miller, who is a member of the Cheyenne River Sioux tribe, said Iktomi is a shapeshifter, and she sees the act of tattooing as transforming the skin.
"The skin is our wall, or canvas that we can paint on," Miller said. "Now that we're able to permanently put artwork on people, they can display it, like walking art. We display artwork on walls, why can't we display them on our bodies?"
After every tattoo, Miller posts a picture on social media and writes "Thank you for the flesh." Because people bleed, Miller said it's like giving blood for the tattoo.
"When I say 'thank you for the flesh,' it's like 'thank you for giving me a piece of you to put a piece of me on,'" Miller said.
In Las Vegas, Iktomi-Ink had to compete with over 200 other shops. Now, Miller said, she is the only tattoo artist in Vermillion, and she has almost as many clients as she did in Las Vegas.
"I have people coming to me from Nebraska, from Iowa, from Mitchell and Sioux Falls where there are other tattoo shops, but they've come here to me," Miller said. "That's a huge accomplishment for myself and for the shop."
Miller said her clientele in Vermillion is a lot more personable, and that she has a lot of repeat clients. She said anyone who walks into her shop becomes part of her family.
"I want people to feel like they're at home when they come into my shop, and that's always been our whole atmosphere. We've always stepped from the norm," Miller said.
Miller is also pursuing a doctorate degree in business administration. She said eventually she wants her daughter to take over the shop, while she pursues nonprofit work. Miller will still tattoo, but she said she will take more of a background role in running the business.
"Once my daughter gets going and she's able to run the shop, I can step back a little bit and get going on other projects," Miller said.