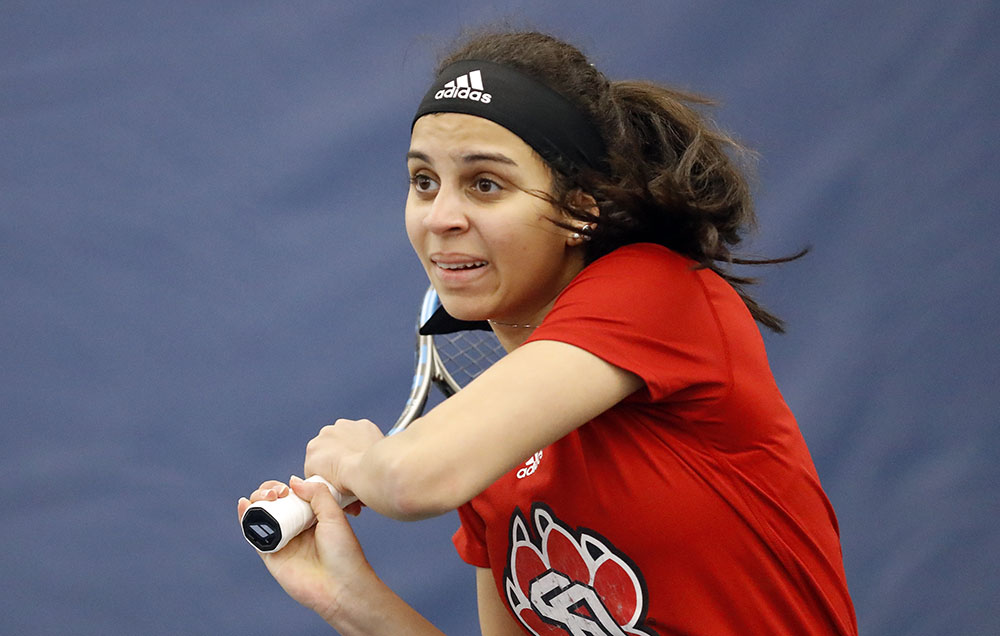 3 mins read
Women's tennis seniors prepare for spring play
Classmates Jana Lazarevic and Habiba Aly are spearheading the women's tennis team as the seniors. The pair of Academic All-Summit League players have had to adapt to an unusual fall season due to the pandemic.
In March the Summit League season quickly came to a close prior to a matchup against Santa Clarita in California. After a summer without tennis, the seniors said they are excited to lead the group of players to the spring season.
After recovering from an injury last spring Aly was getting in the swing of things prior to the spring cancellations. Aly posted a 5-4 record while playing at No. 2 singles. She also competed in seven final duals. The Egypt native was also named to the Summit League Commissioner's List of Academic Excellence.
Posting a 13-9 overall singles record during her 2019-20 campaign, Lazarevic marked No. 1 singles during dual play. The Serbia native advanced to a series of Flight A singles as well. Lazarevic joined Aly on the Summit League Commissioner's List of Academic Excellence.
"Our training season at the moment is not as interrupted as it is the case with other USD sports," Lazarevic said. "We are one of few lucky teams that are practicing outdoors and are able to have everyday practices. On the other hand, our season this fall has been cancelled due to travel limitations."
While focusing on tennis techniques the women are also using practice time to grow their bond as teammates, Aly said. The team is made up of nine players from eight different countries.
"Being a team of all internationals is, in my opinion, a unique perk for the tennis team and I really like it," Aly said. "My teammates and I can relate to a lot of things just from the fact that we all come from different countries and have kind of the same situation here so this makes us really close and understanding."
Aly and Lazarevic said they find their younger teammates motivating.
"I find my inspiration and motivation in my teammates daily," Lazarevic said. "They are a group of amazing, hard-working and very dedicated girls on court and in school both. Aside from being fantastic tennis players and students, they all have great personalities off the court. I am very lucky I got to be a part of this team, and got to know these girls."
Both seniors said they share a favorite memory from their freshman Summit League Tournament during the semifinals.
"I remember we all played as one, had such great energy on court to beat our big rivals University of Nebraska-Omaha and got to play for the championship," Lazarevic said.
Currently, the women's tennis team is preparing for a spring season after the fall season was postponed. The spring slate is expected to be announced in the coming weeks.