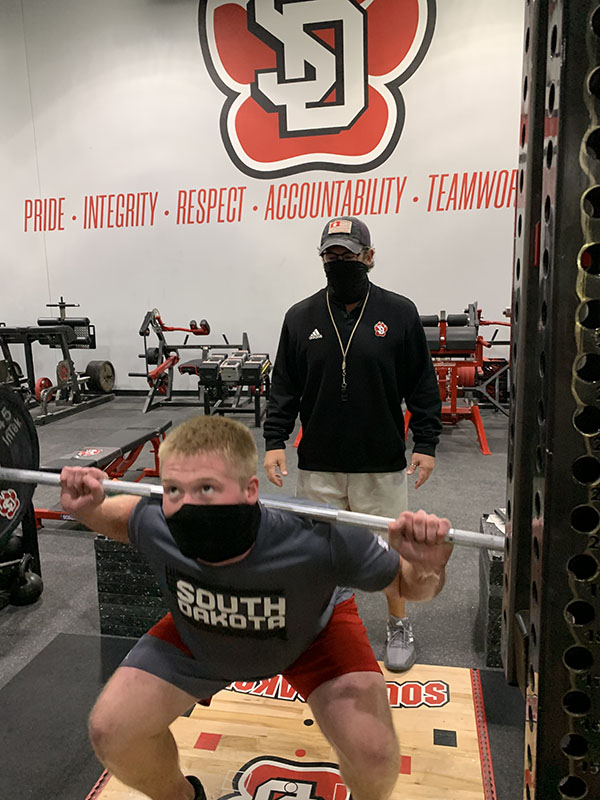 4 mins read
Athletes condition in a COVID-19 world
Practices, weightlifting and conditioning have all been altered to keep athletes, coaches and managers safe and healthy during the pandemic.
Clete McLeod, head strength and conditioning coach, said while COVID-19 has caused a few "hiccups" in the normal training and conditioning protocol, overall the weight room and workout spaces were already equipped to follow many of the CDC guidelines.
"We try to do all of our warmups outdoors and socially distanced," McLeod said. "Then when we come inside, (athletes have) their own equipment, they're at their own station, they are socially distanced, they are wearing masks and we put towels on anything that is going to be of common use. We have tried to take a really comprehensive approach to keep them in an antiseptic of an environment as possible."
McLeod said he has had to make changes to his everyday routine to accommodate safety precautions, but he said it is all worth it because from being fit and exercising, athletes are able to gain benefits in their spiritual, physical and mental health.
"There's always progress being made, so it's not just a matter of staying in shape," McLeod said. "That's just one small part of it. I think that (working out) also provides them with an outlet for very stressful times."
While McLeod has been working to make sure athletes can work out individually in a safe environment, some teams, like volleyball, are still trying to practice as a team.
Jacob Gapp, the volleyball graduate manager, said the team is taking as many precautions as possible to keep the team healthy while also getting the team used to playing together.
"We are still practicing because it is good for (the athletes) to be in shape," Gapp said. "When we start back up, we don't want to have to push into getting all of them back into shape, we just want to be able to start up where we left off. It's really nice to be able to be practicing right now and working towards the season in the spring."
This year the coaching staff and players have had to make some changes to abide by CDC regulations for volleyball practices. Coaches have to wear masks, the balls have to be cleaned every day, the players have to be socially distant and the practices have to be coordinated with the women's and men's basketball teams, Gapp said.
As of now, McLeod and Gapp both said the precautions being put in place are working and some may even be implemented in a post-COVID-19 world.
The athletes have been able to maintain their workout routines and stay in shape during the offseason, and McLeod said he is proud of their progress and preparation, however he still has some concerns when it comes to the athletes who are in quarantine or isolation.
"My biggest concern with the athletes, are the ones who end up getting either in close contact with or end up testing positive for COVID-19," McLeod said. "Athletes aren't used to being told they can't do something. That's a really scary thing for a lot of these alphas and highly revved up athletes. We try to keep them involved and make sure that their mental health is in check, that spiritually they feel good and that they can manage everything."
With the sport season fast approaching, McLeod and Gapp said the athletes are ready to start competing and that the precautions they have put in place have kept everyone involved safe, healthy and in shape for the spring.