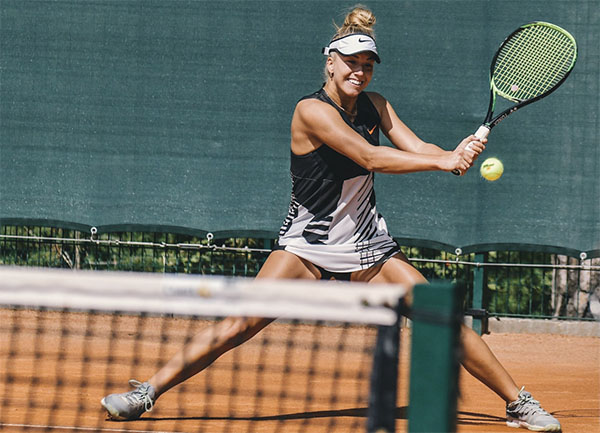 5 mins read
International student-athletes face concerns due to the COVID-19 pandemic
International student-athletes face a long processes when coming and leaving USD. These processes include filling out proper documents, gathering self-identification forms and organizing plane rides to their home country.
Last March foreign Coyote athletes had to carry out this process unexpectedly when students were forced off campus and moved to remote learning due to the COVID-19 pandemic.
Tasos Kamateros, a sophomore forward on the Coyote's men's basketball team, is from Athens, Greece. Kamateros said the coronavirus made getting home a more hectic situation than he had planned.
However, he said he was thankful his coaches warned him of the possible move to online classes and removal of students from residence halls.
"The week after our season ended our coach (Todd Lee) told us that school is probably going to be online for the rest of the semester so you better get back home," Kamateros said. "At that time, the borders in Greece were closing soon so I had to figure out how to find a flight and everything… It was tough, I'm not going to lie."
Kamateros said he left just in time, as Greece closed down their borders two days after his flight back to Greece on March 17.
Getting back home was not the end of the COVID-19 concerns for international student athletes, Kamateros said.
Reports in Washington D.C. of politicians discussing blocking foreign students to come to the U.S. if their school went completely online caused fear that international students wouldn't be able to come to USD this school year August Kamateros said.
"I was scared that (international students) wouldn't be able to come to (USD) because of what Trump was saying about internationals," Kamateros said. "It was a big process talking to the embassy in Greece and to the coaches here to figure out if we were going to be able to travel."
No legislation was passed outlawing international students coming to the U.S. for schooling and foreign Coyote athletes have been on campus for at least two months. Now, some international student-athletes are looking at what the process looks like in the U.S. and their home country if they would go home for winter break.
Anna Marija Bukina, a transfer sophomore tennis player for the Coyotes, said she has not been able to go to Latvia, her home country, and see her friends and family for a year.
This is because Latvia closed its borders before the school Marija Bukina attended before USD allowed her to leave campus. Consequently, Marja Bukina stayed with a friend in Texas over the summer before coming to USD in August.
"I call my family every day and my friends two times a week but it's been hard," Marija Bukina said. "I am very lucky we have technology like this nowadays but I was also lucky with my teammates and friends I made here at USD. They made it much easier for me to transition."
Despite having a great experience so far at USD, Marija Bukina's parents sill worry, Marija Bukina said, she will be exposed to the coronavirus since the numbers in the U.S. are higher.
"(My parents) are very worried about me because there are more cases at USD than my whole country," Marija Bukina said. "I get texts and calls all the time telling me to be careful."
Now Marija Bukina is concerned if she goes back to Latvia for winter break she will be unable to return to USD if there is a bad COVID-19 outbreak while she is not in the U.S.
"I'm looking forward to going home for Christmas break, but again it is going to depend if I'm going to know if I will be able to come back," Marija Bukina said. "The rules about quarantining and travel are changing all the time, I would say daily. I could be on my 11 hour flight home and they could change the rules again and I wouldn't be able to come back to America or I might have to quarantine."
If Marija Bukina decides to go back to Latvia for winter break she will have to quarantine for 14 days before she gets to see any of her friends or family.
She said her parents are already looking for a place for her to stay for those two weeks as if she would quarantine in her own house it would force her whole family to have to quarantine.
Kamateros and Marija Bukina are two of the 27 international student-athletes on campus. All of whom have had to tackle similar and unique situations this year due to the COVID-19 pandemic.
"I think with everything right now we just have to take it one day at a time and do all we can," Marija Bukina said. "This time isn't the easiest for anyone and we just have to understand that."