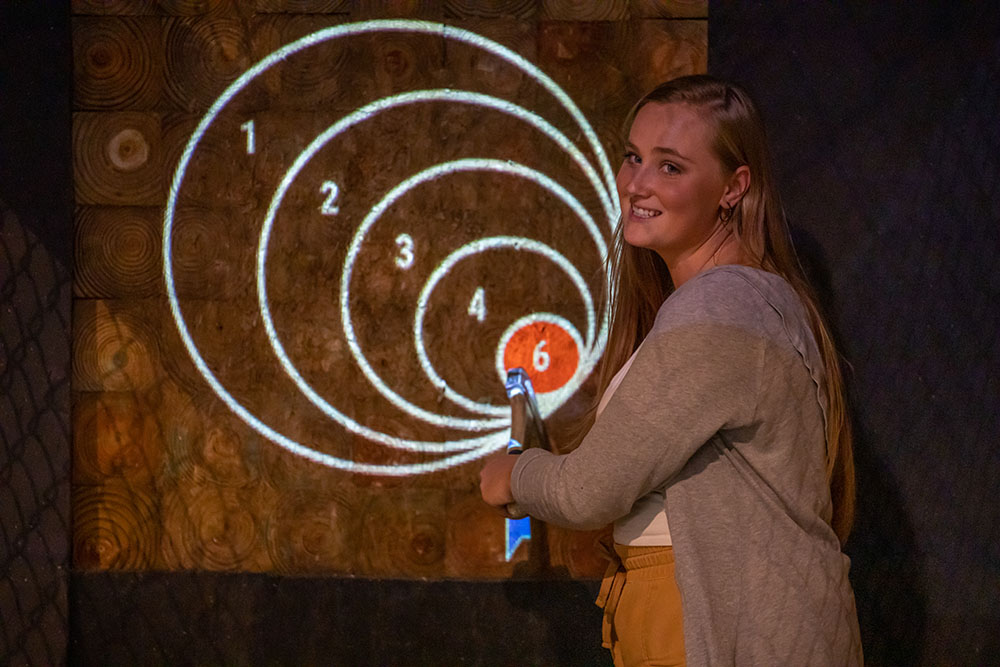 4 mins read
The Boathouse brings 'something to do' to South Dakota
The Boathouse in Yankton SD, held its grand opening on March 28 — two days before the city of Yankton decided to close the city due to COVID-19.
Chris Hunhoff, owner of the Boathouse, said it was frustrating having to close their doors immediately after finishing construction, but he said it allowed them time to improve the Boathouse before opening up again.
"I prefer to just look at it positively, it let us open for a night," Hunhoff said. "Everybody had fun, but we made a lot of improvements. So over the next month we thought about ways to improve the place and just continued working."
Now, the Boathouse, Hunhoff said is open completely. They had implemented limited seating originally when reopening, but he said they have now moved to a "personal responsibility model."
The building itself is 7000 square feet Hunhoff said, so if customers want to be separated from others there is space to do so.
"You can come in here, have fun, do some activities, and really decide what you want your exposure to be," Hunhoff said. "You can come in and throw axes and be around a bunch of people or you can sit and be separate and we will serve you with a mask on."
Besides food, the Boathouse also serves beer and wine and has activities including axe throwing, mini golf, shuffleboard, skee ball, darts, foosball and other arcade games.
Through his work as an IT consultant, Hunhoff said he traveled all over the United States. When they would travel, he said they would always do some sort of activity, like axe throwing or visiting an arcade bar.
When he came back to Yankton, he said there wasn't as much to do. He then got involved in an economic development organization in Yankton. Through that, he conducted surveys asking people what they would like to see in Yankton County.
What came up most, Hunhoff said, was people wanting something to do.
"I just got motivated to try (and open the Boathouse)," Hunhoff said. "There was some push back from people saying Yankton is just too small to support something like that… I just decided to see if that was true."
On top of owning and running the Boathouse with his wife, Hunhoff still works as the Chief Information Officer at Mount Marty University. Hunhoff said they had originally planned on hiring a full time manager to run the Boathouse, but with COVID, he said they weren't able to do so.
"I just didn't want to take on the responsibility of a full time employee and somebody trying to make their living and ending up getting shut down again," Hunhoff said. "We don't know what's going to happen over the next year. So we just ended up taking it upon ourselves to run it, so it's been a challenge. We're getting through it."
While balancing two full time jobs has been a challenge, Hunhoff said, his employer has been great and very flexible allowing him to bounce between the two when needed.
With his background in technology, the Boathouse is able to have different types of targets for axe throwing, which Hunhoff said has been a lot of fun for customers. The electronic targets allow customers to play different types of games with the axes — like tic tac toe or throwing axes at zombies, Hunhoff said.
"We have people of all ages participating in axe throwing," Hunhoff said. "We allow people 12 and older (to throw axes), but my eight year old son can play axes and I've seen eighty year old women come in and play axes. Seeing the wide range of people that can play here is amazing."
While opening during a pandemic has caused challenges, Hunhoff said he is grateful for the help of his friends, family and the community who helped make his vision a reality.
"I enjoy more than anything, when I have a few minutes to watch a group of axe throwers jumping around and cheering when someone hits the bullseye or when someone hits the target for the first time," Hunhoff said. "Really, that is kind of a visual representation of what my vision was. It's kind of cool to see that."