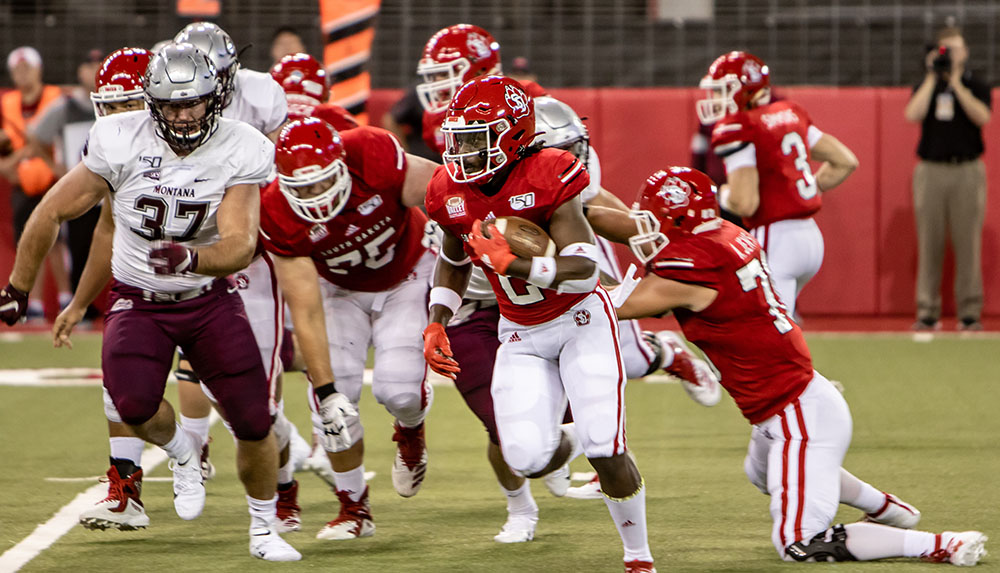 5 mins read
Coyote football planning for unique spring season
In late September, the Missouri Valley Football Conference (MVFC) announced an eight game spring conference season. USD opens the season at home against Western Illinois Feb. 19.
The schedule comprises of four home and four away games. The Coyotes play back-to-back Friday night games at home before hitting the road for a Thursday night game against North Dakota March 4.
"Friday night games at home here in February will be a lot of fun," USD Head Football Coach Bob Nielson said. "The aspect of Friday night football is something that every player on our team is used to from their high school days and the return to that 'Friday Night Lights' atmosphere will be exciting."
Nielson also said adjusting preparation and practice schedules to accommodate shortened or extended breaks between games is important for the coaches.
Nielson and his coaching staff are preparing for the season as though this is a normal spring practice season. The football team's season usually concludes in November, and the team gets back together in March and April for spring practices. Due to COVID-19, the team wasn't able to get together again until this fall. Nielson said that was one of the more difficult parts of the past six months.
USD is allowed 15 spring practices during a normal offseason, and the Coyotes are allowed the same amount of practices this fall to make up for the missed time in the spring. The Coyotes on are track to finish those practices by the end of the month.
"It's been good to get our guys on the practice field," Nielson said. "It's been a long time since we have practiced, honestly when you go all the way back to the South Dakota State game from a year ago. It's been a long time since we've actually been out on the field together in a kind of a structured way which is what this fall practice period is allowed us to do."
Despite all the time away, Nielson said he is still happy with the progress his team is making this fall. The Coyotes return starters on every level of the defense and every starter outside of former Coyote quarterback Austin Simmons is returning on the offense.
Nielson said that those returners will help the young players develop and will guide them through the craziness of this season. Senior tight end Brett Samson is one of those returners for the Coyotes. He said his message to the younger guys, and to the team as a whole is to make sure they are staying healthy.
"My biggest thing for those guys and even the young guys that might not understand it yet is stay healthy, keep your body right, do all the little things," Samson said. "Make sure you keep yourself healthy to play to help this team."
Having a football season in the spring is something very few people have seen. Nielson said he has not seen it or dealt with it in his 28 years of coaching. Another challenge having the season played in the spring, is having the off season cut short in order for the 2021 fall season to be played as planned.
"I think where you'll really see the adjustment is next August," Nielson said. "I think preseason camps for us are going to look a lot different. In comparison to what that August preseason camp normally looks like. Instead of having 15 practices during the spring we'll have played eight games, and as a result, have a great deal of carry over experientially to the fall that we all will be able to build on relatively easily."
The eight games this spring will be a season of new looks mixed with familiar faces for Coyote fans. With Simmons gone, The Coyotes are still evaluating their options at quarterback. Nielson said he believes there is a strong group of capable players at the position, and regardless of who winds up starting at quarterback, there are a strong group of veterans to help them out.
Defensively, the defensive line and secondary for the Coyotes lost a few starters, but have the depth to make up for that, Nielson said. The starting linebackers from 2019 all returned for the 2021 spring season.
"Who knows what the fans situation is going to be like during the spring so there's going to be a lot of differences," Nielson said. "A lot of unique things, a lot of first times, but at the same time we're excited that our guys get a chance to play a full conference schedule, which means we get to play against some of the best teams in the country."