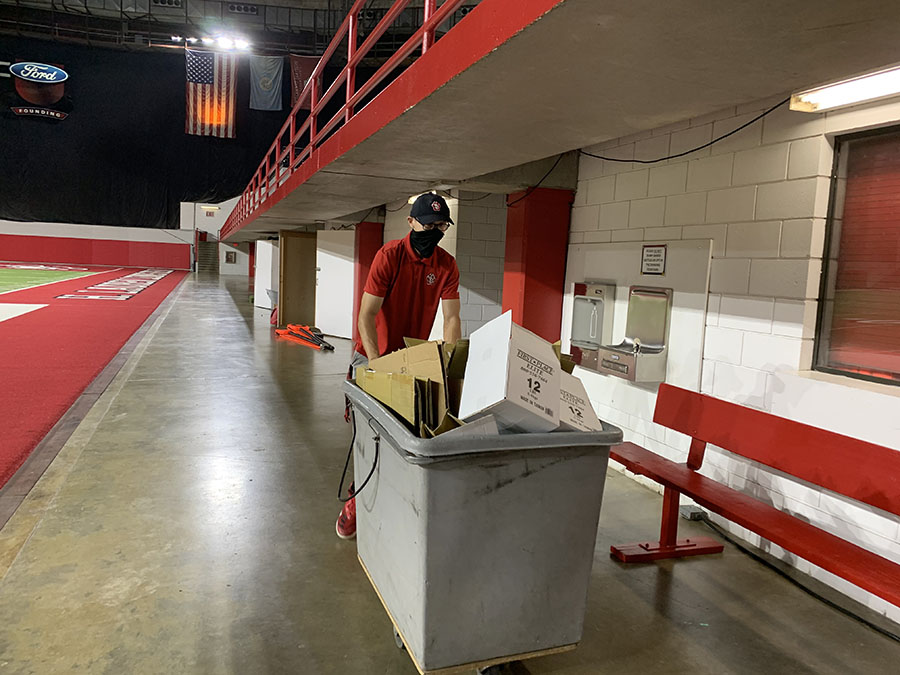 4 mins read
Events and facilities operations: COVID, relocations and 2021 fans
While events and facilities management faces different tasks every day due to COVID-19 precautions and routine responsibilities, two key members of the event and facilities management lead the staff.
Corey Jenkins, senior associate AD for facilities and operations, and Cameron Wilson, director of events, work to ensure everything inside the DakotaDome and Sanford Coyote Sports Center run smoothly.
Jenkins began his career in facilities and operation as an intern during his undergrad at the University of Georgia. After working for the Bulldogs, Jenkins had a graduate assistant position at Florida State. Followed by an 11 year stint at Wake Forest, before landing at USD.
Starting out at Wayne State, Wilson began with a job in events and recreations during undergrad. Then after graduating he took a sales job with the Omaha Stormchasers before going to graduate school at Nebraska where he worked with events. After graduating from Nebraska, Wilson traveled to Marshal University for a year as assistant director of events and facilities before taking his job with the Coyotes.
Together they ensure that the daily maintenance gets done. This includes the custodial crew and facility staff going through each different facility from the soccer field to the pool making sure those areas are clean.
"Getting the turf swept and now disinfected prior to anybody using that, coming in and getting everybody's offices cleaned before they roll in first thing in the morning," Wilson said.
One of the immediate challenges the department has is relocating teams to a new location from the annex. Teams like softball, golf, diving and throwers first began using the annex during phase one of the DakotaDome construction. Now that the lease is up Jenkins said he has been searching for new places around Vermillion for the athletes.
"We're analyzing a lot of different opportunities working with (Athletic Director) David Herbster on what some of the opportunities are in our community to help satisfy all the training needs and storage needs of a lot of our programs have," Jenkins said
The men's and women's golf teams already have a new established training location, but solutions for softball, diving and track and field are still being considered.
"We're working through the training needs of our track and field program and how we can accommodate them back in the Dome, as best as possible with the uniqueness of things like the football season being moved to the spring, which certainly presents its own set of challenges," Jenkins said.
Relocating training areas is about 50 percent of the department's day, Jenkins said, as they try and resolve those challenges for those student athletes.
Another role Jenkins has assumed is being the athletics liaison for the COVID-19 task force. Whether it be a student athlete testing positive and needing to quarantine or working through protocols and procedures, Jenkins monitors it.
"Practices don't exactly look like they used to look right. We have to take some extra protocols and to protect our student athletes in our staff members," Jenkins said. "It's almost completely taken over what I do every day, but it's something that you just embrace because it's so important to our community. What we do within the facilities realm of the day-to-day at the athletic department has changed things quite dramatically."
With numerous sporting events possibly being played back to back, Wilson has been challenged with finding creative ways to organize the facilities.
"Those will still take place in a safe manner whether that be the arena or the Dome," Wilson said. "We have some good seating capacity. So obviously that allows you to be able to spread out more. The whole scheduling aspect has become trickier than it might have been in years previous."
Coming spring of 2021 fans will most likely be able to cheer on the Coyotes from the stands, Jenkins said.
"Every plan that we are putting together is with the hopes that we will have patrons in the stands," Jenkins said. "Now it may not be 100 percent of capacity, and I would be surprised if it is even in the spring. But we certainly plan on having guests in the stands as long as our governing bodies approve that."