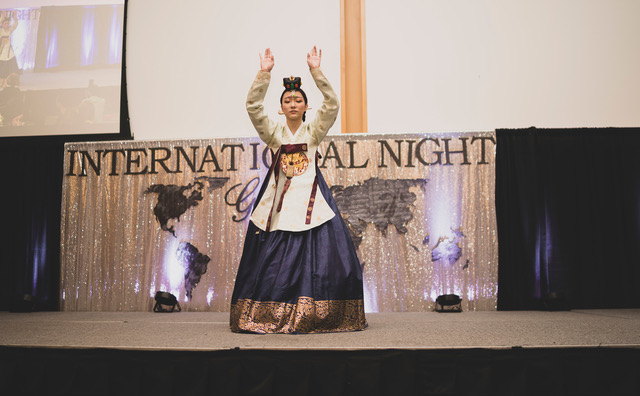 3 mins read
International Club builds a bridge between cultures
The International Club works to give international students a place where they are comfortable sharing their own cultures and give domestic students a way to learn about different cultures.
Kenwar Singh, senior economics major the International Club treasurer, said the club simply wants to promote the culture of international students and even promote the culture of more local culture here in South Dakota.
Alice Lunardelli, junior marketing major, said she agrees and said the club strives to be welcoming for students from every background.
"The purpose of the international club is to build a bridge between cultures and make sure our international students have a place to share their culture and make them feel welcome — as well as for domestic students to learn from international students," Lunardelli said.
To further build a bridge between cultures, Singh said International Club focuses on working with other clubs and organizations, such as the Asian American Student Association, to help students find groups they may be interested in based on the exposure they have had to other groups.
"We like to collaborate with other organizations because we're one of the six large organizations on campus meaning our outreach is big as well as our budget," Lunardelli said. "So, collaborating with smaller organizations gets our name out there as well as theirs."
In the spring, Festival of Nations brings together a lot of students to learn about other cultures and eat food prepared by students from those backgrounds.
The International Club doesn't know if Festival of Nations will happen this year or if it will happen in a different setting because of COVID, Lunardelli said.
Lundardelli and Singh both said the Festival of Nations is their favorite event to experience every year because of the food.
"It's like a huge potluck," Singh said. "The basic idea is people sign up, they cook, they bring it over there and we celebrate."
Lunardelli said she would recommend every student join International Club. She said that international students may struggle making friends in a new country without their family close by, so International Club is a space for them to be comfortable sharing their culture and the club also gives domestic students a place to experience diversity.
"It brings a lot of different views, different ideas from people from different backgrounds," Singh said.
With exposure to different backgrounds, Singh said he hopes students gain gratitude, respect and the ability to listen to other people's ideas and perspectives.
It's important to have diversity and events people may not experience anywhere else, Lunardelli said especially in a small town in South Dakota.
"We would like to be more involved within the community outside of campus," Lunardelli said. "We did that during quarantine. We made a big donation to the Vermillion food pantry because our community gives a lot to us and the only way we could give back at that time without doing a big event."
Lunardelli said she hopes students learn something new or participate in a new activity, but she mostly hopes students make a new friend every time they come to an International Club event.
More information about the International Club can be found on their Instagram and Facebook pages.