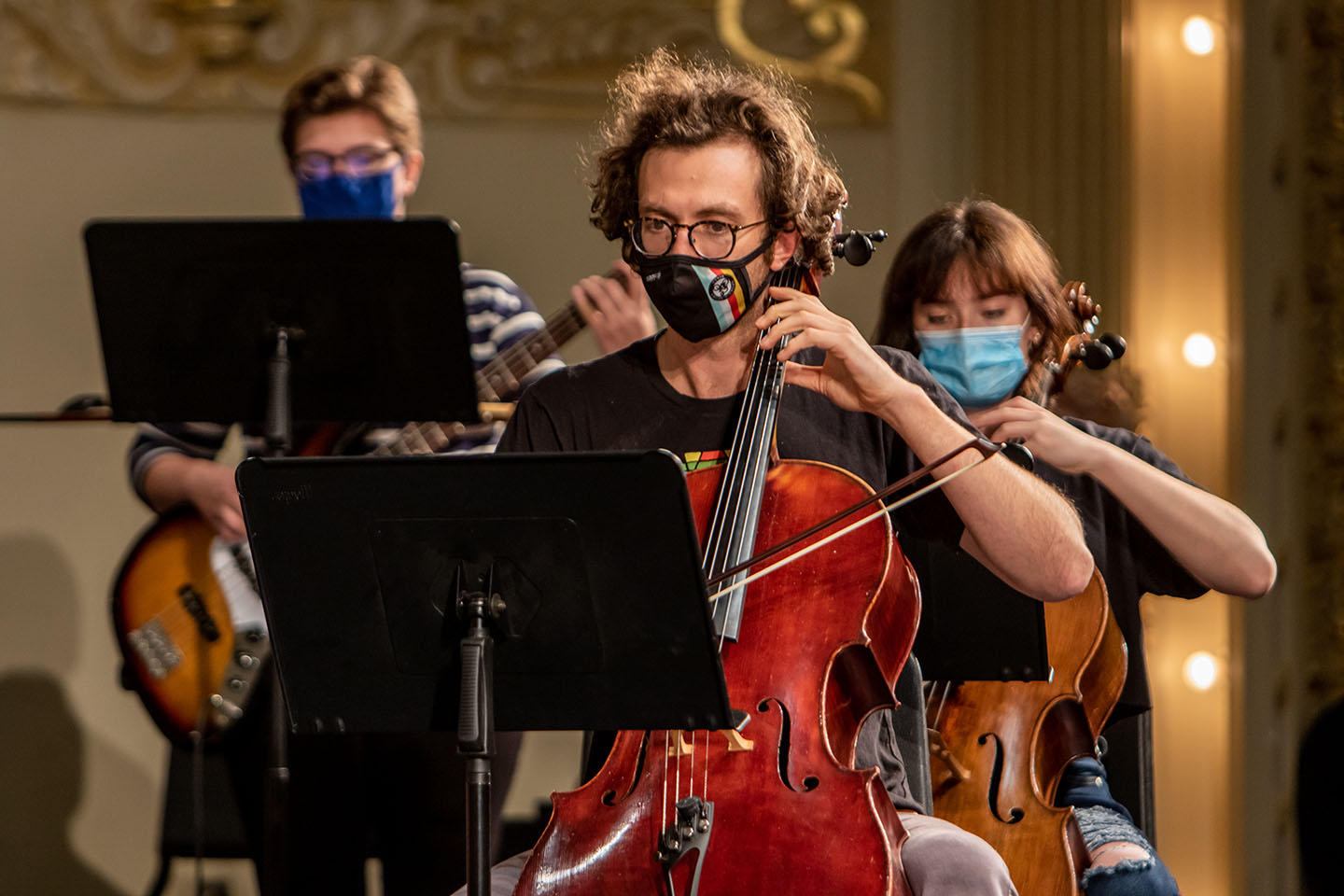 4 mins read
Symphony orchestra features music from diverse composers
This year, the USD Symphony Orchestra is striving to include more music from female and minority composers in its repertoire.
Luiz Viquez, director of the symphony orchestra, said recently, he looked at a list of the works he's conducted and found a large percentage of the works were written by white, male composers. To change that, he arranged for a season of works written entirely by women and minority composers.
"Most conductors do Mozart, Beethoven, Brahms, big classical European composers," Viquez said. "I think this is an exciting time for humanity to start changing that … and promote music by minorities. We want to set an example for the rest of college orchestras nationwide."
Usually, the symphony orchestra plays four concerts which are each an hour long, but because of COVID-19 precautions and their hybrid-practice schedule, the orchestra will only play four pieces over two performances.
The orchestra performed the first two pieces — "Mother Goose Suite" by Maurice Ravel and "Passages" by Alex Shapiro — at its first concert of the semester on Monday, Oct. 5.
"Passages" is a unique piece, Viquez said, because the orchestra plays over a digitally-created music track. Viquez said he chose "Passages" both as a way to feature a female composer and as a way to do something new with a smaller orchestra.
"It's a very nice symbiosis of acoustic instruments — violins, clarinet, piano, percussion — combined with sounds created in an electro-acoustic way. The orchestra has never done anything like that," Viquez said. "It creates this atmosphere, it really feels like it creates a cloud of sound, and then the orchestra plays inside of the cloud … that wave of sound."
Shapiro, the composer, said she created the piece to accommodate to ensembles that have to practice differently due to COVID-19 safety guidelines. The piece is short and has different parts for musicians of all skill levels, and each passage can be played differently to change the performance each time.
"You find the part that works for you … then you get to decide which line of it (each passage) you play. You play in whichever order you want." Shapiro said. "(It's) good on top of the track, which has its own set of moving chords, a little bit like a puzzle, that's a lot of fun.
The week before the concert, students met with Shapiro over Zoom to discuss "Passages" and Shapiro's career as a composer. Shapiro said the talk covered her advocacy work with diversity and inclusion issues in music, as well as how she found her way in the world.
"One of the things I love saying to students is … there are many paths and many ways of getting to where we end up, and sometimes we're surprised by where we land. I like to demonstrate from my own unusual background that anything can happen," Shapiro said.
Marshall Knedler, a percussionist with the orchestra, said he found it interesting that Shapiro mentioned she played piano but didn't perform it in front of people often even though she was a composer, and he related it to his own experience performing.
"I actually just started playing the piano three years ago," Knedler said. "It's kind of difficult for me to perform piano in front of people, but I do love sitting down and reading scores and learning."
The USD Symphony Orchestra's next concert is Nov. 23, where the orchestra will perform "Quirk" by Deanna Wehrspann and "Symphony in D" by Chevalier Du St. Georges. The performance will be open to a select number of guests and will also be livestreamed.