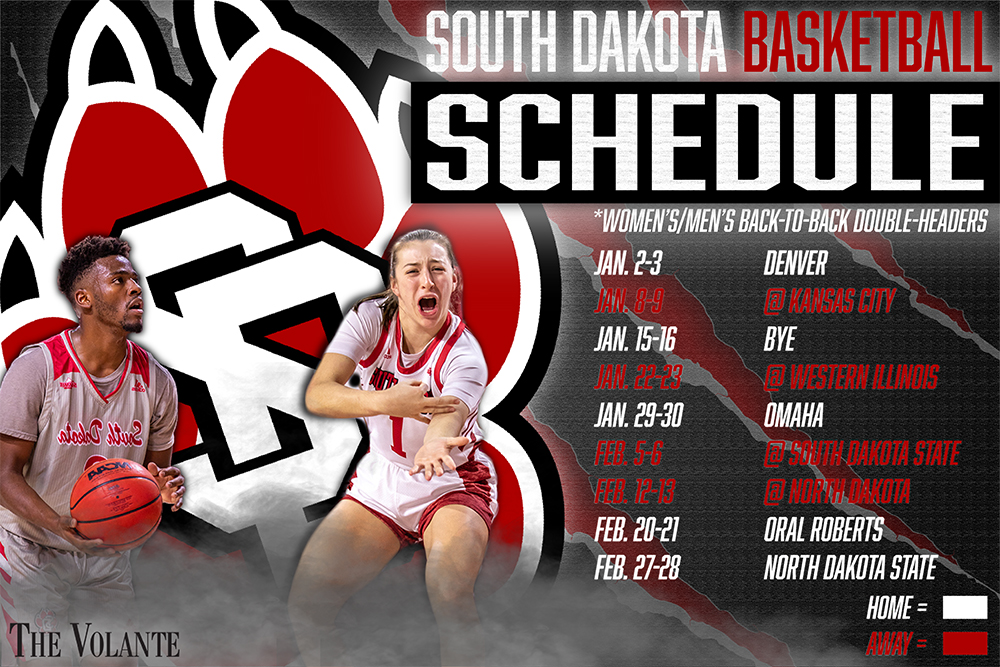 4 mins read
Coyotes' basketball conference schedules released
As the Coyotes men's and women's basketball teams complete their last three weeks of fall practice, both team's conference schedules were announced last week for the upcoming winter season.
The Summit League's Nov. 4 announcement detailed a 16 game schedule (8 games for the men, 8 games for the women) with all games being played as back-to-back doubleheaders against the same team.
All doubleheaders are scheduled as Friday-Saturday or Saturday-Sunday games. The Coyotes season opener will be in Vermillion against Denver on Jan. 2-3. This will be the first of four total games at home for USD.
After the regular season, each team will travel to Sioux Falls to compete in the Summit League Tournament scheduled to begin on March 6. At the time of publication, the NCAA has not released any information on the NCAA and NIT tournaments.
Dawn Plitzuweit, USD's head women's basketball coach and her squad will be coming off of a Summit League championship and a bid to the NCAA tournament in the 2019-20 season before the cancellation of all NCAA sporting events due to the COVID-19 pandemic.
"The Summit League and our institutions are looking to play as many games as possible and play them as safely as possible," Plitzuweit said. "(The doubleheaders) will provide inequalities in the schedule but I think it gives us the best opportunity to play games and be as safe as possible."
On the men's side, Todd Lee, USD's head men's basketball coach, said his team will be looking to insert several new players into the line up as the Coyotes only return one starter from last season.
"I've talked to the younger guys … and they are all going to have to take some leadership roles and that is not a normal thing for a sophomore to do," Lee said. "It will help them down the road, but it's unusual to ask sophomores to help lead your program, but that's the situation we're in."
Both Plitzuweit and Lee said just getting to this point in the year has been a challenge in itself. Each squad has had to manage players coming in and out of quarantine throughout the year and following COVID-19 guidelines during practice.
"We have had kids sit out three different times for two weeks apiece to quarantine and never had (COVID-19) or any symptoms," Lee said. "The thing that is most concerning as a coaching staff is when kids come back to practice after quarantining and they're not in very good shape you got to be careful about not getting them injured."
Plitzuweit said the uncertainty and obstacles this year has brought to her team have not changed their outlook on what their goals for the upcoming season.
"As cheesy and simple as it sounds our goal is always just to continue to improve," Plitzuweit said. "We have three expectations in our program — be your best, be thankful, and enjoy the precious present … I think if we continue to do those we'll be in good shape."
The Coyotes women's team also announced on Nov. 6 they will be playing in the Bad Boy Mowers Crossover Classic tournament in Sioux Falls on Nov. 28-30. The tournament will consist of USD playing three Power 5 teams — South Carolina, Gonzaga and Oklahoma. South Carolina is ranked as the number one team in the country according to AP preseason top 25.
"Our scheduling philosophy has always been to challenge ourselves against the best competition and this is one of the toughest non-conference tournaments that will be played this year," Plitzuweit said. "We are ready to get back on the court and feel that we will learn a great deal from this incredible experience.."
The men's team has yet to announce their non-conference schedule when this article was published.