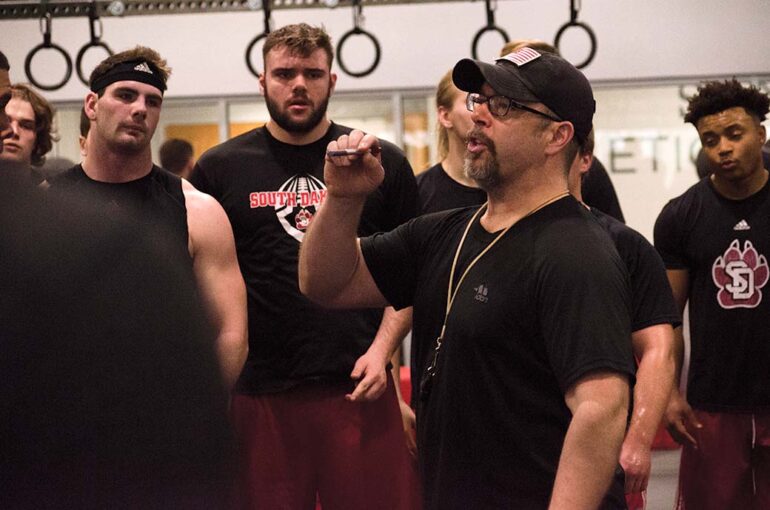 3 mins read
USD Veteran reflects on service
Growing up as a young farmer in Assumption, Illinois, going into the military had always been in the back of Clete McLeod's mind.
The now head strength and conditioning coach at USD had heard stories from his father and grandfather about the military and admired his uncles — Roy and Kenney — who served in the Vietnam War.
When McLeod graduated high school with no significant football scholarship offers, it only made sense to him to enroll in the service.
After a short stint in the Marine Corps, the newly turned 18 year-old found himself over 700 miles away from home in army basic training in Fort Benning, Georgia.
For the next three years, from 1992-95, Fort Benning is where McLeod stayed serving his country as an Airborne Infantryman.
During this time is where he set his foundations for the discipline he instills in many aspects of his life today, McLeod said. The most important traits McLeod said he learned were patience, resilience, decisiveness and leadership.
"What I really learned during my time in the Army was not a single trade or skill," McLeod said. "What I really learned was how to attack life."
One aspect of his time in the army he now implements in his own life is how he organizes his strength and conditioning training.
For example, McLeod said when freshman football players for USD first arrive on campus he puts them through a six-month "mini boot-camp" completely separate from the rest of the team. During this time McLeod said he instills the work-ethic he learned in the military as well as the culture the Coyotes pride themselves for.
Jack Hagy, a freshman defensive-lineman for USD, said he can see where McLeod draws from his military experience while training the team.
"We started by throwing everything we knew about lifting out the window (when McLeod started training the freshman)," Hagy said. "He took us through a structured and detailed training program, teaching us exactly how he wanted us to lift weights."
McLeod said his positive experience in the military now gives him several things to look forward to every year when Veteran's day comes around.
However, McLeod said what he most appreciates about Veteran's Day is connecting with other military veterans.
"(Veteran's Day) means a lot more to me because of the family and relationships I've developed through the military," McLeod said. "You develop that connection for no other reason than you went through the same things and it's always cool to talk with someone about that again."
McLeod said he greatly appreciates what different businesses, organizations and people do to honor veterans on Nov. 11. However, McLeod said he and other veterans wish people would appreciate the sacrifices military members have made in order to make the United States the great country it is more often.
"It's great to have people go out of their way to say thank you but I think it's even better for people to live their thanks and be grateful for the opportunities we have here," McLeod said. "That's all any veteran I've ever talked to has said: live a better life that recognizes that we have some really great opportunities because of the people who have made incredible sacrifices."