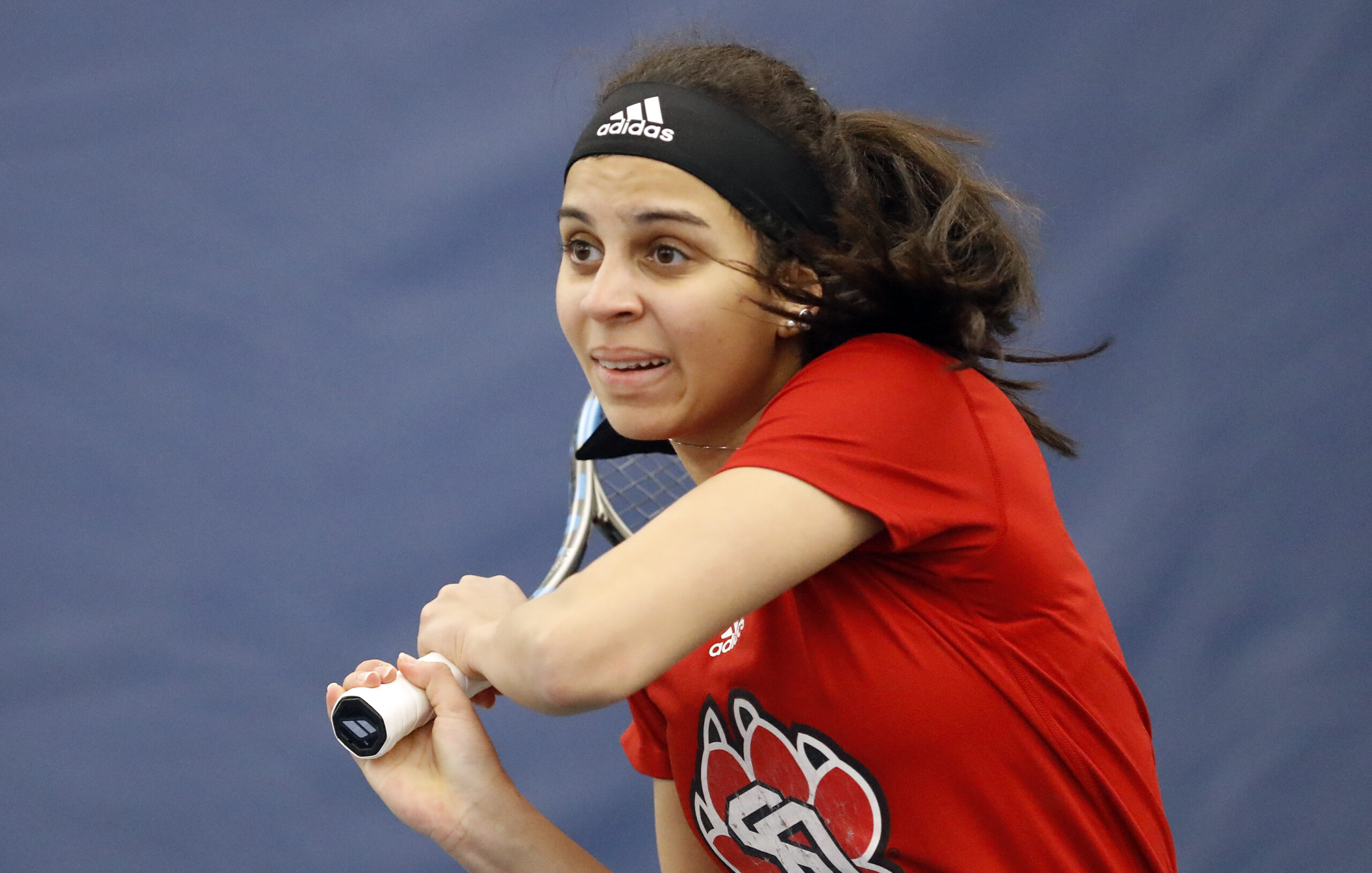 4 mins read
Uniting international student-athletes on new show 'Drop a Pin'
Coming to South Dakota from Cairo, Egypt, senior tennis player Habiba Aly connected with other international athletes during her four years as a Coyote.
To learn more about the changes and challenges USD international athletes faced, Aly started a show on GoYotes.com, called "Drop a Pin," to showcase the different life experiences international athletes have compared to their American counterparts.
The Media and Journalism major said the show was created during the extra time she had due to the lack of tennis competitions because of the pandemic.
"I was talking to Bryan (Boettcher) and I gave him my idea about the show and I told him how I would create it and I didn't think he would actually find it interesting, but he thought it was a cool idea," Aly said. "We started pitching it and made it come to life."
When it comes to choosing which athlete gets featured on the show Aly said she and the sports information team come up with candidates.
"Being an athlete I already know some people and then we make sure we have variation within the sports so we will just see which person from the different sports teams wants to do it," Aly said.
The hardest part when choosing an athlete is only picking one from each sport, Aly said because of all the interesting stories every person holds. However, Aly said she will come back to the other athletes once she has a chance.
Aly's favorite episode is the first one featuring sophomore Tasos Kamateros from Athens, Greece.
"It was my first and when it actually came to action I did not believe it and I gained some great feedback," Aly said. "Every episode from me has been a great experience and meeting new people and hearing their stories. The first one is the most remarkable since it was the first and I hope it keeps going."
After being featured on "Drop the Pin," Kamateros said he found it interesting to be able to talk about his personal journey and experiences on the show.
"As internationals, we get the chance to talk about USD and ourselves," Kamateros said. "I think it's really good that it's happening and I get the chance to talk about Greece and sports. I think it's a great opportunity for other people to see how international students are in relation to American students. It was an honor to be the first one on the show and it was great to talk about my journey, Greece and USD. I feel like more people have something to say but they don't have a chance."
Aly said she plans to continue showcasing athletes from every sport to touch on the different experiences everyone faces.
"When talking to other international student-athletes the things that we face are usually the same," Aly said. "We get asked funny things by the (American) students. I get asked if I live by the Pyramids and if I live in the desert, and when I go to my friends they also have funny stories like that too. It is crazy that we can be from different countries, regions or continents and we can still find something to relate to."
Aly said the topics they cover on "Drop a Pin" can help bring international athletes together by reminding each other of stories from home.
"There are a lot of stories that are really worth telling about international athletes," Aly said. "Them coming here, their struggles, them trying to cope with the good and bad days. Every time I talk to an international athlete I always find an interesting story from them."